MTS has all free content, all the time. Find out how YOU can help to keep it running.
Tell me how...


Nectar Career
by
NotarikoOne
Posted 16th Mar 2018 at 12:51 AM - Updated 28th Apr 2018 at 10:47 AM by NotarikoOne : English language improvement & Opportunity reward
124
Thanks
Thanks
36
Favourited
This download is a custom career. This means that you will need the
NRaas Careers mod
installed in order to use the download in your game.

You will need the Nraas Career mod to make work custom careers

This is a custom career related to the Nectar Making skill, so you will need
World Adventures EP
to play with this career. It's a branched career where your sims can end as a oenologist, or sommelier, depending on the branch you choose, Oenology or Hospitality, respectively.

Please do not reupload it on other pages and/or claim as your own. But if you want to attach it on your cc-recopilation blog, you must mention the original source and author. Thanks


Tested and confirmed working with patch 1.67


This career does not overwrite any other custom or original career


Improved English thanks to
Freya5

Now, with the opportunity "MDV Nests" your sims will actually recieve 2 random objects on they family inventory
Available languages
Spanish
- Spanish Standard and Spanish Mexican players
American English
- The rest of players
Other languages
- If you want to volunteer to translate the career on anoter languages, please after strating send me a Private message there are some things that must be not only translated but changed (Hidden puns and references)
The
Rabbithole
for this career is any kind of restaurant, so: Bistro, Dinner, Cafeteria (Showtime EP), and all the combos that include one of them.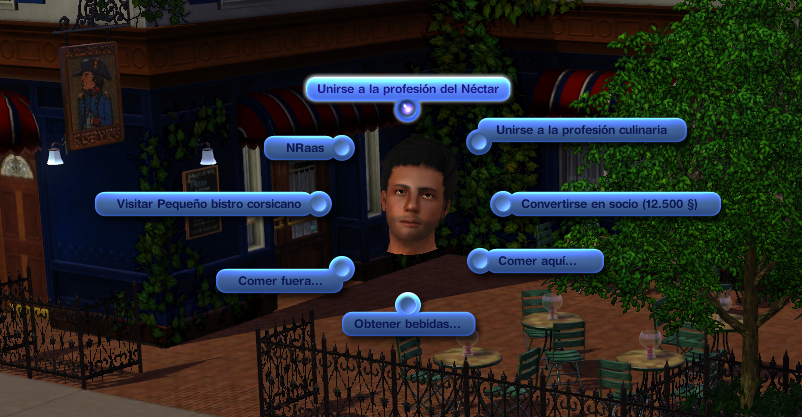 This is the Job Offer:
Have you ever dreamt before about becoming a sommelier, or owning a big nectar factory? Then today is your lucky day! Sign up for your city's grape gathering and learn the secrets of the marvelous fruit that produces these spectacular elixirs. Show your determination and knowledge to your superiors and get a chance to climb several rungs in the convoluted structure of the nectar business, ending as one of the best sommeliers of the entire world or the owner of the biggest nectar production factory of here and abroad.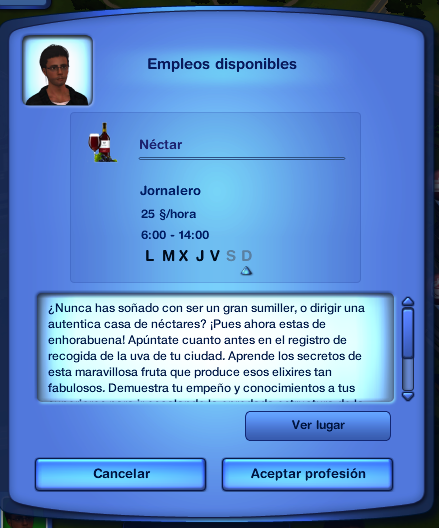 Here the title, description and salary of the different levels
1. Day laborer - 25/hour - M,T,W,R,F
If you want to completely understand the world of nectar, you must first recognize the different characteristics of the grapes, the key product in the nectar bottles production. So kit yourself out with your best pair of gloves, a straw hat, and gallons and gallons of sun lotion. The beginnings can be hard, but with perseverance and patience anybody should reach their dreams.
2. Chief Division - 36/hour - M,T,W,R,F
Luckily, you don't have to break your back every day under the blazing sun anymore, but now you are in charge of supervising the efficiency of your subordinates. Both the quality and the quantity of the collected grapes are now your biggest responsibilities, so don't rest on your laurels and organize an adequate gathering, transport and grape pressing planning.
3. Flavour Mixer - 45/hour - M,T,W,R,F
You have left behind the field life, your managers have recognized your talent, and now it's your turn to work with both traditional flavors and astonishing innovations. As a flavor mixer your work is not only to maintain a high level of the nectar production, but also to work with new varieties of the current nectars with the objective of revolutionizing the market.
4. Nectar Labeler - 52/hour - M,T,W,R,F
There's no one that can surpass your flavor of nectar creation abilities and knowledge, so who better than you to label the different bottles? Examine minutely every batch of nectar and attach a detailed label with the different characteristics of the product: methods of preservation, age of the nectar, ingredients used, pairing suggestions and certificate of origin. And don't forget to indicate all the ingredients correctly!
5. Novice Taster - 63/hour - M,T,W,R,F
Maybe you are not able to distinguish a "Chardonnai Grand Fleur" from a "Legroñe Deux Plaissier" yet, but your managers have seen your inner potential and they believe in your abilities. They want you to assess the quality of every nectar, so better start training your endurance, because you will have to taste a lot of nectars before becoming a specialist and being able to distinguish not only the number and quantity of ingredients used, but also what kind of wood the barrels holding the maturing nectar is made of. Remember that in the tasters you must just take a little sip, don't booze it up!
Hostelry branch
6. Menu Maker - 85/hour - T,W,R,F,S
You have enough knowledge to be able to work in a restaurant, even if you are just in charge of roughly drawing the nectar menu of the place. Develop your writing and graphic design abilities and build a well-structured and attractive menus which will help the customers to choose the best nectars that pairs their dinner. By the way, remember to highlight the most expensive bottles, making them more visible than the cheaper ones, but be careful and don't make it too evident, or the customers will discover the trick!
7. Purchasing Manager - 120/hour - T,W,R,F,S
Now you only live to check delivery notes and make phone calls to the providers of the restaurant. You are responsible for ensuring a correct stock of the different nectars, so you will have plenty of them to support the day-to-day business of the restaurant. Just don't forget having some backup, just in case. Put into practice your already developed negotiator skills and close the best deals with the providers if you want to increase the profits of the restaurant. Don't forget to verify the quality of the bottles of nectar arriving to the restaurant, and don't be afraid of returning a pack of bottles to the provider if it doesn't live up to the desired conditions.
8. Sommelier's assistant - 185/hour - T,W,R,F,S
You are almost there, one little boost more and you will reach your dreams; but for now, you must wait patiently and learn your trade from the best ones. Organize the sommelier's schedule, take care of having all their work supplies accessible and ready to use and admit that they are right, even if it is not the case. Improve your social skills and review these nectar notes you've been gathering until now on that small cute notebook of yours if you don't want to show yourself in a bad day in front of the clients - and the sommelier. Because in case you are on your own without the possibility of getting the sommelier's help, you will be the one who must assess the client and recommend them the best pairing for their meals.
9. Sommelier Master - 230/hour - T,R,F,S
Congratulations! You've finally reached the position of Sommelier Master of the restaurant. Now you can perfectly tell the difference between the three types of nectar, and you are even capable of enumerating in detail every ingredient used in the elaboration of the nectar you are analyzing and that is something noticeable when you speak with the clients. Both the clients and the restaurant's owner are delighted with your performances, and always praise your suggestions.
10. Golden Nose - 390/hour - F,S,U
"This is a nectar with a Gallardina Fran basis, watermelon, Guinean bloody orange essence and licorice strokes". All those years training your olfactory and taste capacities, have turned you into someone worthy of the title "Golden Nose", a recognition all the sommeliers of the world dream of; a recognition that awards those who cannot only distinguish the shades, tannins, textures and age, but also who are able to figure out which wood was used in the axe that chop down the tree whose wood ended up fashioning the barrel where the maturing process of the nectar took place. You are already at the top of the Nectar Career and you live with the objective of defending your title against new challengers.
Oenology branch
6. Barrel Classifier - 86/hour - T,W,R,F,S
Back again to the label task, but this time with bigger containers! As a barrel classifier, your duties are knowing which type of nectar is stored in every barrel, monitoring the aging of the nectar, keeping an eye on the temperatures of each one, the settle timings and, of course, maintaining your managers informed of any mishap, like micro-holes in the barrel's wood.
7. Nectar Boutique Manager - 115/hour - T,W,R,F,S
You are one step from becoming a real oenologist, but first you must know the client. Learn to identify their needs and concerns and help them finding that specific bottle they are looking for. Train your social skills and how to pull the perfect smile. You are now the shop window, the image of the company, so try not to mess it up but thoroughly satisfy the informative and nectary needs of the clients.
8. Personal Assistant - 190/hour - T,W,R,F,S
The time in the boutique was great, but you must now return to the factory, this time as the bigwig's assistant. Organize their week schedule: try to combine the business visits, the quality and sanity inspections, the guided tours, and the possible meetings with future clients and shareholders. Fit some free time in between letting them rest for a moment, and also, if you can, it would be better to sort out some bad news - we don't want our boss to be mad all day, right? Finally, remember their coffee preferences. Never forget about the coffee.
9. Oenologist - 245/hour - T,R,F,S
Well done! You can already brag about being at the top position of the company. Your wide knowledge of the nectar production - from the gathering of the grapes to the production of nectar and, finally, the distribution and sale - have brought you to this position. Now you are in charge of overseeing the elaboration, stocking, analysis, conservation, bottling and commercialization processes. Maybe you don't have to wake up at four in the early morning but you now bear a heavy burden because you must supervise the proper functioning of an entire production plant, apart from getting together with shareholders and clients and being the image of the company in front of the mass media.
10. Owner of a huge nectifactory - 420/hour - F,S,U
Tremble, nectar company Perdiu!
As an owner of a huge nectifactory, you own the majority of the market production, distribution and sales of nectar of the country and also abroad. There is no company that can overshadow yours, so now it's time to maintain the expansion of the business and take a stance as the biggest corporation of the world. Go ahead and live the high life with the abundant profits generated by all the enterprises under the financial umbrella of your big brand, but don't forget your beginnings!
It has four custom tones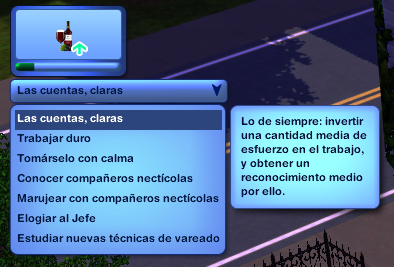 Study new whack techniques - Raises Gardening Skill
Knowing the difference between hitting like a crazy ass, and whacking with precision, is just a matter of learning the techniques by effort and tenacity, or just of watching some YouTube tutorials. Profit from the available documentation to learn the traditional methods and build innovative techniques while improving your gardening skills.
Review nectology magazines - Raises Nectar Making Skills
Leverage your empty moments filling them with knowledge, revising the nectar magazines, the old encyclopedias and the different news of crops and cellars, to be up-to-date and improve your nectar making skills.
Practice marketing techniques - Raises Social Skills - Hospitality Branch
Be aware of the situation of your company and analyze the competition. Build SWOTs, PESTLEs and other kind of market investigations to acquire new selling techniques and make better benefits. Improve your social skills to reduce costs and improve earnings.
Motivate the employees - Raises Social Skills & Oenology Branch
A happy work team is an efficient work team. Upgrade your managerial skills if you want to improve the productivity of the company. Arrange sessions of team cohesion, award your best employees (but with cheap treats like mugs as we can't start wasting money now) and try sustaining a decent level of comfort for them but maintain your authority, obviously.
6 Opportunities
1. New nectar shipment
2. Nectar contest
3. WDV Nests
4. Stockholders meeting
5. Bring ingredients
6. Tastings and desserts
3 Career exclusive books + its respective opportunities
A. Double Flip, 360 Blitz and Inverse Flock.
B. Advices of a tricky seller
C. Mind control over providers

5 Choice Events + 4 Reward Events
Known errors
The boss of your sim will be stucked in Lvl 5 Novice Taster
If you try to keep the career books on the bookshelf, they will get stucked in your sims inventory
Typos in descriptions (I'm sure about that)
Future upgrades
6 More opportunities to come, 3 for each branch.
I'll be working on some Life Time Rewards based on this career (When? provably on summer)
Additional Credits
Nraas Factory
Missy Hissy for her splendid
tutorial
Lyralei
for helping me with my questions
Freya5
for correcting my messy english
And you for playing with it!
10 Comments / Replies (
Who?
)