Tragic Clown Overhaul
MTS has all free content, all the time. Find out how YOU can help to keep it running.
Tell me how...
4,736

Downloads
224

Thanks Thanks
79

Favourited
20,202

Views

Uploaded: 22nd Mar 2019 at 6:36 PM
Updated: 5th Oct 2021 at 6:28 PM - Added Translations
Description
Ever since the Tragic Clown was re-introduced to the game I have been disappointed with how they were implimented. There should only be ONE Tragic Clown and his name should be Sunny. It also annoyed me that they wear the wrong face paint and can sometimes have facial hair or other random accessories.
This mod was created to rectify the issues I have with how the Tragic Clown was implimented and to make him more accurate to his original version.
Info
A new SimInfo resource has been created with the wonderful and experimental new feature of Sims 4 Studio which means that any time a Tragic Clown is spawned from a painting they will always look and sound the same, will always be an adult male, and will always be called Sunny. I also gave him the Goofy walk style which I think suits his dreary outlook.
The Tragic Clown template has been overridden to make use of the new SimInfo resource.
The Tragic Clown Filter has been overridden to make it so that the Tragic Clown Sim is part of a hidden household.
The clothing buffs for the Tragic Clown outfit were edited to make them point to the correct face paint.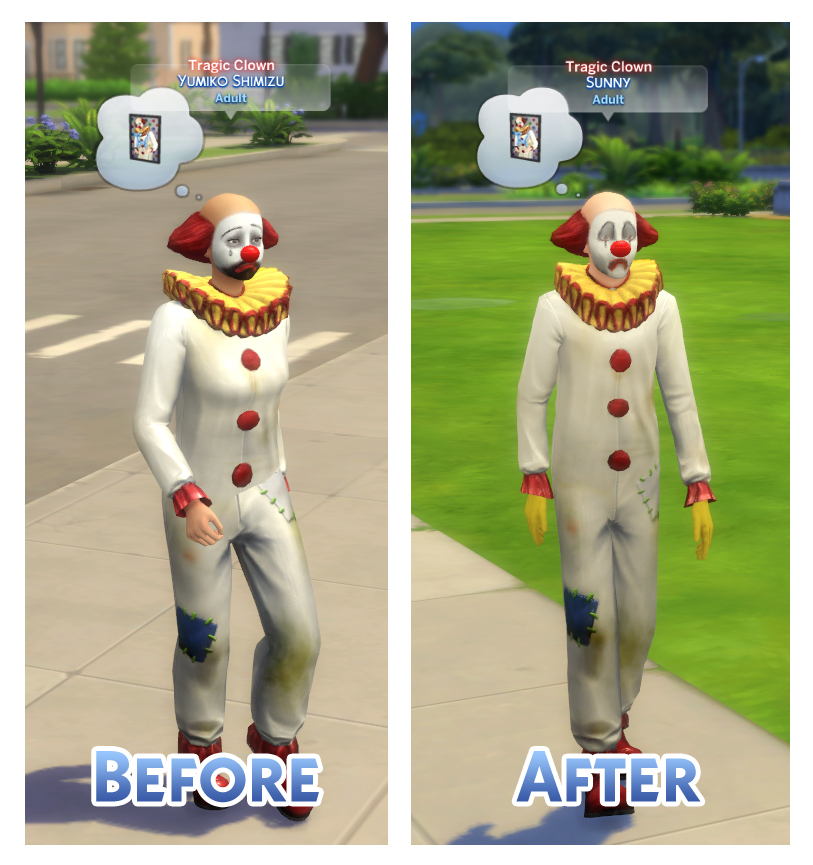 There is also an optional file called MMymTragicBodyTextureDefault in the .zip which will add dirty yellow gloves to the male Tragic Clown outfit to match his original appearance. You can safely delete this file if you prefer the outfit as it is.
Notes
If your save file has already spawned a Tragic Clown previously then you may need to remove them from the role before Sunny can spawn instead. I found the easiest way to do this was to enable testingcheats, add the Sim to your active family and then remove them again. It may take several more views of the painting to get the new Sunny to appear. During my testing he would appear and then immediately vanish with the first viewing but he would stay the next time he spawned.
This mod will conflict with any other mod that alters the following resources;
0000000000022269 template_TragicClown
000000000002215A filter_tragicClown
000000000002215B buff_Clothing_TragicClown_TearsOfAClown
000000000002215E buff_Clothing_TragicClown_MiseryLovesCompany
0000000000022272 careerTrack_NPC_TragicClown
0000000000022273 careerLevel_NPC_TragicClown
5A30C590F0EE3533 LRLE Image (Diffuse)
88D69CDE48DF1BFB LRLE Image (Diffuse)
B413B062CA6C592A LRLE Image (Diffuse)
EFEE6A0D79514164 RLES Image (Specular)
EA6F0596EAD73DC6 Geometry
000000000001D9A4 CAS Part
000000000001D9A5 CAS Part
000000000001D9A6 CAS Part
EA6F0596EAD73DC6 Region Map
The optional clothing override will conflict with;
CFFBC38273A0FB77 RLE 2 Image
Udated October 5th 2021
Added Chinese and Portuguese translations.
Updated August 27th 2021
Added Russian and Dutch translations.
Updated August 10th 2021
- The clown nose has been corrected to no longer vanish when viewing anything lower than LOD0 detail and has been remapped to the nose ring section of the UV map so that it no longer displays on the inside of Sims' teeth. I have also reduced the shine.
- When asked about his career, the Tragic Clown will now respond with comments about his job like the Grim Reaper does.
- The relationship panel will no longer display a work schedule for him once he has been asked about his career.
Additional Credits:
andrew over at the Sims4Studio forums,
Sims4Studio,
Photoshop,
Ravasheen,
Czech translation - Xeria,
Danish translation - julesthedane,
French translation - Caradriel,
German translation - ⛤Rosie⛤,
Russian translation - esqdumper,
Dutch translation - kimikoo,
Chinese translation - MonicaJ,
Portuguese translation - Thi.
Info
If you would like to support what I do you can do so by buying me a
ko-fi
.
I also have a
Patreon
page if you would like to make your support ongoing.
Please do not comment on my downloads asking if they need updating for new patches. By all means. please DO post if you have tried them in your game and find them to be broken. Make sure to include details of what is wrong though. Just telling me something needs updating is not helpful.
Comments are always welcome, good or bad. Although I prefer the good ones, heheh!
As I have now moved over to playing TS4, my TS3 and TS2 creations should be considered mostly unsupported.
Please see the Policy tab above if you are wanting to use any of my creations.