Clothing

>

>

Everyday clothing. This is your Sim's default outfit.
BG child overalls replaced w/recolors of Rosebine's child overalls + custom versions
MTS has all free content, all the time. Find out how YOU can help to keep it running.
Tell me how...
3,245

Downloads
30

Thanks Thanks
8

Favourited
5,470

Views
Uploaded: 12th May 2019 at 10:34 PM
Updated: 15th May 2019 at 8:11 PM
These are default replacements for
cubodyjumper
, from the base game. Since all but one of the Maxis cubodyjumper outfits use overalls, I used Rosebine's overalls for
male
and
female
children, and did some rearranging and recoloring. (Rosebine made her outfits as townie-enabled, so I didn't want to use them as-is.) Non-default versions of the outfits are included in separate
rar
files, and the meshes are included in a separate
rar
file. While the Maxis outfits are Everyday only, I followed Rosebine's lead in setting the outfits which use short overalls as Everyday and Athletic.
Maxis organized the cubodyjumper outfits so that two of them (cubodyjumper_stripes and cubodyjumper_shirtovershorts) were only available to boys, while the other four were available to both boys and girls. I reorganized them so that the replacement packages for cubodyjumper_stripes and cubodyjumper_shirtovershorts are still for boys, and the replacement packages for cubodyjumper_blue and cubodyjumper_green are still unisex, but the ones for cubodyjumper_tan and cubodyjumper_yellowBlueJean are set as being for girls. The filenames for both the replacement packages and the non-default outfits are tagged with cm, cf, or cu, to indicate whether they are for boys, girls, or both. To make it easier to keep them organized, the replacement packages which are set as CM, CU, and CF are each in a separate
rar
file, as are the non-default versions of the CM, CU, and CF outfits.
Each of the six cubodyjumper outfits has two or three individual replacement packages. For the replacements which are set as CM and CF, this lets you choose from two or three shoe styles. You can replace any or all of the cubodyjumper outfits as you choose, but can only use
one
replacement package for any individual outfit. If you use more than one replacement package for an outfit, the game will use the one that loads last, which may not be the one you want. You
can
use these replacement packages with any default that replaces all of the cubodyjumper outfits, as long as they load
after
it.
All t-shirts are recolored by me. For the blouses used by the CF outfits with 3/4-length overalls, I took textures from
Skell's recolors
of the OFB CF blouse, and adjusted the colors. The athletic shoes used in the long-overalls CF outfits, and the red, green, and purple ones used in the CU outfits are recolored by me, as are the light brown and light green long overalls used in two of the CU outfits. Outfits which use the either of the meshes from Rosebine's
CM overalls
are bumpmapped, but those which use meshes from her
CF overalls
are not.
Each of the CM outfits (cubodyjumper_stripes and cubodyjumper_shirtovershorts) has a replacement package with long overalls and one with short overalls. The replacements for cubodyjumper_stripes use Rosebine's Army green overalls, and the ones for cubodyjumper_shirtovershorts use her blue-jeans overalls (BleuAcier and LightBlue), with the light blue long overalls slightly darkened so as to be a closer match to the short ones.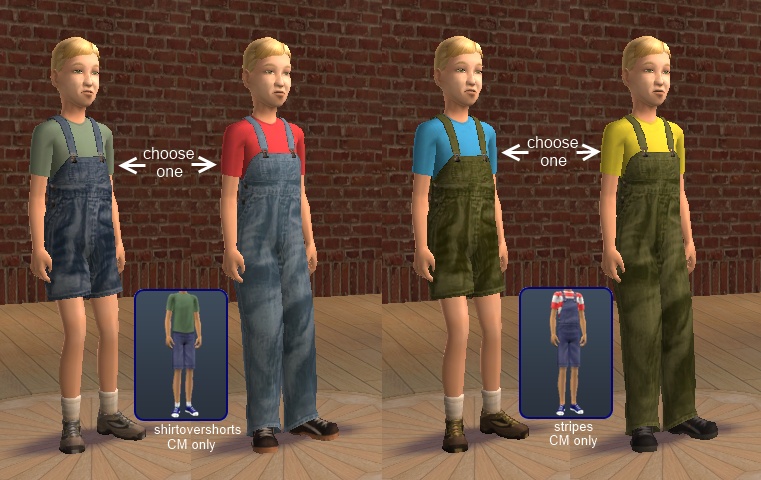 The replacement packages for the CU outfits (cubodyjumper_blue and cubodyjumper_green) use long overalls in Rosebine's black and my light green for cubodyjumper_green, and my light brown and her light blue for cubodyjumper_blue.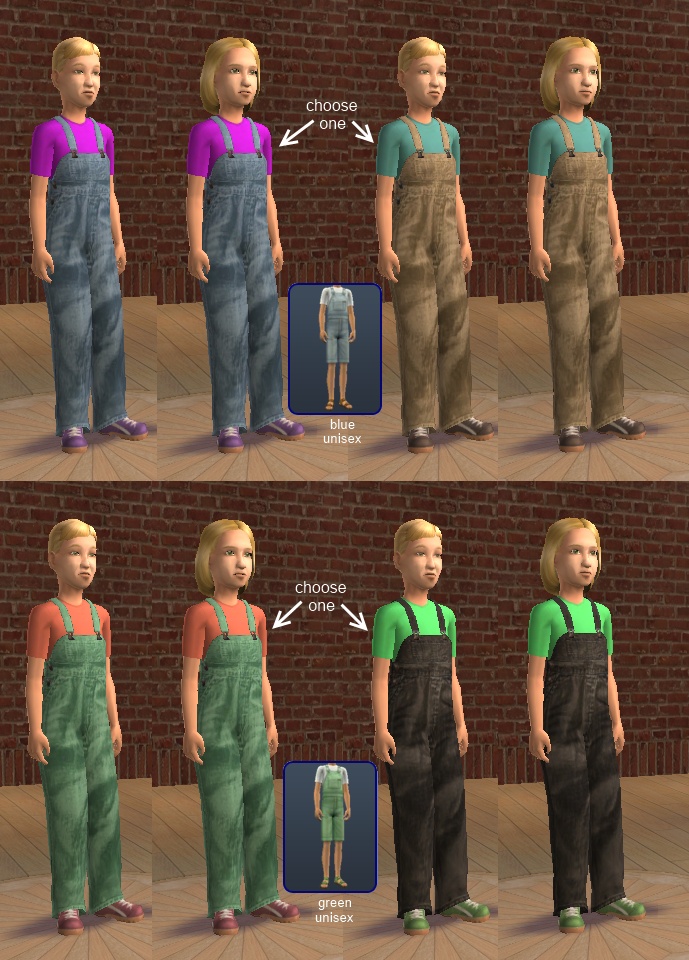 Each of the outfits I switched to CF (cubodyjumper_tan and cubodyjumper_yellowBlueJean) has three replacement options. For each one, two of those options use 3/4-length overalls from Rosebine's
CF overalls
, and one uses long overalls. The pink overalls used in the long-overalls option for cubodyjumper_tan are transposed from the CF set. The long-overalls option for cubodyjumper_yellowBlueJean uses a slightly lightened version of the long light blue overalls.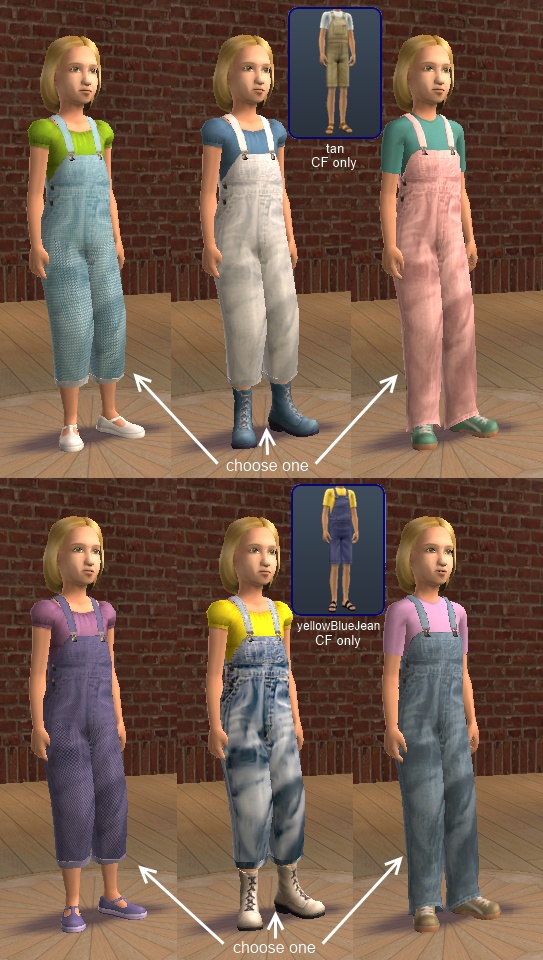 Meshes:
Rosie_cmBody-SalopetteLongHike_MESH
Long overalls with t-shirts and athletic shoes
Poly count: 1773
Rosie_cmBody-SalopetteShortHike_MESH
Short overalls with BV "backpacker" shoes
Poly count: 1851
Rosie_cfBody-SalopetteBooties_MESH
3/4-length overalls with 4t2 booties
Poly count: 2056
Rosie_cfBody-SalopetteMJ_MESH
3/4-length overalls with FT Mary Jane shoes
Poly count: 2390
For comparison, the poly count for the Maxis mesh is 1786.
Other custom content in images:
Default skins by
Leh
(Note: The download links at GoS don't work, the skins can be downloaded
here
Default eyes by
Lyran
(Wayback Machine link)
(Note: The download link is the pic of the eyes. It appears to be working at least some of the time.)
Default replacement eyebrows
by
rainstorm25
Additional Credits:
Rosebine, for the meshes and textures.
Skell, for
the CF blouse textures