Sims 4

>

>

Mods that contain script replacements or new scripts.
Persistent TestingCheats - Cheats Always Enabled! [Updated 6/26/18]
255,906

Downloads
3,606

Thanks Thanks
1186

Favourited
377,954

Views
Uploaded: 22nd Sep 2014 at 2:50 AM
Updated: 26th Jun 2018 at 5:20 PM - Checked for compatibility.
Updated for Seasons+
This mod is fairly straight-forward, it turns on testingcheats for you automatically so that you'll never have to enter testingcheats before using a command. This also enables the testingcheats shift-click options such as "Make Happy" and "Reset(Debug)" This saves you from having to re-enter it every time you travel, switch households, or return from CAS.
Open the zip and copy the ts4script file to your Mods folder.
Once installed, just use cheats as you normally would. It'll do the rest.
NOTE:
If you haven't enabled script mods yet, you'll need to open your game and go to Options > Game Options > Other > Script Mods and make sure it's checked. Apply and restart your game.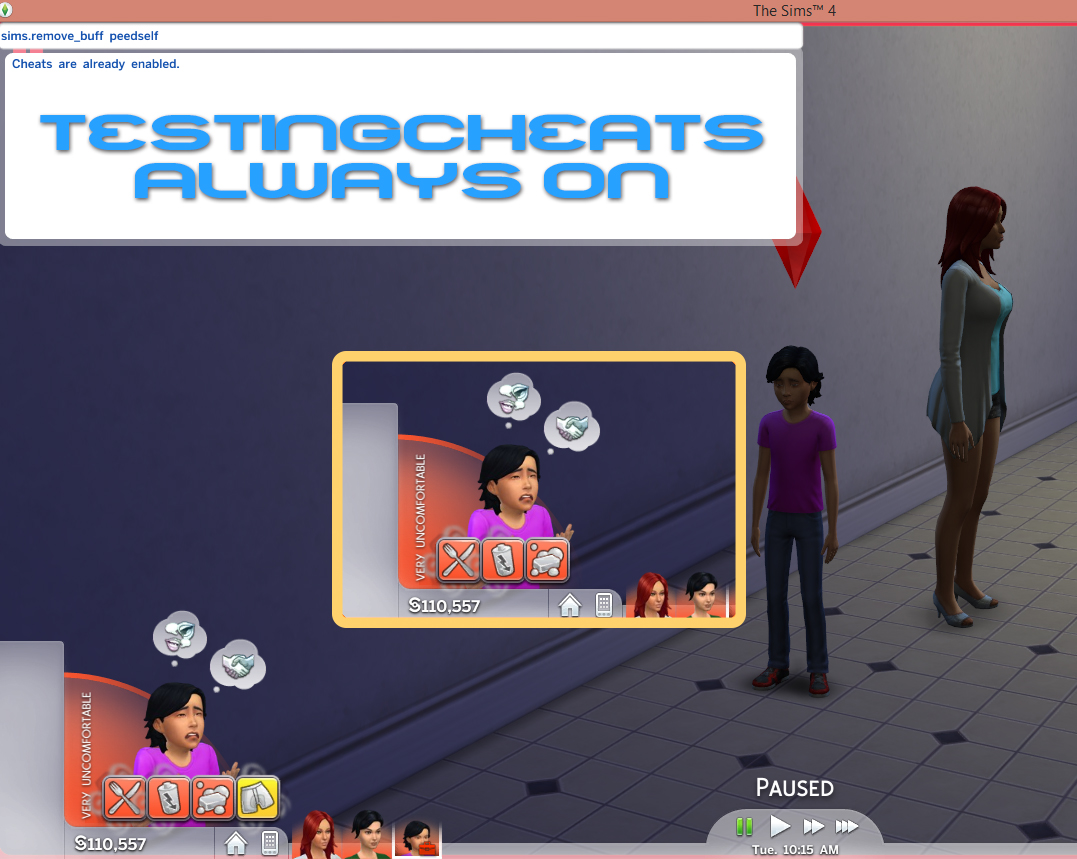 Packs Needed
None, this is Sims 4 base game compatible!
Other Information
Type
:
– Fixed : Fixed EA mistakes
– Additional Functionality : Mods which add brand new functionality to the game
– Other
Tags
#testingcheats, #always, #on, #testing, #cheats, #persistent, #persistant, #commands, #cheatmode, #mode, #travel, #traveling
About Me and Policy
I no longer maintain MTS, as it's too time-consuming to do so. My mods and cheats can all be found at
TwistedMexi.com
and
my patreon
. My legacy cheat wiki is discontinued but still available at
Sims 4 Cheat Resource
If you'd like to support me, I'm now on
Patreon
. Be sure to check there for more frequent posts :)
Policy
You may share my content with any individual as long as I am credited.
You may also provide individuals with a link to any of my existing upload sites.
You
may not
upload my content to any other distribution sites (i.e. sites similar to ModTheSims4) unless you acquire my explicit permission to do so.
If a mod of mine is updated by someone else without them asking me for permission to do so,
I reserve the right to re-update said mod myself.