Sims 4

>

>

Mods that don't fit in any other category.
Cup Ramen
115,020

Downloads
826

Thanks Thanks
236

Favourited
114,724

Views

Uploaded: 7th Aug 2016 at 6:57 PM
Updated: 21st Jan 2017 at 5:53 AM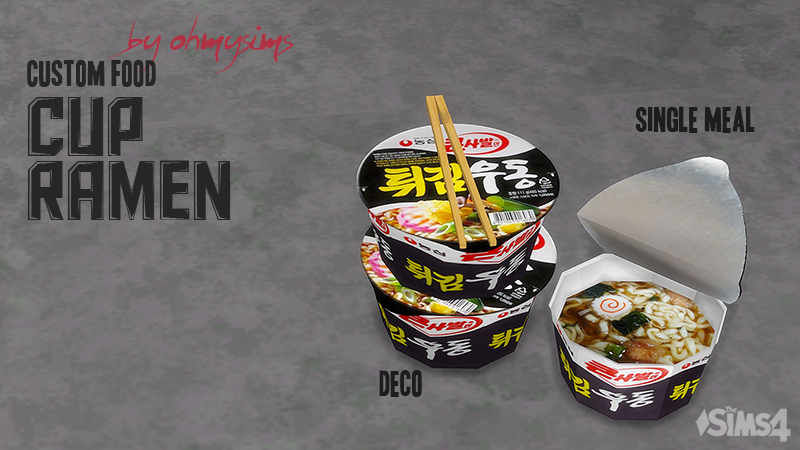 :lovestruc
Compatible with the patch PC Version 1.26.96.1010 / Mac Version 1.26.96.1210 (Jan 12, 2017.)
:lovestruc
Update Jan 21, 2017
:
VERSION 3
. Updated for Patch 1.26.96 (aka Toddler Patch). Now all age groups can eat this food as before.

Update Nov 9, 2016
:
VERSION 2
. Now chopsticks are animated. (replaced with EA ones that came along with the patch 1.24.102.)
about:
This is cup ramen that sims can get from fridges, microwaves, coolers or vending machines.
YOU NEED CUSTOM FOOD INTERACTION v1.9.1 or higher for the recipe to be available in game.
No cooking skill is required (Lv1)
No ingredient is required.
Tagged as Misc.
Cooking steps and props (cooking ingredient, ingredient, and chopsticks) are customized.
Available for all age groups.
Compatibility:
Your game version must be at least 1.26.96 (aka Toddler Patch) for this recipe to work!
Basegame Compatible, but the dish will also show up in the restaurant menu if you have Dine Out (GP03) installed.
The recipe is also available from coolers (GP01), or vending machines (EP01), if you have the respective GP/EP installed.
Should not conflict with any other mod.
Safe to merge with other files.
How to use this recipe:
Make sure your game version is up-to-date.
Make sure you installed all the required files (both recipe and custom interaction script)
Click coolers, microwaves, refrigerators or vending machines in game and choose [Have Custom Snack] pie menu.
Choose the recipe you'd like to cook from the list.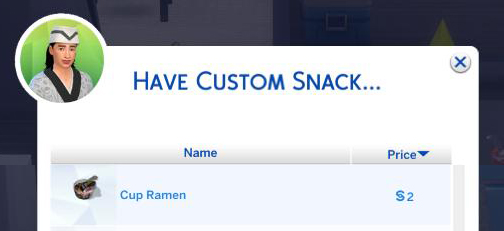 How to change the texture of some food/drinks:
Have your sim get food/drinks from fridges, stove, etc, as usual.
Cancel the eating interaction so you can snatch the food/drinks away :D
Go into the Buy mode and use the design tool to change textures.
Give the food/drinks back to your sim.
Please note that this trick only works for certain food/drinks that were specially made for the purpose.

Localisation:
English, Chinese, Czech, Danish, Dutch, Finnish, French, German, Italian, Japanese, Korean, Portuguese, Spanish, Swedish, Norwegian, Polish, Russian (all translated by myself)
I used the strings of other custom food and google translator for the translation. So feel free to correct any mistake and add suggestions. You can simply translate the texts below and reply to me. And I'll take care of the rest.
Code:
English / Cup Ramen
Miscellaneous:
Polygon Counts:
Single meal: 306 vertices / 434 polygons
Custom chopsticks: 64 vertices / 40 polygons
Ingredient: 97 vertices / 106 polygons
Credit:
Plasticbox for the custom interaction script and tutorial.
Graycurse for helping the FoodGroup improve the script.
New meshes by me.
The ramen ingredient is a new mesh by me and you can download a deco version of it in my personal blog.
Made with Sims4Studio, Blender, and Photoshop
Packs Needed
None, this is Sims 4 base game compatible!
Terms of Use
All the custom foods I upload either here or
my personal site
are published under the same license of the custom food interaction script:
BY-NC-SA Creative Commons
(Attribution, Non-Commercial, Share-Alike).
Please do not redistribute any unmodified files, especially to paid sites. Link to the original post instead, if you'd like to share my stuff with anyone.
** I DO NOT TAKE REQUESTS OR SUGGESTIONS **