TS4 Coat Converter
MTS has all free content, all the time. Donate to help keep it running.
2,069

Downloads
89

Thanks Thanks
48

Favourited
55,614

Views
Featured Upload! This is a featured upload! It showcases the best talent and creativity available on MTS and in the community.


Uploaded: 6th Nov 2018 at 12:24 AM
Updated: 6th Nov 2018 at 5:10 AM
This is a very simple tool that finds and extracts painted pet coats from the .householdbinary files created in your Tray folder when you save a family in CAS to your library. The coat image is saved as a .png with full transparency and can be used as the texture for a CAS Part so the coat can be easily used and shared.
To find an image, navigate to your \Documents\Electronic Arts\The Sims 4\Tray folder and select a .householdbinary file. The tool will search for images and display them. If it finds more than one you can scroll through them.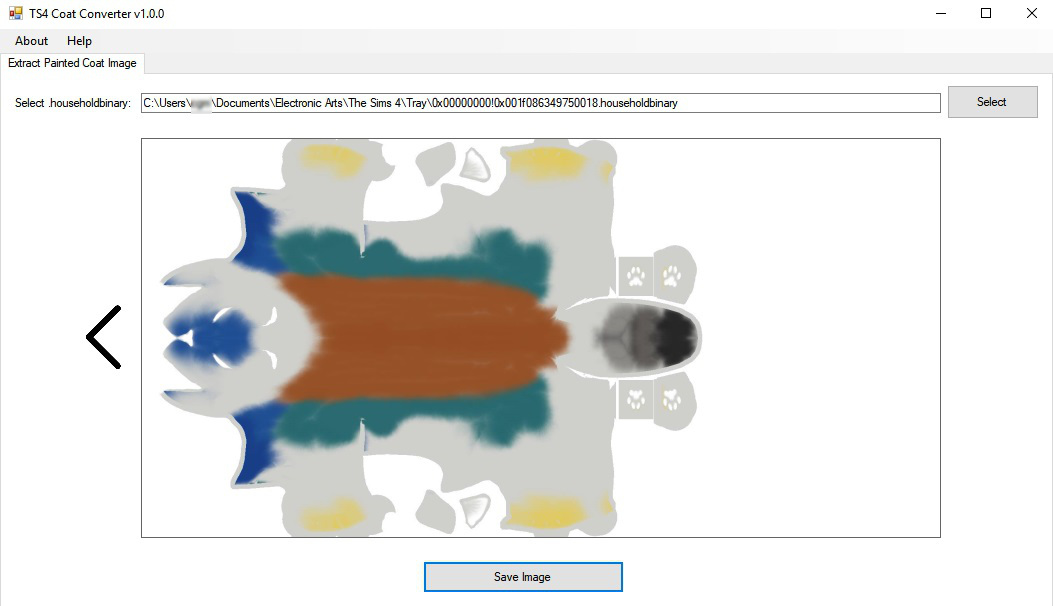 When making a CAS Part, you have a few choices.
Pet Clothing/Accessories:
Clone the 'nude' body. Set the proper flags (check 'Show in CAS UI' and 'Show in InfoPanel', uncheck the 'Enable for Nude' options). Adding the FullBody tag will make it show in a clothing category - Costume value for outfits, Suits for tops, and Short Dresses for dresses.
Clone a collar or hat and remove the mesh.
Clone the Shoes (paws) and set the flags as above for the nude body. This will show up in the unfiltered clothing category and can be combined with other clothing/accessories.
Clone the ears or tail, but this will restrict you to one ear or tail shape.
Extract the .exe file and run it. Please report any problems!
Packs Needed

For a full list of packs with names, see the Packs Needed popup.
Other Information
Operating System
:
– Windows : Windows XP, Windows Vista, Windows 7, etc
Utility Type
:
– Miscellaneous : Tools which do not fit into the above categories.
Plugin Type
:
– Not Applicable : Standalone tools
Packs Needed
| | Base Game |
| --- | --- |
| | Sims 4 |
| | Expansion Pack |
| --- | --- |
| | Cats and Dogs |
About Me
If you have a problem with one of my mods, please post in the thread for that mod. There's no reason to pm me - it fills up my inbox and means no one else is going to be able to learn from your problem and my answers.

My policy on use of my work:

Feel free to use any of my meshes, morphs, skins, or whatever as a base. If you change, convert, or enhance my stuff you may post it without asking, but please give credit. If you use them without changes, please post a link to my downloads rather than reposting. However, you may include them with Sims or lots without asking, but with credit.

Please do not post anything using my creative work on any pay site or the Exchange, unless it's in a free section of a pay site. If you want to post your own original creation made using my tools to a pay site or the Exchange, you may do so, but give credit for the tool.

Obviously my tools are for free use by anyone, but I'd appreciate a credit if you post something created with them.

So basically: no pay site, no Exchange, give credit. Other than that, meh.

If at some time I lose interest in Sims 3, or am too busy, or die, anyone who wants to may update/modify/add to any of my work as long as they follow the MTS policy on updating broken or outdated custom content.

I don't take requests. Suggestions for enhancing work I'm doing or have done are welcome, whether or not I act on them, but please no requests for totally unrelated stuff that I probably have no idea how to do.