>

Fireplaces, Pool Accessories, Columns, Fences & Gates
Animated - Placeable Fish - Jellyfish
MTS has all free content, all the time. Find out how YOU can help to keep it running.
Tell me how...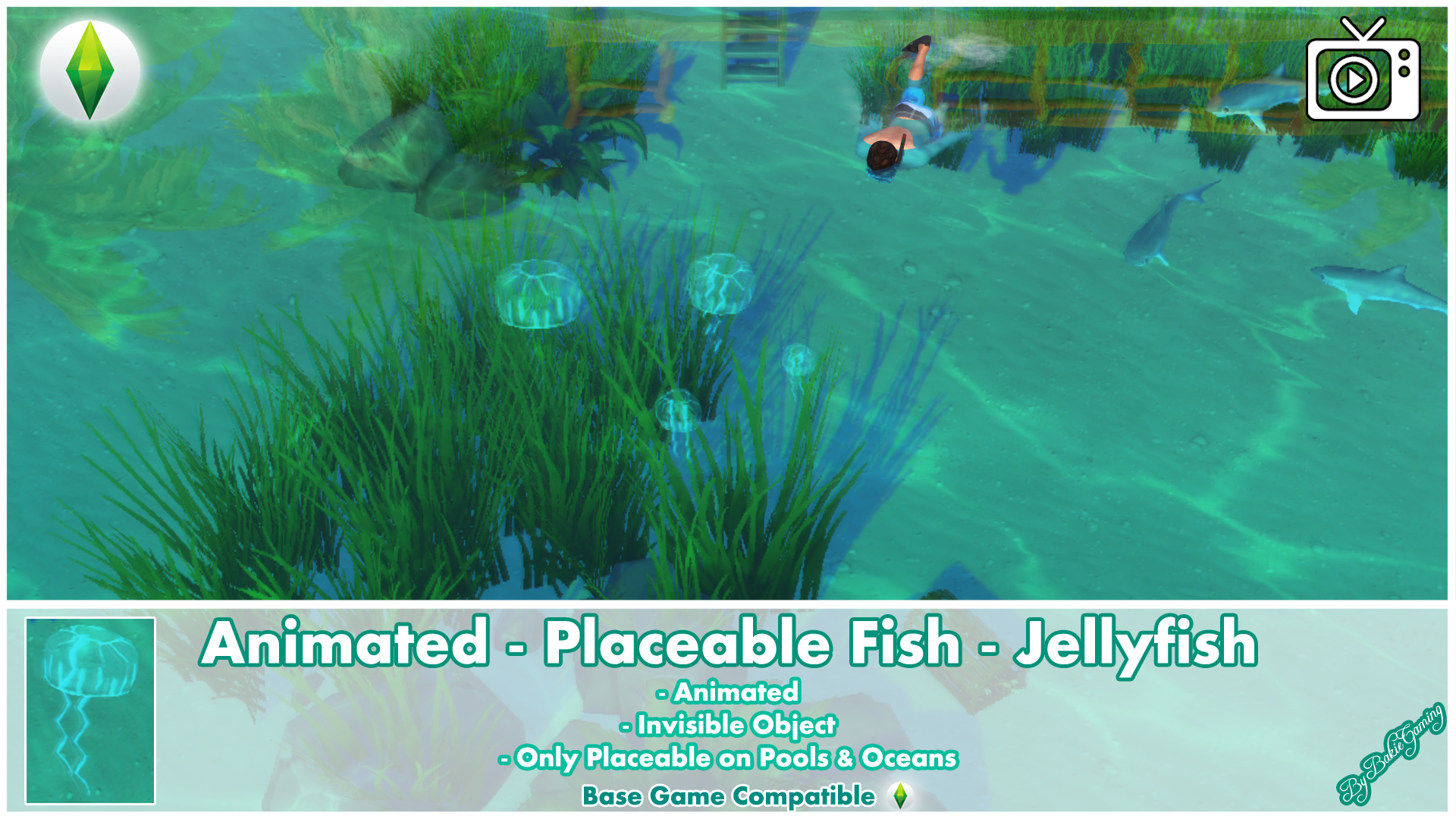 Created by Bakie View Policy / About Me View Downloads Home Patreon
Uploaded 2nd Aug 2019 at 2:14 PM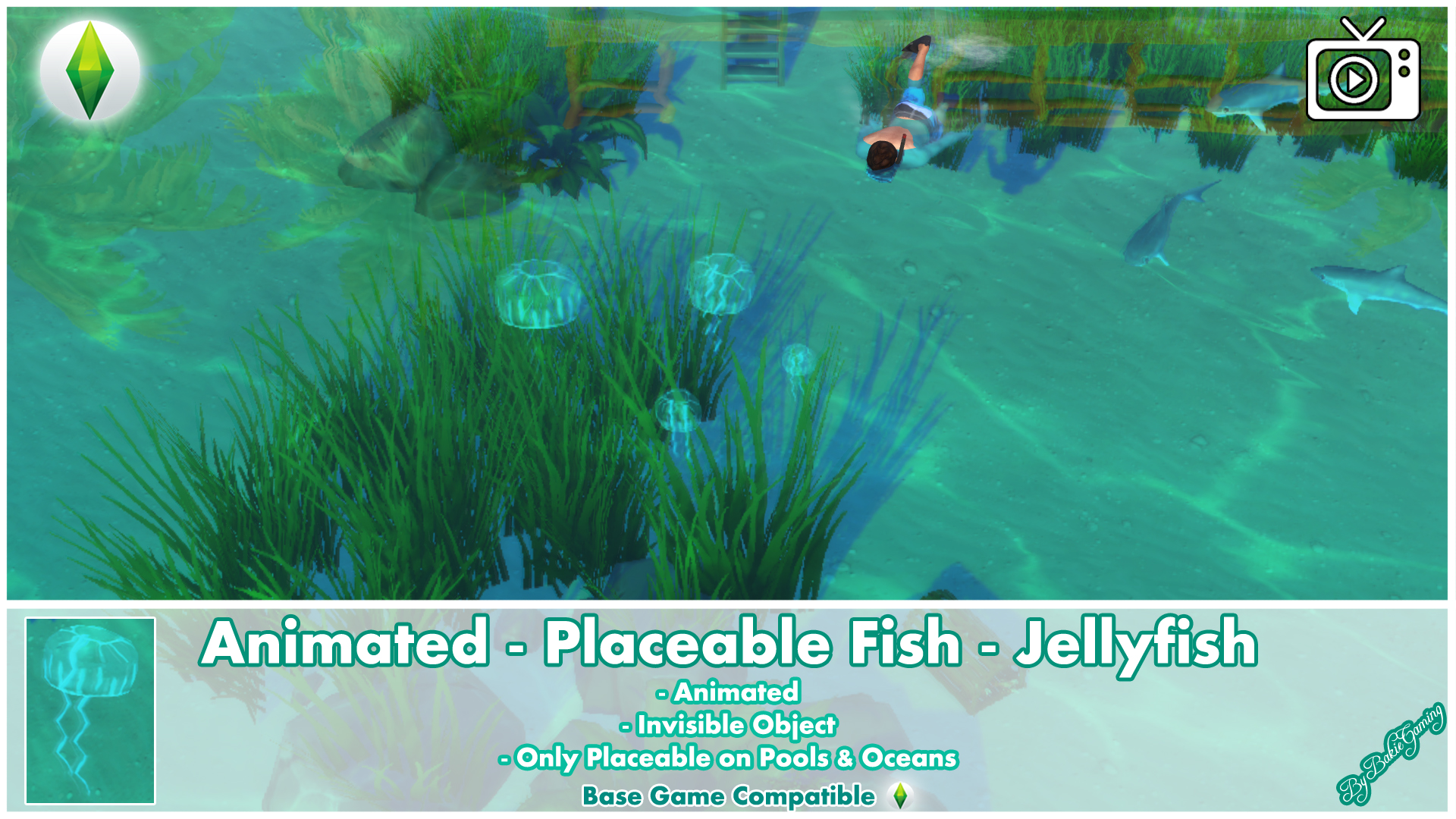 For the animation itself, some more info and example scenes, please click this
Youtube Video Link
:
Bakies The Sims 4 Custom Content: Animated - Placeable Fish - Jellyfish
(it's only 3:39 minutes long)
Animated - Placeable Fish - Jellyfish
First of all, yes I know jellyfish aren't actually fish, but more like corals with no brains, hearts or gills and such. It's just to find them more easily in your mods folder in between the other animal mods.

Just like a lot of my other Placeable Animal mods, this mod is Base Game Compatible and the object spawning the jellyfish effect is invisible.
After placing and going into live mode, multiple jellyfish will spawn. While they will one by one disappear slowly, new ones will appear and take their places. This will be repeated for an infinite time.
Some tips for replacing or deleting the invisible object:
To find it, hover your mouse over the spot you thought the object has been placed until a grabbing hand appears. Click to replace it, or switch to the Demolish Tool by pressing the K-key to delete it.
Of course you can also grab it and press the delete button.
Another way to find them is by using the eyedropper tool (E) and hovering over the water surface until the object's name appear. You can then switch to the grab tool (G) and replace or remove them.
For more info and examples of this, take a look at the video!
Object information:
This mod is Base Game Compatible.
It's a standalone object, so it won't override any other objects in game.
You can find it in Pools > Decoration OR type
Jellyfish
into the search bar.
You can recognize it by my "BakieGaming" icon in the lower right corner of the thumbnail.
The cost are: 4 Simoleons
Game Requirements:
Base Game Compatible
Game Version:
Tested with gameversion: 1.53.115.1020
Custom Content visible on the Thumbnail
Animated - Placeable Fish - Sharks
Walk-Through Grasses - Base Game + Jungle Adventures
Unlocked + Recolored BaseGame Group of Rocks (Base Game Rocks Recolors on YouTube)
Animated Unlocked Lobster- & Crab Trap
Ocean Buoy - Diving & Snorkeling
(Makes it possible to snorkel (and dive) in the water of your beach lots in Sulani too, like the Sim on the Thumbnail.)
I hope you like these new placeable animals and if you do, please leave a comment!
If you want to use it in screenshots or videos, be sure to give me some credit!
>> Want to share my mods? <<
Besides giving me credit and linking back to this page, I would appreciate it if you could add my video instead of (only) the thumbnail.
Polygon Counts:
Vertices:4
Polygons:2
Additional Credits:
Additional Credits:
Thanks to the Sims 4 Studio
Thanks Adobe for making Photoshop
Style: Not Applicable
Maxis Flags: Not Applicable

Tags: #Sims 4, #Animated, #Placeable, #Fish, #Jellyfish, #Jelly, #Animal, #Animals, #Ocean, #Sea, #Invisible, #Island, #Living, #Decoration, #Standalone, #Bakie, #BakieGaming
About Me
Hi everybody!
Nice to see you're curious about what mods I made so far for The Sims 4!
As I would like to see more awesome stuff for The Sims 4 from other creators too, I make easy to follow step by step video tutorials on my
BakieGaming YouTube channel
. So if you would like to learn how to mod yourself too, that's the place to go! You can also find videos about all the mods I made and an Effect Player series on my channel.
If you like my mods and videos and want to give me some extra support, please take a look at my
BakieGaming Patreon page
.
Policy
You may share my creations, but always give me credit and link back to the original MTS description page of that mod.
You may not upload my content to any other distribution sites (i.e. sites similar to ModTheSims4) unless you acquire my explicit permission to do so.