>

Pixel dollhouses/For sims to live their lives in/Nice houses for sims
View Old Style
-Foundation Challenge- Old Irish Manor
MTS has all free content, all the time. Find out how YOU can help to keep it running.
Tell me how...

Created by Phaenoh View Policy / About Me View Downloads Home Patreon
Uploaded 2nd Apr 2012 at 6:03 AM · Updated 16th May 2017 at 5:13 PM by Phaenoh
wgroome's text: When Layton and Lucinda found out they were expecting it was the greatest day of their lives. When they found out they were having triplets? Not so much. Now their three daughters (athletic Lara, bookworm Leanne and musician Lorrie) are all teenagers, they are demanding their own rooms. Layton and Lucinda are happy to move, but want a large master bedroom and their own en-suite bathroom.
so elected to do the Lewis family. Either I'm way off base with the names or I just suck at making people. The Lewis family ended up being the O'Donnel family in my game. Patrick, Brighid, Lara, Leanne, and Lorrie moved into an old Irish manor. (I was making Layton and somehow he became a leprechaun, so I made the family Irish from there.) (apologies to any actual Irish out there, this is way stereotypical).
The house has a long history, it was built many many years back before the roads through town were drawn up. What is now the side of the house used to originally be the front. There was a large garden and doors to both main areas of the house. When the town got bigger and expanded outward, the road ended up on the side of the house. The front porch was redone to accommodate the new entrance direction and a driveway was put in. Many of the original details in the house still exist - like the wood floors, bathroom tiles and much of the fixtures from the copper kitchen, though it was moved from what is now the dining room. The stone annex was less of a fire hazard. A good deal of the house has been renovated as well. Its an odd mix of old and new, and the O'Donnels think it's just perfect for them. The kitchen and the living room are just the right size for the family to come together and enjoy their favorite activities without tripping over one another.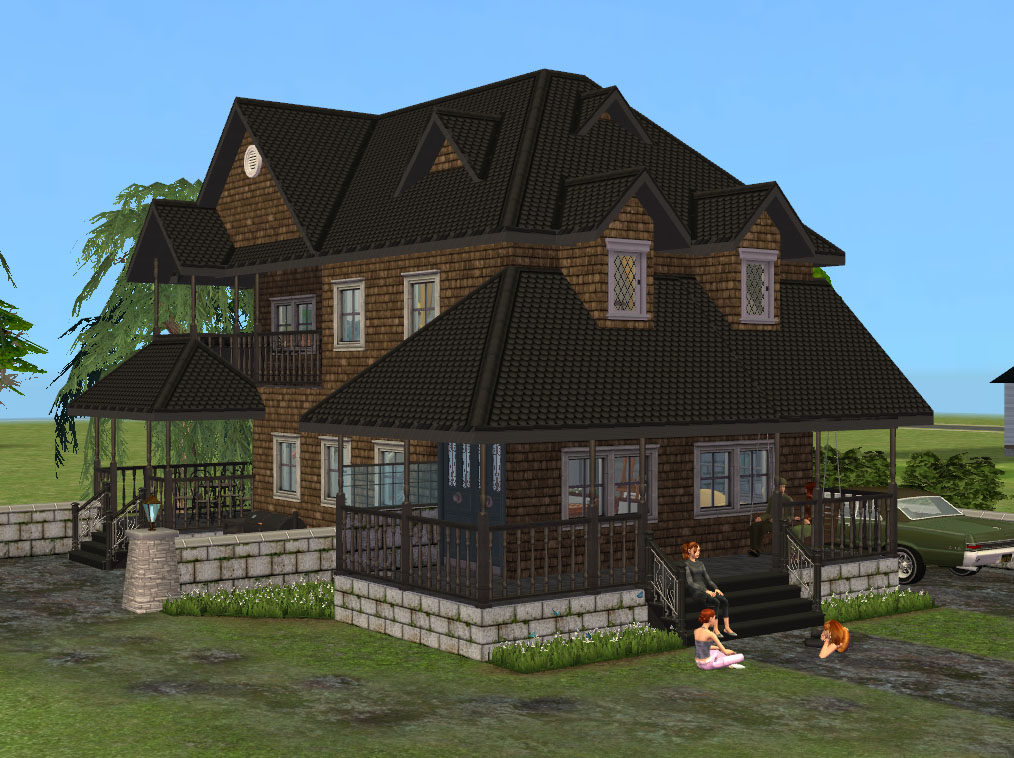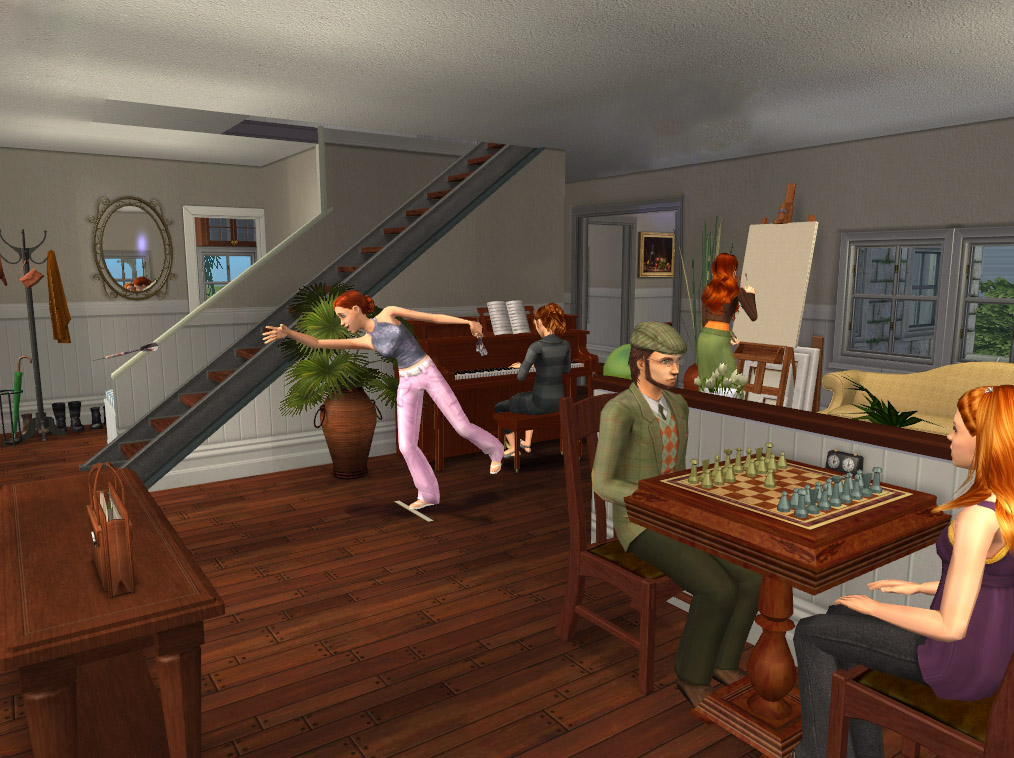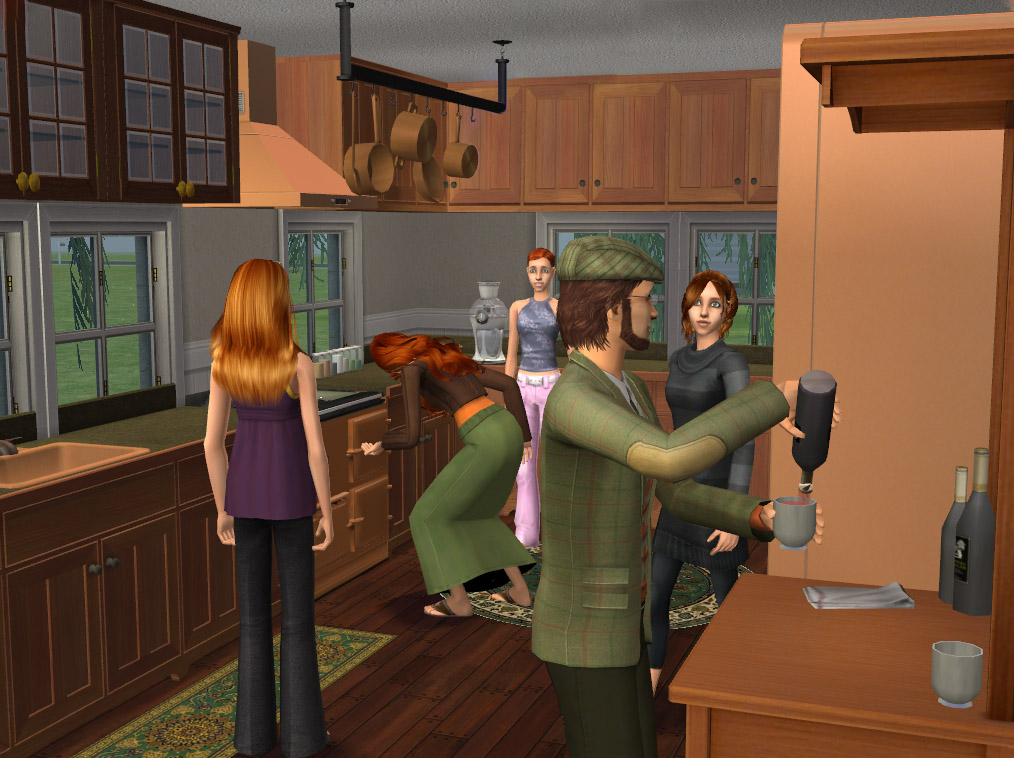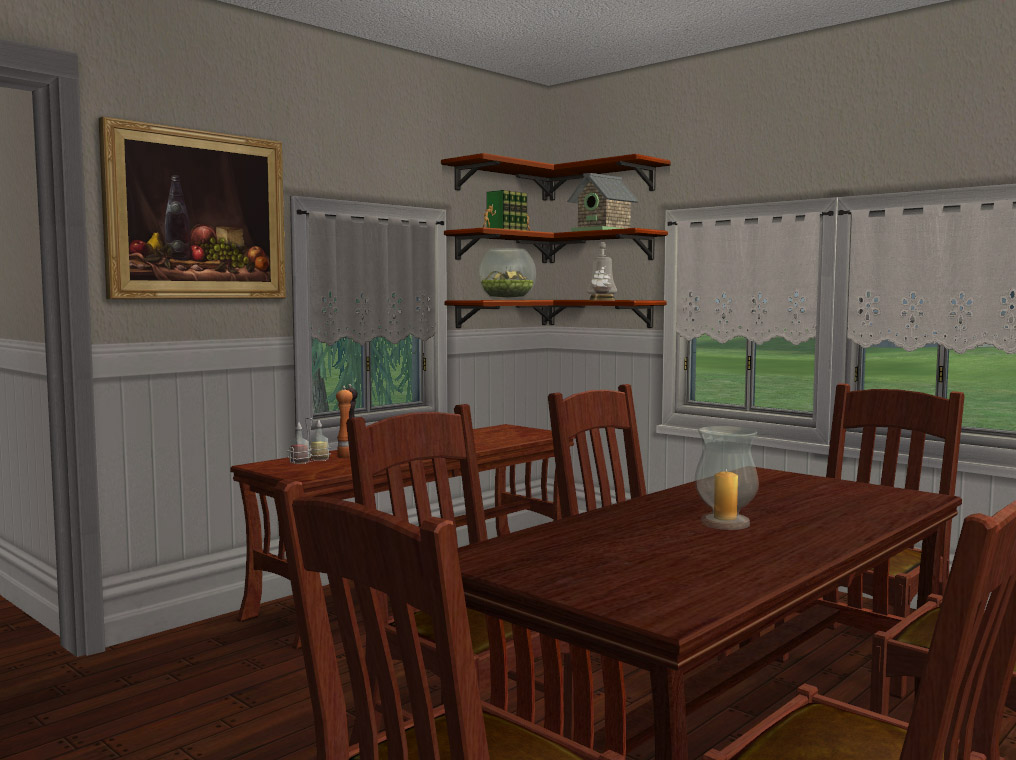 When the girls want to be alone, however, they each have an identically sized bedroom to partake in their hobbies. Lara is a ballet dancer. She has a barre and a mirror and she's also a bit of a girly girl. She loves pink and has crushes on all the celebrities. Leanne loves Shakespeare and anything from the Olde World. She also has taking up acting and lives in a fantasy land. When she doesn't have her nose in a book, she has her head in the clouds. Lorrie is quite the violin virtuoso. She regularly performs in concerts at school and sits First Chair. She's not just interested in Classical though, she also has a sweet stereo system to listen to the College Rock and Pop stations. See the pictures below for images of their rooms.
Just your typical family of redheads!
Enjoy!
-Phae
Lot Size:
3x3
Lot Price:
$140,943
Custom Content NOT Included:
You will need my
Birdhouses
, my
Phonebook
, and my
Piano
. I didn't include them because I update my stuff only on their pages and shoot that birdhouse has a lot of recolors.
Also, you need HL's awesome
modular fences
. They don't package with the lots and I almost missed them!
Custom Content Included:
MTS CC:
- Stair wall fix set by
JRW
- 1965 Pontiac GTO by
Fresh-Prince
- Rustic Porch Swing by
cokenasmile
- PlantsAsPlants by
Richi3frog
- Hacked Coat Hook by
Numenor
- Coat Hook recolor by
fanseelamb
- ShingleBellsRC_WinchesterGrey by
iCad
- ShrubbyShrub-Jumbo by
HystericalParoxysm
- One More Slot Package "Counter" and recolor by
JohnBrehaut1
- Phaenoh's PhoneBook Medieval recolor by
Alraris
- yggStoveMaracStove and AgaCreamRecolor by
x-kisses-for-yooh-x
- Craftmeister Booknook Short, Castanoga Wall Cabinet, Club Wall Cabinet by
CTNutmegger
- OMSP Endtable and recolor, OMSP_Counter_Usable and recolor by
Lord Darcy
- Club Distress Sofa Table - Slave, and Luxiary Ample King Sofa Table - Slave by
mustluvcatz
- ShiftableShelf1 and recolor, ShiftableShelf2 and recolor, UnderGroundOMSP2h1 and recolor by
SilentLucidity
- Dish Drying Rack by Stack 'Em Wide Inc., 'PlaceAnywhere' Vanity Mirror by Spacesava Mirros Inc. and recolor, and Umbrella by
BobL
- Atomicbed_single,substancematching_loveseat, atomicmatch_onetilechest, OFBcounter_cleanwhite, and whiteshopcounter by
Ailias
- Arts and Crafts Double Arch, Short Stewart Curtains, Von Trapp Shorter Window on 2 Tiles, The Smaller Von Trapp Window by
leesester
- Stairs Nouveau Recolorable Stairs and Recolor, "Coloratura" by Chrome Concepts, AquaPlus Shower Stall, and Maturely Medieval Double Bed by HugeLunatic by
HugeLunatic
Off-site CC:
- Boots by
Beosboxboy
- Ballet Slippers and recolor by
lmhwjs
- Smustlin™ House Party: Greatest Hits by
Lord Darcy
- Witchery Black Mansion Roof, Easy Breeze Gable Vent - Low (2 Tile) by
Kate
- Escadaria "Passo-a-Passo" Altitude & Atitude Ltda, Paint_PlasterAndMolding by
Holy Simoly
- Decorative Plant , Modern Line Kitchen Condiments, Modern Line Living Deco, Miscellaneous Decorative Accessories CD, Audio Music Box, Audio Phonograph, Audio Radio, Sleigh Bedroom Alarm Clock, CDs Accessories, Musical Instruments Chimes, Creative Toy, and Accessories for Desk by
Sandy
Dead Sites:
- Props Briefcase by
Adele
- Basket by
fairywitch
- Simple Kitchen Curtain by
Nengi65
- Cornerstone Victoriana Velvet Drapes, and The Single Bed of Wonderment by
NoFrills
- Spx Abandoned coatrack and recolor, Footstool Part of the Natural Bathroom, Ship in a bottle by
Xiomara
(dead site)
Additional Credits:
wgroome
again

Number of bedrooms: 4 Bedrooms
Custom Content Included: Build and Buy Mode Content
Furnishings: Fully Furnished
Special Flags: Not Applicable

Tags: #old, #irish, #manor, #moor, #rainy, #triplets, #ballet, #dance, #shakespeare, #books, #reading, #violin, #music, #contest house
Blurb and Updatez:
Please don't reupload my work anywhere else. Just point them back here, I'm not going anywhere! :)
Please ask permission before using my work as a base for your project. I almost always say 'yes' and often times I will help you with your project! :bunny:
If you make something (like a story or a video) and it has something of mine in it, send me the link, I love to see my stuff 'in action'!
Sadly, but honestly, I can't take on requests. You can ask if it's something already related to one of my current projects, but I'm not likely to take on your project for you. MTS has lots of wonderful tutorials ;)