AppaloosaPlains.world with Fixes applied
MTS has all free content, all the time. Donate to help keep it running.
166,510

Downloads
1,012

Thanks Thanks
200

Favourited
120,131

Views

Uploaded: 22nd Nov 2011 at 7:53 AM
Updated: 3rd Jan 2013 at 7:53 AM
What is this?
This is the AppaloosaPlains.world file with the Resources imported from this download thread
[In Testing]Resources for AppaloosaPlains.world's various Fixes
.
What has been done?
A recap:
Quote:

As explained in the Game Help:World Routing Lagswiki,
the yellow spots (in the "Dotted" image) denote areas where the disjointed white routing lines, Sim non-routable and Camera non-routable painting have been repainted over. In the picture below these spots are shown with Green arrows. The Yellow arrows are routing that only appear disjointed, but are OK in Wireframe view.

Quote:

the red spots denote areas where the intersections have been corrected so that the Intersection and Road pieces now all connect. Mainly in front of Residential areas and the ones shown in the image below. Some that have the "ranch dirt road" do not have issues with vehicles doing U-turns, so I left them untouched.
There is a visual way to tell if the fixed resources have been imported, and the fixed world is "Live" in a new game or your Save games.

Look at the spots denoted by Red dots - at a road intersection. If you can see the intersections are yellow (instead of blank) from Map View, the fix is applied correctly.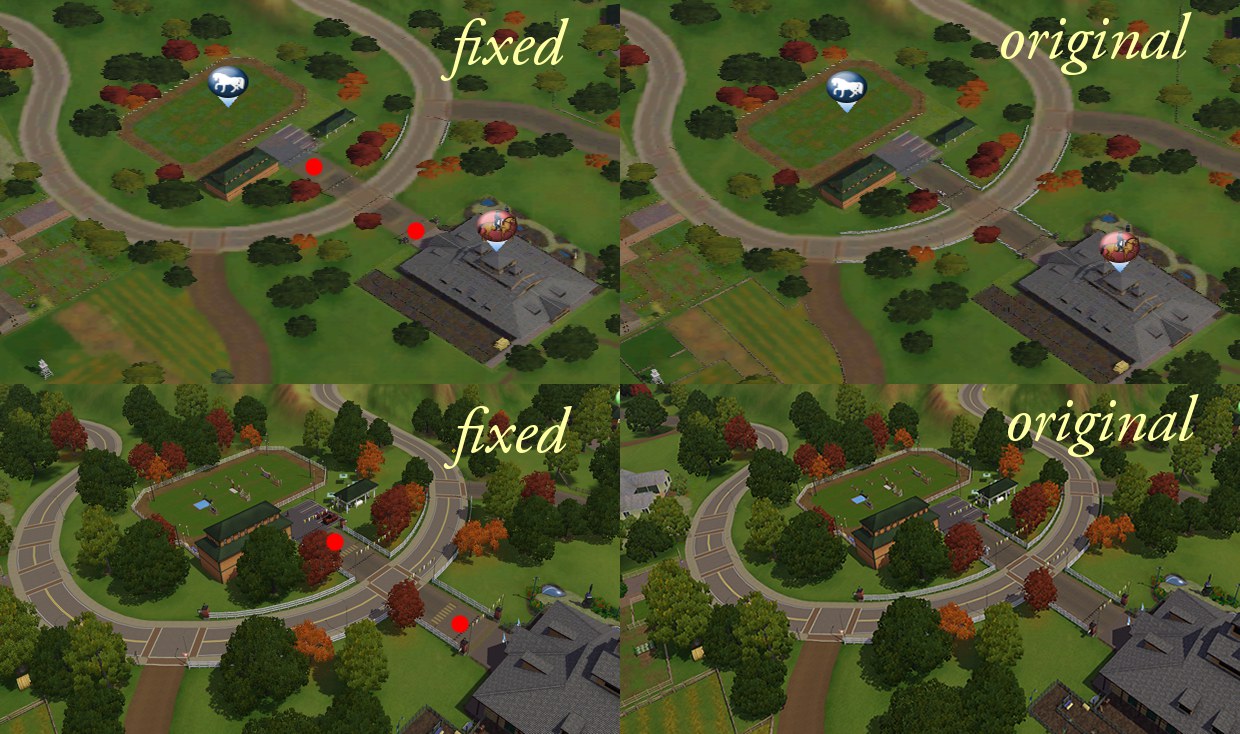 Backup!
Heed that
backup
instructions, really! You've been warned!
How to install?
How to remove or restore the file before updating?
Go to the path above
Delete the *.world file. Or if you want to reuse it after patching, rename it with a ".fixed" extension, so the filename becomes "AppaloosaPlains.world.fixed"
Rename the "*.orig" copy by removing the .orig extension (or from whatever you have renamed it to).
Delete caches before starting game. Game Help:Sims 3 Delete Cache Fileswiki
Feedback
As always, feedback is welcomed.
Please report any other areas that you get stuck Sims at that I might have missed. If I may have been overzealous in the corrections or did some things wrongly.
Notes & Changelog
:
As and when I get reports of any issues, or new spots, or patch changes (if any).
Compatible with Patch 1.26.89. Would most likely be compatible with any patches in the future as well.
The 2 .7z files contain a total of 338 (2+336) items.
Would conflict with any other download that make changes to the .world file that changed the above named resources.
Additional Credits:
Jones' for S3PE, and all of you with feedback and other contributors with images and such. Thank you.
Packs Needed


For a full list of packs with names, see the Packs Needed popup.
Packs Needed
| | Base Game |
| --- | --- |
| | Sims 3 |
| | Expansion Pack |
| --- | --- |
| | Pets |