Medieval Men's Shoes for Teens, Adults, and Elders CAS - Ye Olde Kingdom of Pudding
11,411

Downloads
577

Thanks Thanks
81

Favourited
43,934

Views
Uploaded: 12th Nov 2012 at 3:46 PM
Updated: 18th Nov 2012 at 9:13 PM
Medieval Men's Shoes for Teens, Adults, and Elders CAS - Ye Olde Kingdom of Pudding
Made by Kiara24 for The Merrye Makers
Revised by Monca533 for The Merrye Makers


Greetings, good gentles/ladies. We are The Merrye Makers - a group of twelve creators spanning all disciplines (clothing, lots, objects, etc.) offering for thy downloading pleasure a collection of medieval things most beauteous from Ye Olde Kingdom of Pudding -- otherwise known as "Simdom Pudding".

Shoes and Shoemaking

There were two kinds of shoe makers in Ye Olde Kingdom of Pudding. One was the cobbler, who made and repaired ordinary round toed shoes for frugal common people. The other was the cordwainer, who made luxury pointed styles, called "pigases", for the aristocracy of Simdom Pudding. Pointed toes were stuffed with moss, hair or wool. Adventurous noblemen wore bizarre variations of the stuffed pigache toe, such as the "fishtail", "serpent" and "scorpion". Carefully crafted from leathers soles and uppers, Ye Olde Kingdom of Pudding dwellers waterproofed their shoes by oiling them or rubbing them with tallow or lard.

Sources:
http://wiki.answers.com/Q/What_is_a_medieval_shoemaker
http://www.personal.utulsa.edu/~mar...n/shoe/APP5.HTM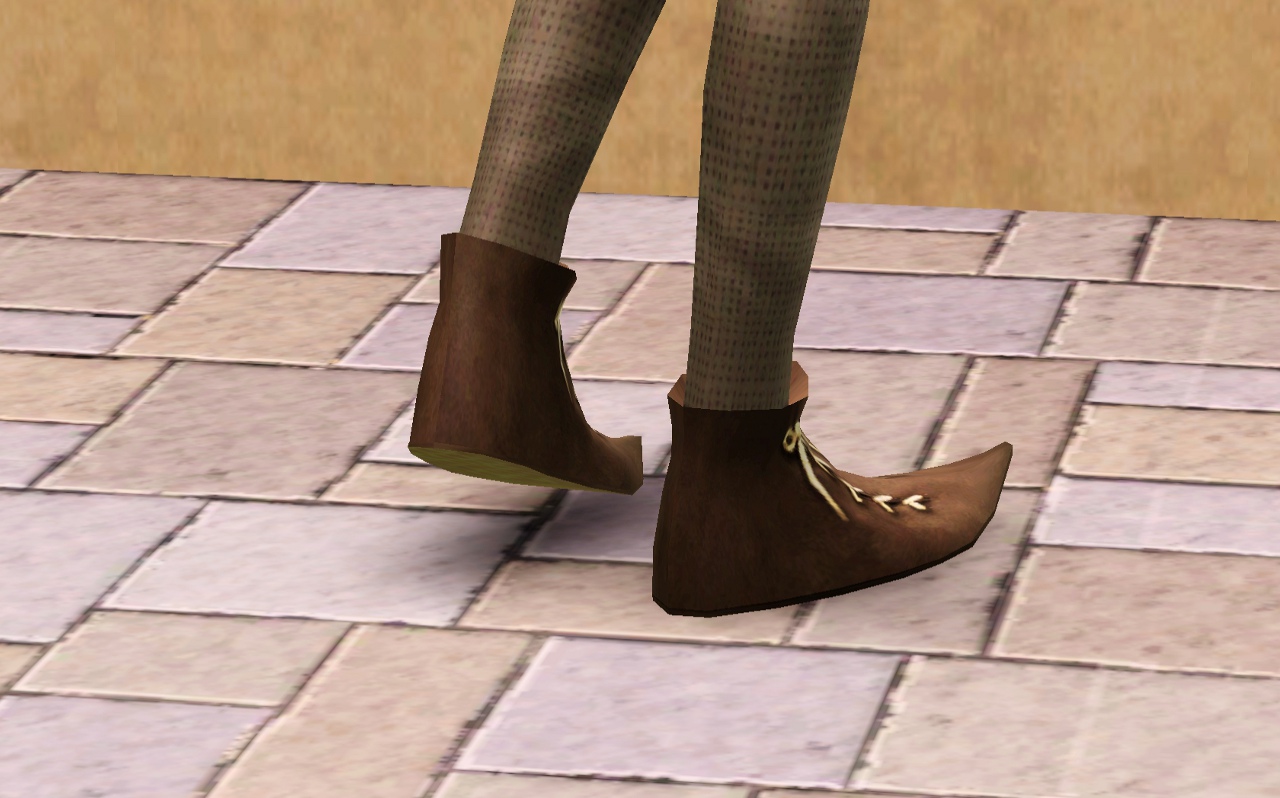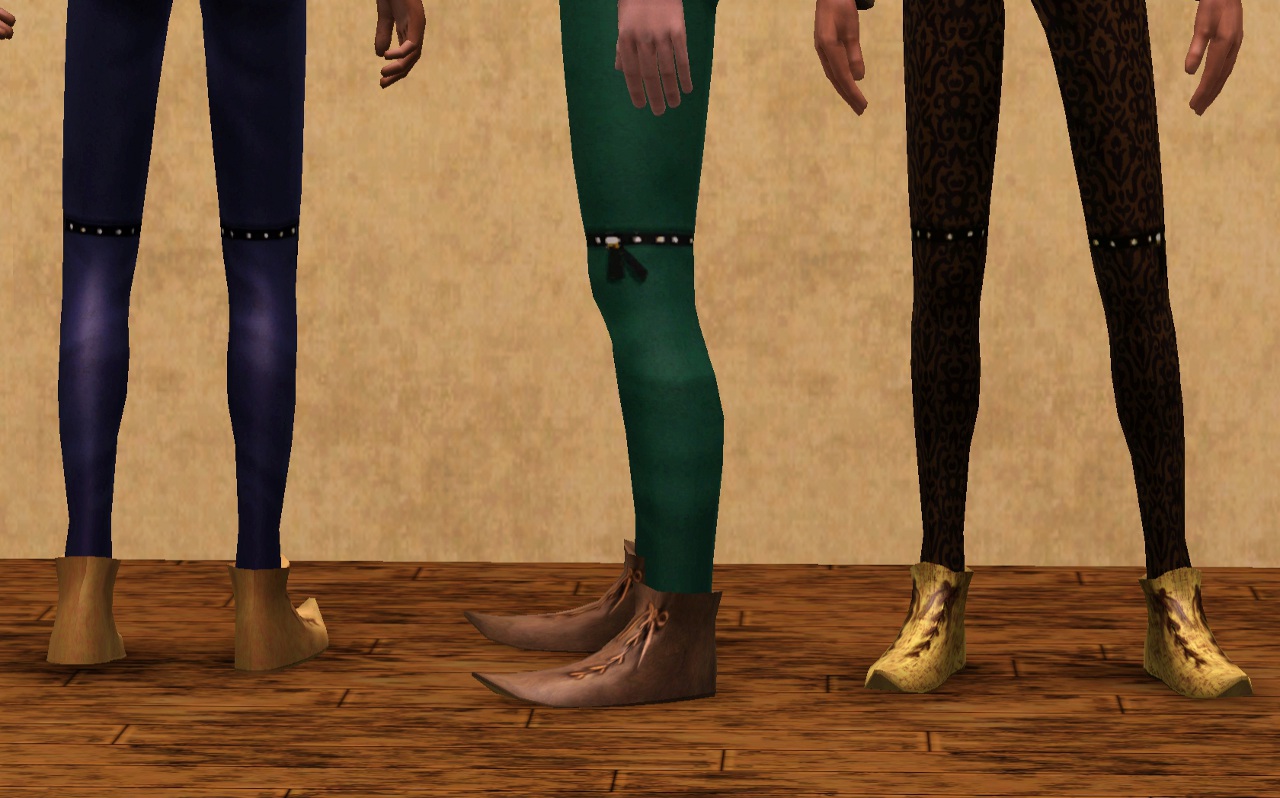 Medieval Men's Shoes by Kiara24
Revised by Monca533
Game:
Base game
Gender:
Male
Age:
Teen to Elder
Categories:
Everyday and Formal
Channels:
3 - Shoes, Soles, and Ties
Polygons:
LOD1 = 456, LOD2 = 222, LOD3 = 102
Model sims are wearing Medieval Male Doublets and Pants from forthcoming Merrye Makers uploads.
Additional Credits:
The Merrye Makers express gratitude most bounteous to Kiara24 for shoeing our medieval men.
Grammarcy, good Monca533, for revising the shoes when Kiara24 couldn't.
Many thanks also to the MTS staff - especially Leesester - for their support and assistance with Merrye Makers' uploads.
Packs Needed
None, this is Sims 3 base game compatible!
Other Information
Age
:
– Teen
– Young Adult
– Adult
– Elder
Clothing Type
:
– Everyday
– Formal
Style
:
– No Style : None of the following
Maxis Flags
:
– Not Applicable
The Merrye Makers
Ahh, wanderers, welcome. Art thou merrye? If thou art not merrye thou art soon to be. What wares hast thou come here looking for? Clothing for thy entire family? Furniture for thy house? Maybe thou art simply in need of a house in general! Well sir, we are most glad to let you know that we have all that and more.
This has been a big undertaking for everyone involved, our skills range from featured creators to never having uploaded anything before. Everyone has enjoyed watching the project grow, meeting new people and learning new skills.
The Merrye Makers would like to thank a number of people for getting us here. First off is the staff of MTS. The staff were so supportive of us and it's definitely no easy matter to get 100+ things approved! There are also numerous other people who were going to participate but, for various reasons, were not able to upload with us. We would like to thank Rylandholmes, Whiterider, dramamine213, hudy777DeSign, Freshprince and Kitty Paine for their feedback and support. Thank you to SimmyRN for providing the narratives found in
italitics
throughout the posts. Thank you to jje1000 for the medieval world in the pictures, Praaven. Find out more about Praaven here:
http://www.modthesims.info/showthre...ghlight=praaven
.
Policy
Please follow the policy provided by the individual creator. Please credit the individual creator and not us as a group.