>

Mods that replace game resources other than the script core.
Freezer Bunny Award Texture Fix
MTS has all free content, all the time. Find out how YOU can help to keep it running.
Tell me how...

Created by Menaceman44 View Policy / About Me View Downloads Home Patreon Twitter Tumblr
Uploaded 15th Nov 2014 at 10:21 PM

Requires The Sims 4 Rewards bonus digital content.
Description
We all know and love the Freezer Bunny, right? Well apparently not everyone working at EA knows who he is. Or at least that's the impression I get from viewing the Ultimate Freezer Bunny Award which you can use in game if you purchased and registered all of The Sims 3 expansion packs.
The only thing that has been stopping me from using it is how inaccurate the Freezer Bunny looks.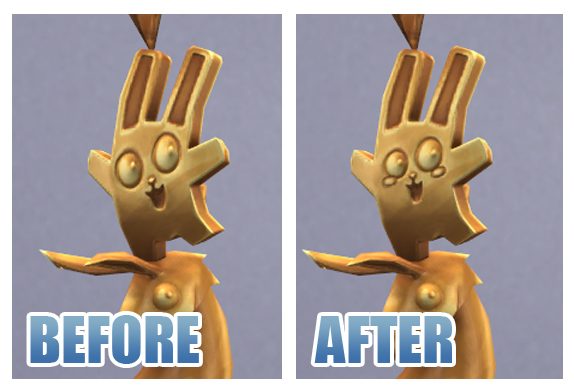 Where were his cheeks? Why were his eyes the same size (one should always be bigger than the other, usually his left eye)? Why was his face so big?!
As you can see I have rectified all of these issues and he now looks so much more like his regular self.
Info
This file is a texture replacement that replaces all of the three colours for the Ultimate Freezer Bunny Award that can be found under Decor > Sculptures as well as the specular/bumpmap/whateveritis texture.
Simply open the .zip and place the file in your Mods folder.
This will conflict with any other mods that alter the following files;
_IMG 0x00B2D882 0x00000000 0xC9CE270DAC346AE7
_IMG 0x00B2D882 0x00000000 0x69745BF67859012C
_IMG 0x00B2D882 0x00000000 0x69745BF67859012D
_IMG 0x00B2D882 0x00000000 0x69745BF67859012E
Notes
There are further changes I would like to make to this statue but they will have to wait until object meshing and modding has been properly figured out by the great talents that create the modding tools and programs for us all. Ideally, Freezer Bunny's tail should be smaller and his body should be deeper/more like a brick and less like a sheet of paper.
Additional Credits:
plasticbox
for explaining how to find object textures,
s4pe,
Photoshop.
Tags: #freezer, #bunny, #cute, #face, #texture, #statue, #correction
Info
If you would like to support what I do you can do so by buying me a
ko-fi
.
I also have a
Patreon
page if you would like to make your support ongoing.
Please do not comment on my downloads asking if they need updating for new patches. By all means. please DO post if you have tried them in your game and find them to be broken. Make sure to include details of what is wrong though. Just telling me something needs updating is not helpful.
Comments are always welcome, good or bad. Although I prefer the good ones, heheh!
As I have now moved over to playing TS4, my TS3 and TS2 creations should be considered mostly unsupported.
Please see the Policy tab above if you are wanting to use any of my creations.