Liberated Fences 3
MTS has all free content, all the time. Donate to help keep it running.
40,393

Downloads
925

Thanks Thanks
126

Favourited
62,086

Views
Uploaded: 14th Jan 2015 at 10:49 PM
Updated: 12th Aug 2015 at 6:28 AM
Some more fence objects from the game files fixed up for Buy/Build. Part 1 is available
here
; part 2 is
here
.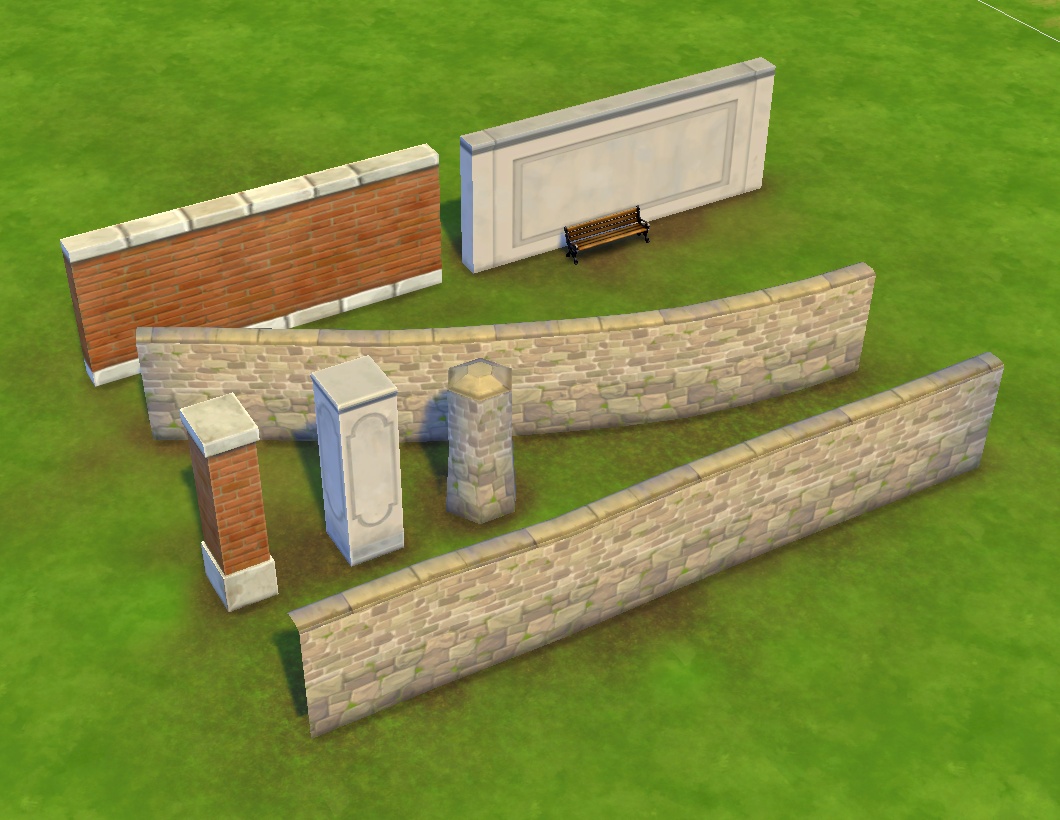 Contents and in-game prices:
Very Tall Brick Post – 480
Very Tall Brick Wall – 1.440
Very Tall Post – 520
Very Tall Wall – 1.560
Very Tall Stone Post – 320
Very Tall Stone Wall – 1.800
Very Tall Curved Stone Wall – 1.800
How to use:
These are objects, not actual fences as far as the game is concerned (like the fence-tool ones). I put them in Fence Gates since that's what worked best for me (they sort at the end, so they're all in one place there rather than strewn all over Deco > Misc. Putting anything but fences in Fences won't work).


Not being fences means they don't know how to fence =P .. or maybe it's just because they were never finished, in any case in my testing sims could walk through (most of) these – one needs to plant e.g. a hedge on one side or put them on top of actual fences in order to make them serve their purpose.


I removed the footprint reference from all of these since the original ones were rather bizarre.
This is done by way of the usual flagging and stuff, plus a custom STBL. Please post in the Create forum if you have questions about technical details!

Overrides the following COBJ/OBJD:

0x0000000000002155 fenceCEwall_lg_01
0x0000000000002156 fenceCEwallcurve_lg_01
0x0000000000002978 fenceCEwall_lg_cap_01

0x0000000000002B00 fenceGCWGC_PlasterWall_01
0x0000000000002B01 fenceGCWGC_PlasterWall_01_Post

0x0000000000002B1C fenceGCWGC_BrickWall_01
0x0000000000002B1D fenceGCWGC_BrickWall_01_Post

s4pe, Modding Toolkit (Fogity).
Packs Needed
None, this is Sims 4 base game compatible!
Sharing and recycling:
Everything I upload here is published under the current
BY-NC-SA Creative Commons
license (Attribution, Non-Commercial, Share-Alike). In practical terms:
– Feel free to recycle, you don't need to ask.
– For the attribution, please link to the upload you're using wherever possible (instead of my profile). This is particularly important with edits made for/with different games or game versions.
– If you use my stuff in something you make, please upload the result to a free, accessible, noncommercial site with no more restrictions than these. Code must remain open source; meshes and other material must remain re-usable.
Please do not redistribute any unmodified files – link to the upload post instead.