Sims 4

>

>

Doors, Windows, Doorways, Arches
Simple Toilet Stall Door
81,921

Downloads
1,612

Thanks Thanks
415

Favourited
104,993

Views

Uploaded: 27th Mar 2016 at 9:54 PM
Updated: 9th Sep 2022 at 7:36 PM
Description
I miss having actual toilet stall objects like we had in TS2 and TS3 and so I decided to make the next best thing; a toilet stall door that can be used to create your own stalls!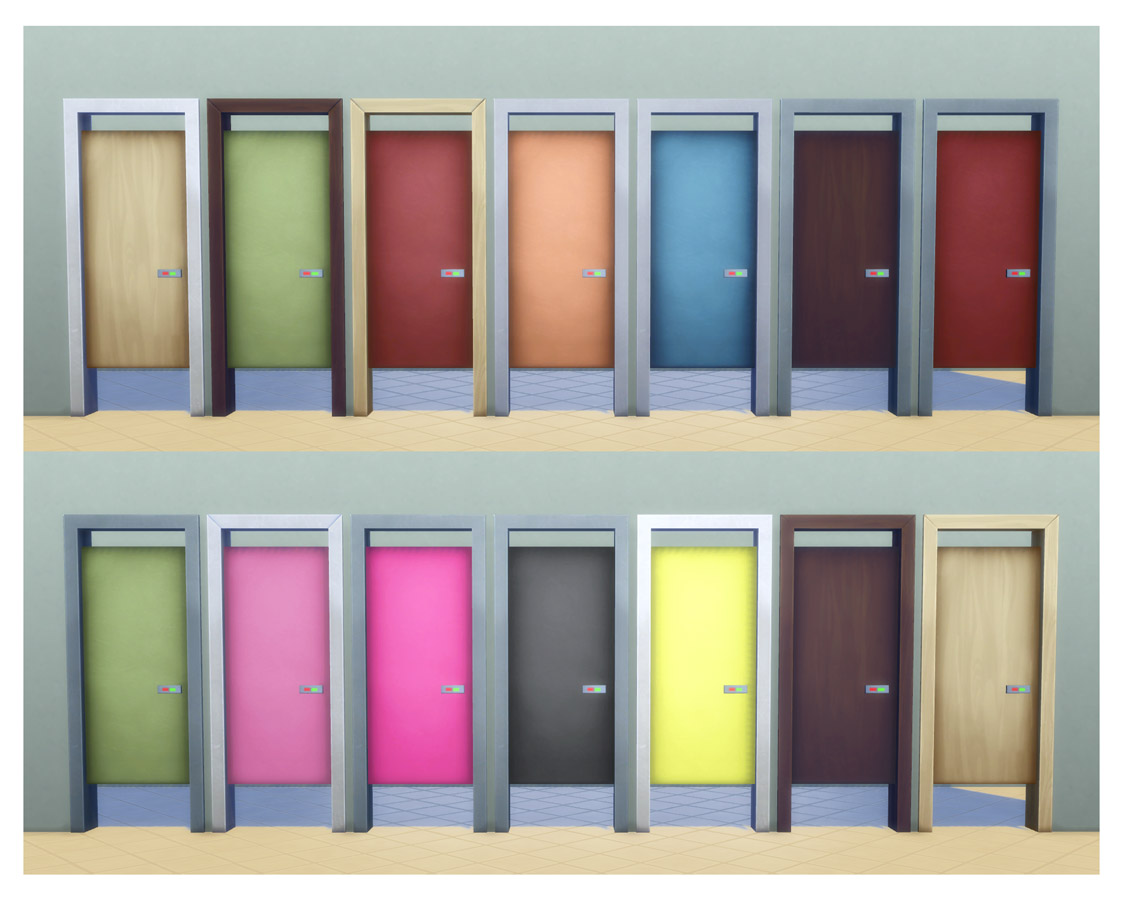 Info
The door comes in 14 colours, two of which are solid wood.
It can be found under the Door section of Build/Buy mode under the name of "Simple Toilet Stall Door" for a price of 300 simoleons.
It is correctly colour tagged if you search by colour in the catalogue.
The door has been edited so that it will let light in.
I find the doors look best when paired with the tallest "half" wall but they can be used on any wall that a regular door can be used on.
Notes
When the door is placed with the lock to the LEFT, the door will open AWAY from Sims.
When the door is placed with the lock to the RIGHT, the door will open TOWARDS Sims.
Not sure why, that's just how the door seems to behave. I've not done anything to affect that behaviour.
The lock doesn't
actually
function. It's just part of the texture. This door
can
still be locked like any other door though.
I have had two reports that these doors will not function on games that have not been patched past the Dec 15 patch. Unfortunately there is nothing I can do about this as my game is kept up to date with patches.

Updated 09/09/22
The doors have been updated to be placeable on curved walls without cheats.
Updated 22/01/17
The doors have been updated to remove the excessive lighting bloom created when both sides of the door have a light source nearby.
Updated 06/08/16
Sunlight will now correctly cast through the gaps in the door when placed on an external wall.
Polygon Counts:
Same as EA original Basic Wooden Door
LOD0 - 124
LOD1 - 112
LOD2 - 40
Additional Credits:
blender,
s4studio,
photoshop.