>

Glasses, necklaces, earrings, and anything else you want to decorate your Sim's face with - get them here!
2 Different Eyes (Heterochromia, Blind Eye, Sci-Fi/Fantasy Eyes)
MTS has all free content, all the time. Find out how YOU can help to keep it running.
Tell me how...
36,688

Downloads
174

Thanks Thanks
129

Favourited
57,791

Views

Uploaded: 26th May 2016 at 7:49 PM
Updated: 29th May 2016 at 11:07 AM - Extra info & clarification
This is a conversion of my old TS3 '2 Different Colour Eyes' - I actually converted it a year ago but then discovered that someone in Tumblr-land had already made a heterochromia mod for TS4. So, at the time I felt there wasn't a point in releasing mine, but having now dusted mine off and added a few extras to make it more versatile and use it myself, thought I'd upload it anyway in case anyone else might find it useful. (I also decided to go the extra mile and add a children's version, which my TS3 item didn't have.) So use it if you want to, or don't use it if you prefer the other mod, or you can mix & match them if you want a bit of variety.
Just like my TS3 version, this is a Head Accessory mesh made from the default eyes, which fits over the sim's underlying eyes. It comes in a Glasses version and an Earrings version for Teens to Elders, and as an Earrings version for children. It is not enabled for random, so you shouldn't get townies generating in them. It is enabled for all categories currently supported by the game, but doesn't stay on when nude.
Please note that as this is an accessory, you need to add it for each outfit category.
It contains four different texture types, closeups of each below. These include two non-standard eyes that I had requests for in the past: one mottled white blind eye, and one or both solid Sci-Fi/cyborg eyes.
Top left: Natural standard eye texture. Top right: One mottled white blind eye and one standard eye texture. Bottom left: One standard eye texture and one cyborg camera-lens eye. Bottom right: One standard eye texture and one solid red cyborg eye.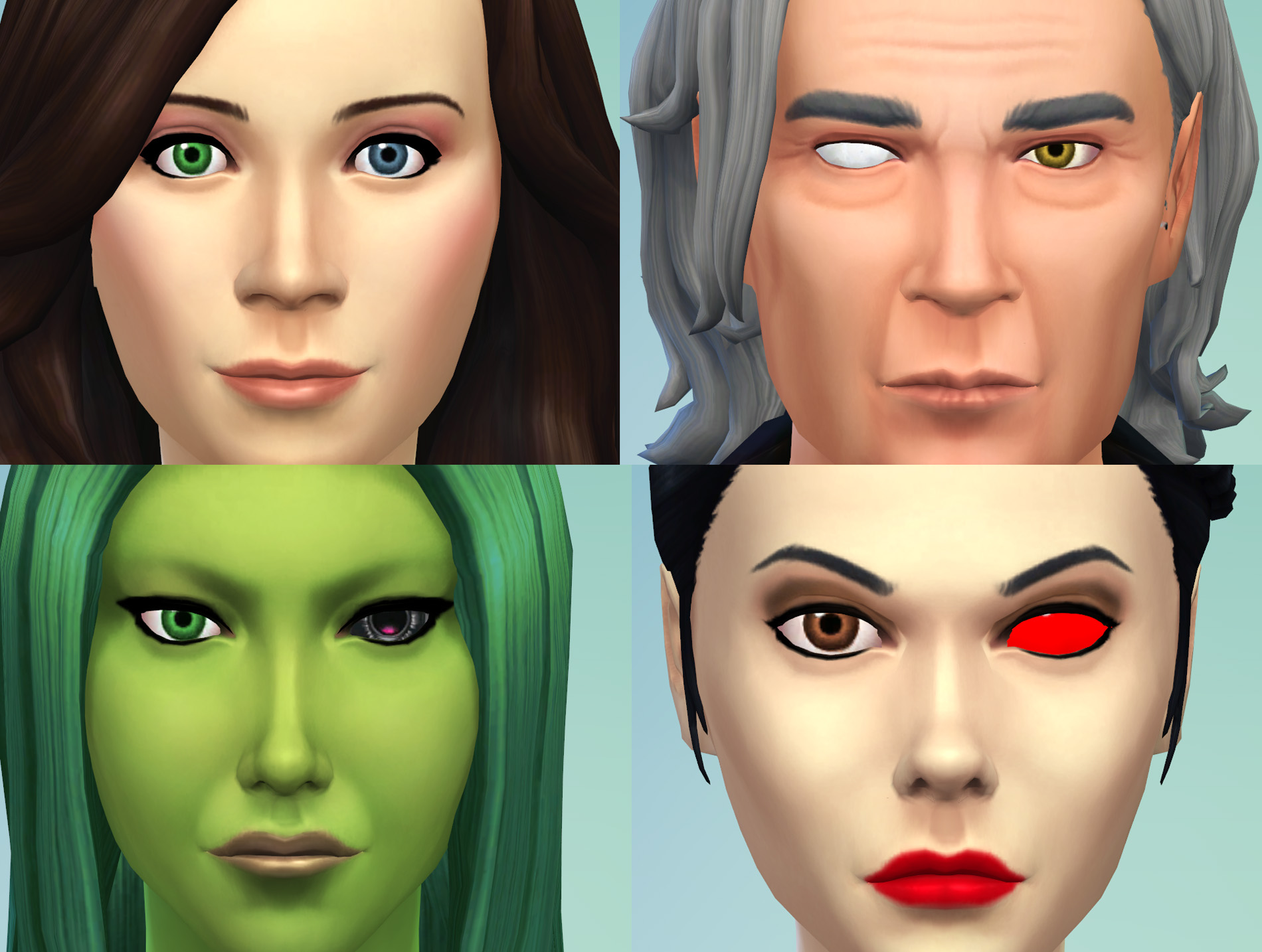 The package contains 34 different textures altogether, all depicted below:
First 6 sets shown below: Heterochromia eyes in hazel & blue, brown & blue, green & brown, hazel & brown, green and blue, and hazel and green. These are also in reversed order versions, eg blue and hazel as well as hazel and blue, etc, for a total of 12 heterochromia eye sets.
Next 4 sets: One white blind eye and one brown, blue, green or hazel eye, plus their reversed versions.
Next set: One solid red eye and one solid blue eye, plus a reversed version.
Next 3 sets: Standard eye textures in unnatural heterochromia colours, for Fae characters or similar. Only in this order, no reverse version.
Next 3 sets: one natural eye in green, brown or blue, plus one camera-lens cyborg eye. No reverse version.
Final 3 sets: One green, blue or brown eye plus one solid red cyborg eye, plus reversed versions.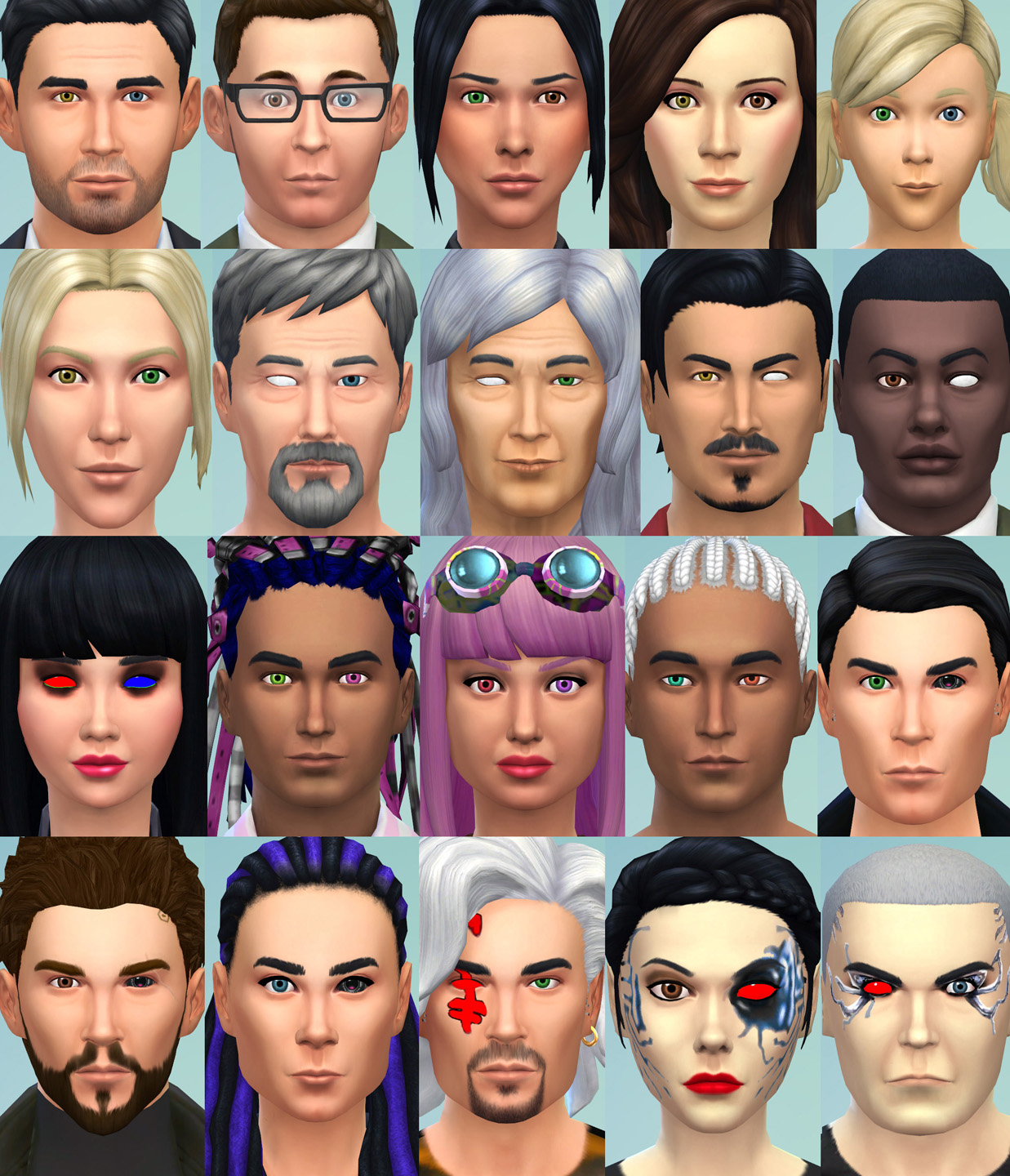 NOTE: I also made an alternative 15-colour version which is standard natural eye textures only, just the human and Fae heterochromia colours, no blind eyes, solid eyes or cyborg eyes, for those who prefer just standard textures. The 34-colour version and 15-colour version will conflict with each other, so you need to use one or the other.
ISSUES
: As was the case with my TS3 eyes, it's hard to make a one-size-fits-all for all eye shapes and sizes. These seem mainly fine when used with default adult eyes, but with tweaked eyes and with some of the children's eyes, there can be some clipping in the eyelids, especially the lower lids. (For instance, the sim with one red eye in the top pic has tweaked/reshaped eyes and there is some clipping in her eye corners.) So you may have to switch to a different default eye shape if you have that type of difficulty. Also, with default eyes that have eyelashes built in, the eyelashes will clip through the eye accessory when the sim blinks.
For best results: It's best to stick with standard untouched default eyes for adults, and you may have to do some reshaping of lower eyelids for kids even if they have default eyes.
In-game, Mortimer Goth goes for a subtle brown and blue combo, while the lovely Bella sports the fae lime green & pink eyes: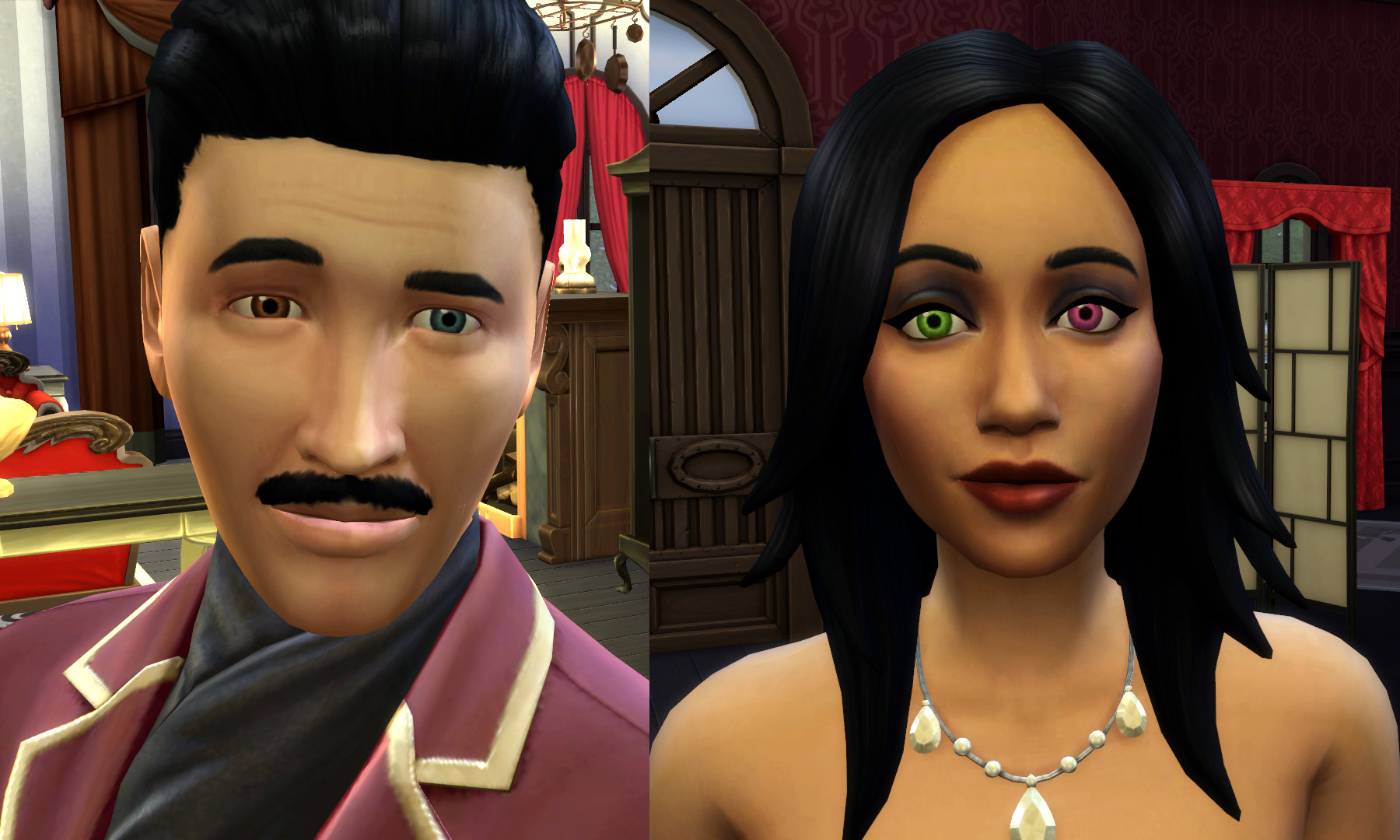 While Cassandra and Alexander seem to have been replaced with sinister cyborg look-alikes: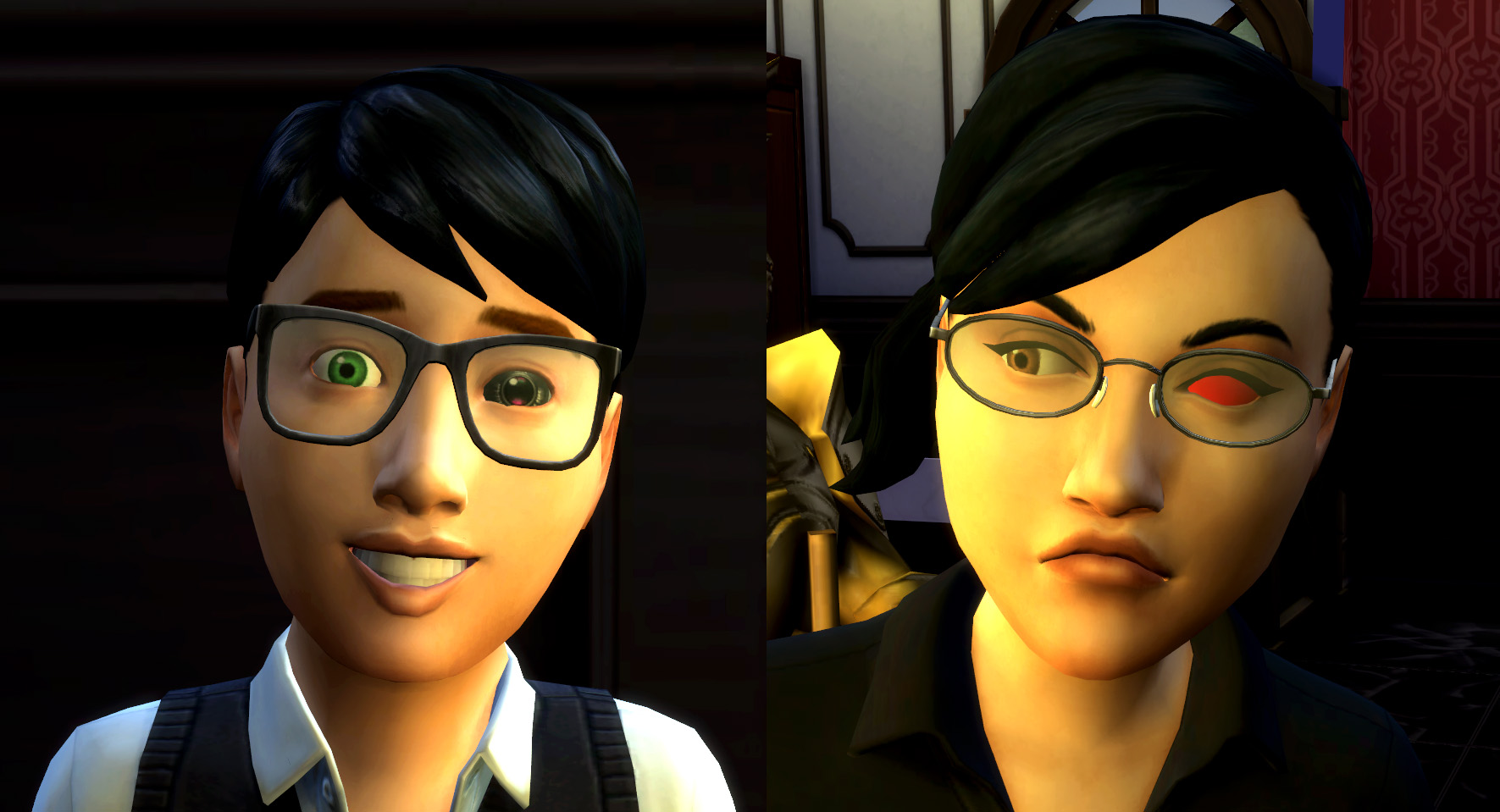 Feel free to recolour these - I've included greyscale versions of the natural eye textures, in both their earring and glasses UV mappings, on the Files tab if you want to use them. They are in psd format with layers for each eye and each eye light highlight. Or use your own textures if you want, as I'm not the greatest natural eye texturist!
My TS3 version is here:
http://www.modthesims.info/download.php?t=403048
INSTALLATION:
Download the
zip
file of whichever version you prefer, depending on whether you want the 34-colour or 15-colour version. Unzip the
zip
file and move whichever of the three .package files you want to use (one, two, or all three), to your Documents\Electronic Arts\The Sims 4\Mods folder.
Polygon Counts:
312 polys
Additional Credits:
Made with CAS Tools and Sims 4 Studio. All textures by me.
About Me
~Retired Creator~
Retired to move to Fallout 4 creation but I'll still check here for questions, comments or PMs. Thank you to those who liked my Sims stuff, love all of you. Most of my Fallout stuff is on Nexus
https://www.nexusmods.com/fallout4/...?tab=user+files
and there are some more of my Fallout creations and Sims creations at
https://colorfulcommonwealth.proboards.com/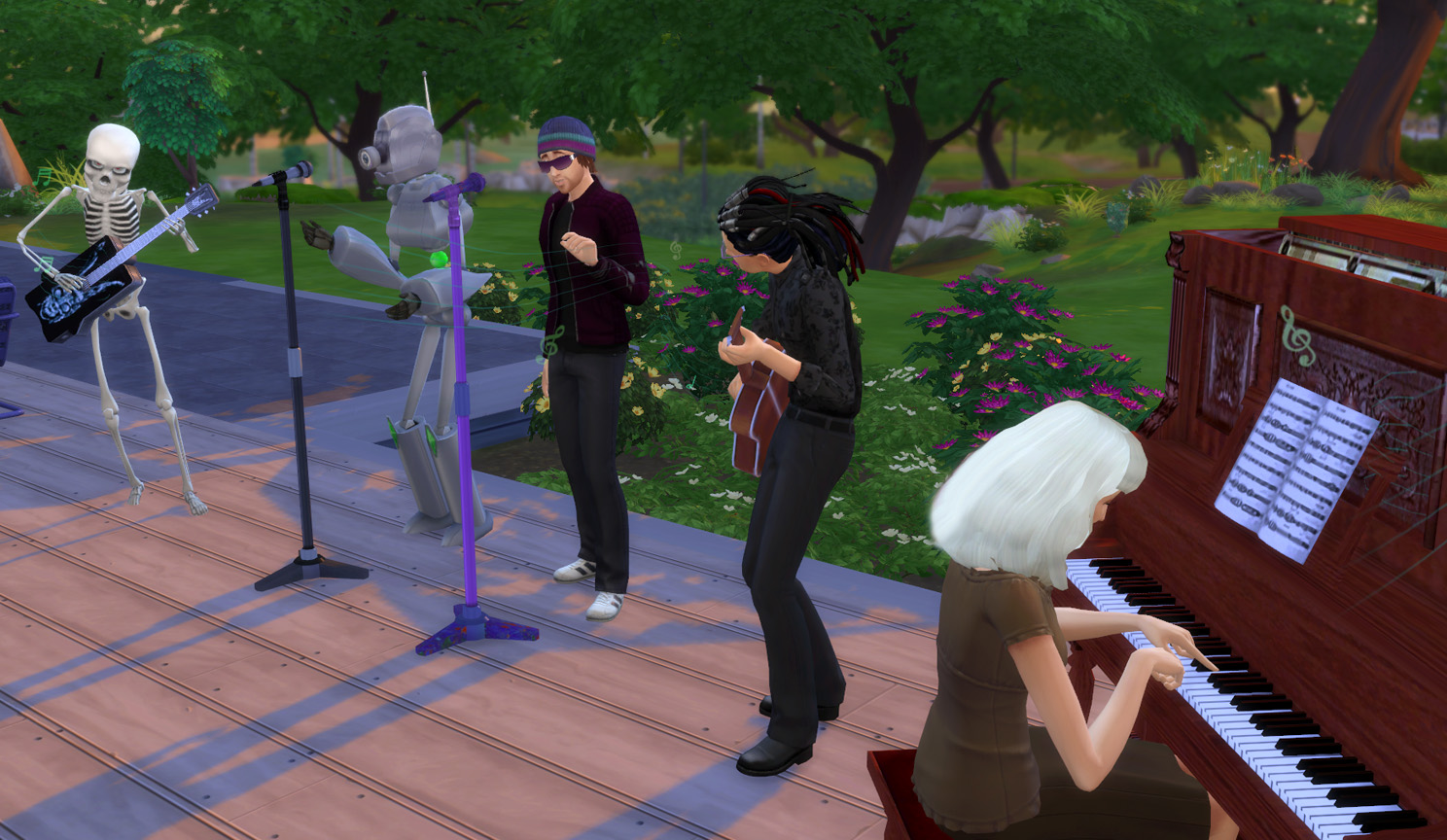 MY POLICY:
I'm pretty easygoing, please just don't steal or copy my work.
You may recolour my meshes, just please credit me and give a link back here to the item(s).
You may include my creations with your sims, lots, storytelling, etc - just please credit me and give a link back here to my item(s).
Don't claim my creations to be your own work.
Don't re-upload my stuff to The Gallery, paysites, adfly sites, or any other commercial sites.