Clothing

>

>

Mixed sets of clothing for your Sims.
-Finally Done- Default Replacements for Family Fun Stuff
MTS has all free content, all the time. Find out how YOU can help to keep it running.
Tell me how...
20,818

Downloads
1,051

Thanks Thanks
94

Favourited
68,063

Views
Picked Upload! This is a picked upload! It showcases some of the best talent and creativity available on MTS and in the community.

Uploaded: 10th Feb 2008 at 4:26 AM
Updated: 8th Sep 2008 at 5:43 AM
Update: I've added a .rar that removes the nightie hats from the everyday bin.
Ok, this took WAY longer than it should have. There were just way too many outfits that all needed major changes to them. I had it mostly done a week or two ago, then loaded it in my game and was not happy with the results of the Hawaiian outfits at all, so those had to be completely reworked. That was really disheartening, so I kinda kept putting it off. Doesn't matter, I'm done now. All of the stuff packs have been fixed, make sure you go get the others if you missed them, and I can go back to the other EPs while I continue to put off doing more BaseGame clothes. (There is just so much to do! I rarely get a sense of accomplishment when I'm working with the BaseGame clothes!)
These are DEFAULT REPLACEMENTS, meaning, when you place them in your downloads folder, they will act as Maxis clothing, completely replacing their counterparts. This includes sims currently wearing them. If you want to remove mine and return to the maxis versions, just delete my package from your downloads folder. Btw, if you want your clothing catalog images to reflect these changes, delete your thumbnails folder: C:\Documents and Settings\(yourname)\My Documents\EA Games\The Sims 2\Thumbnails. The game will generate new ones. If you want not default versions, check out this
thread of mine
.
First on the fix list was those silly slippers that came (and ruined) our lovely new kids PJs. This had only a mesh fix, I liked the textures a lot. My favorite part about this fix is that I was extra super careful when I was mesh editing that any existing recolors you might have of this pj will still look just as wonderful as they did before. I slowly pulled down individual vertexes on the pant legs so the textures won't stretch. You won't find a better replacement mesh ANYWHERE.
If you want the hats that match these pajamas to be removed from your everyday bin and only show up for sleepwear, then download the CatalogEdit rar. That file goes in your Bins folder, here: C:\Program Files\EA GAMES\The Sims 2 Bon Voyage\TSData\Res\Catalog\Bins (or whichever is your highest expansion pack folder). You can put these files in your Downloads folder, but if you do, the delete button will be enabled in CAS and Body Shop. Do NOT delete them in CAS or Body Shop. Doing so may corrupt some of your game files. To remove the outfits from your Sleepwear bin, delete the package file from where you installed them.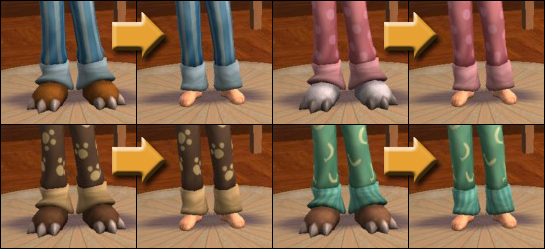 Next up, those Mermaid outfits. They are still just as useless as the Dragon outfits (which didn't get touched) but now Freya doesn't mind wearing it as much. Originally, I wasn't going to change them, but she took me aside and explained that she felt really self-conscience when she was playing dress up and for a girl her age, thats the last thing she needs. (Sephira was flabbergasted that Freya asked me to fix a skin-showing outfit that wasn't on the list, usually, Sephira has them forced on her.)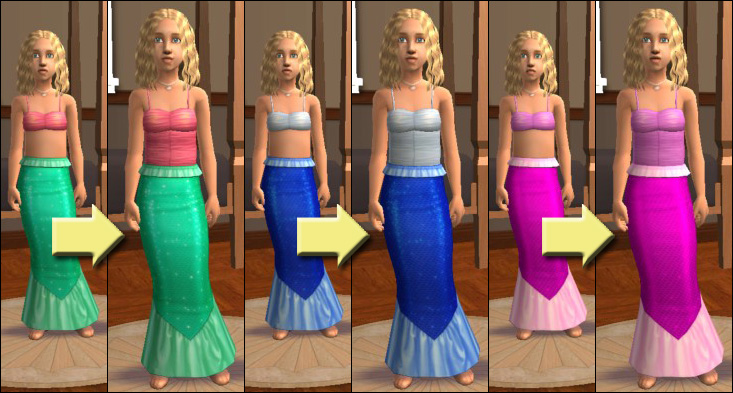 The girl's Nightgowns and Princess Dresses were next. The nightgowns were all awful faded colors and I didn't like that the collar was so high up, they all got brightened and the collar got lowered a tinsy bit. The Princess dresses were all awful colors too (EAxis is good at that, right?) They got fixed.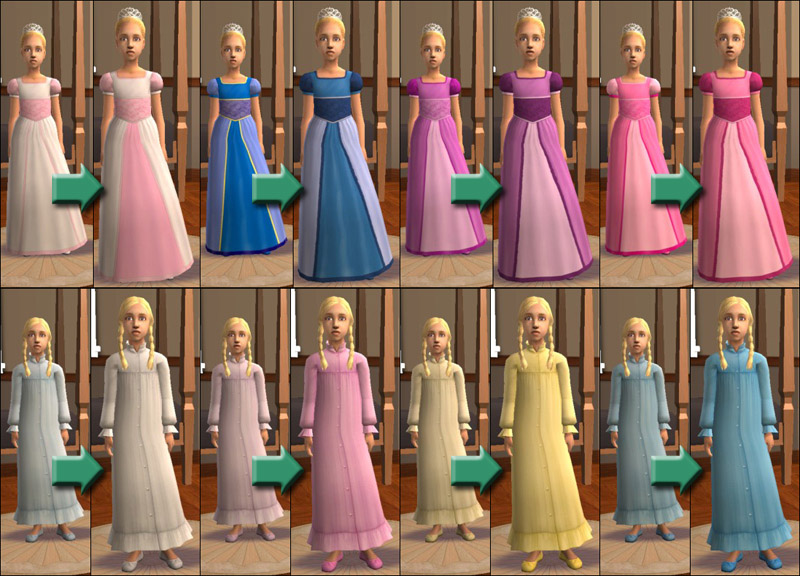 Next up is these cute little toddler dresses that don't match anything. I loved them to pieces, but I'm tired of dressing Fawn in dresses, why not skirts instead? The toddler outfits that match the Hawaiian family outfits also got the same treatment. These 3 outfits are in Miscellaneous.rar. Hawaiian ones are in Hawaiian.rar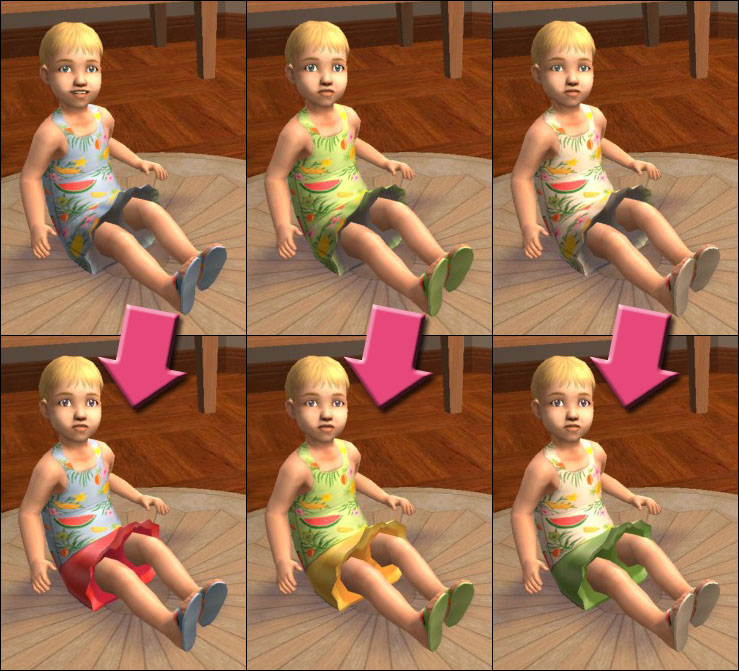 The entire large collection of Hawaiian outfits needed help. (See VERY large picture below). Though the patterns were the same on each outfit, almost none of them actually 'matched'. I went through and made sure that all the reds were the same red, all the oranges were the same orange, and changed all the blue and purple to blue and white. Then I made sure that everyone had matching pants or skirts or undershirts. Everything Must Match. Or, at least look good together. I hope I got that. Then I had to fix that one-shoulder dress. It reminded me too much of Tarzan and Jane. It became a nice tube-top dress instead. Inside the one
rar
you will find that each color is separate, in case you hate what I did to the blue and find you can still live with those green pants of Arthur's and the asymmetric dress. Can't have one without the other, sorry.
There are a few other things that I've included that I didn't picture very well. There were three skirts for girls that were included and they had 'magic' sandals. The shoes physically can not stay on. There is a strap missing on one side, I added it back, but not through a mesh replacement, it was a very minor fix and trying to build a strap out of a foot is not how I'd like to spend my weekend. Unless you are taking pictures of your new pedicure, you will never notice the difference.
Available in Miscellaneous.rar
The other is the shorts Sephira is wearing in the Hawaiian pictures. Originally, they have an awful stripe of color running down both sides at the seams, I took those out. Now the entire pair of shorts is the same color, no stripes.
Available in Miscellaneous.rar
Enjoy!
-Phaenoh
P.S. Was it worth it?
Additional Credits:
Eaxis, for giving us 10 different combinations of age and gender, and then only allowing 8 in a family. Makes taking pictures in CAS kinda tricky...
That CAS screen is an updated version of mine, go
check it out
!
Blurb and Updatez:
Please don't reupload my work anywhere else. Just point them back here, I'm not going anywhere! :)
Please ask permission before using my work as a base for your project. I almost always say 'yes' and often times I will help you with your project! :bunny:
If you make something (like a story or a video) and it has something of mine in it, send me the link, I love to see my stuff 'in action'!
Sadly, but honestly, I can't take on requests. You can ask if it's something already related to one of my current projects, but I'm not likely to take on your project for you. MTS has lots of wonderful tutorials ;)