>

New terrains for your custom neighborhoods & CAS screens
Builder's Island - DIY
MTS has all free content, all the time. Find out how YOU can help to keep it running.
Tell me how...
11,730

Downloads
927

Thanks Thanks
141

Favourited
134,193

Views

Uploaded: 15th Sep 2010 at 9:02 PM
Updated: 29th Jun 2020 at 8:40 PM by HugeLunatic
NOTE: IP patch that made ocean swimmable, causes random flooding on basements built on the lots. This is unavoidable, and something I won't be fixing on this island. You can still build on the island, use it for testing, etc. but basements are unfortunately randomly "broken".
Some of you might remember my
Builder's Island
. I wanted to make a new version, in which you can decide the lotsizes yourselves, so I proudly present you...
Builder's Island - Do it yourself!!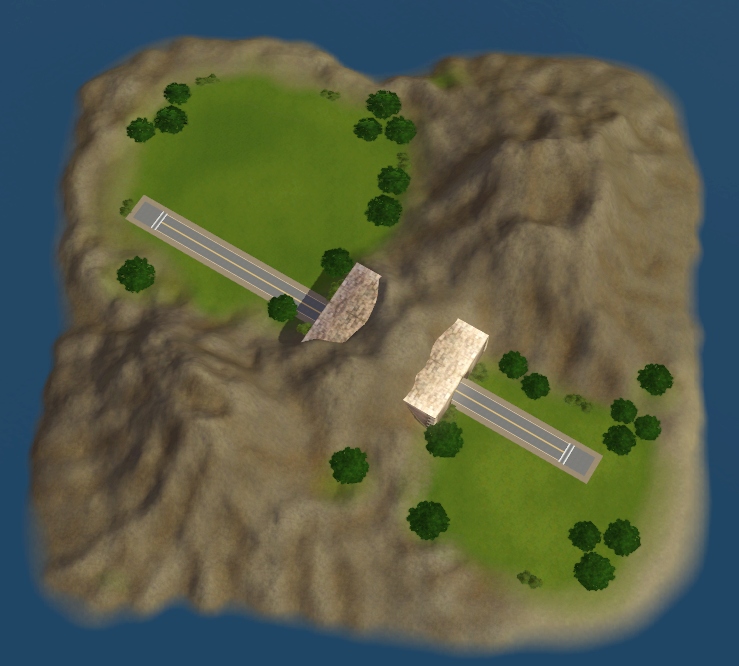 Features:
BIDIY is a small island with two separate building sides. At first sight it looks pretty dull and empty, maybe cause it is

The catch is, that you can make it your own. One day you might want to build on a 30x30 lot, one day to a 64x64, and some other day to a 10x10. BIDIY makes it possible

How to use:
- Install the world
- Launch the game
- Select new game and choose Builder's Island - DIY
- Wait few seconds that it loads (Load time varies, it can be 2 seconds, or 10, depends on your stats.)
- Go to Edit town-mode
- Place the lot size(s) you want
- Start building

- If you are not happy with the lotsize(s) you chose, simply delete it/them and place another one(s).
Here is example on max lotsizes per side: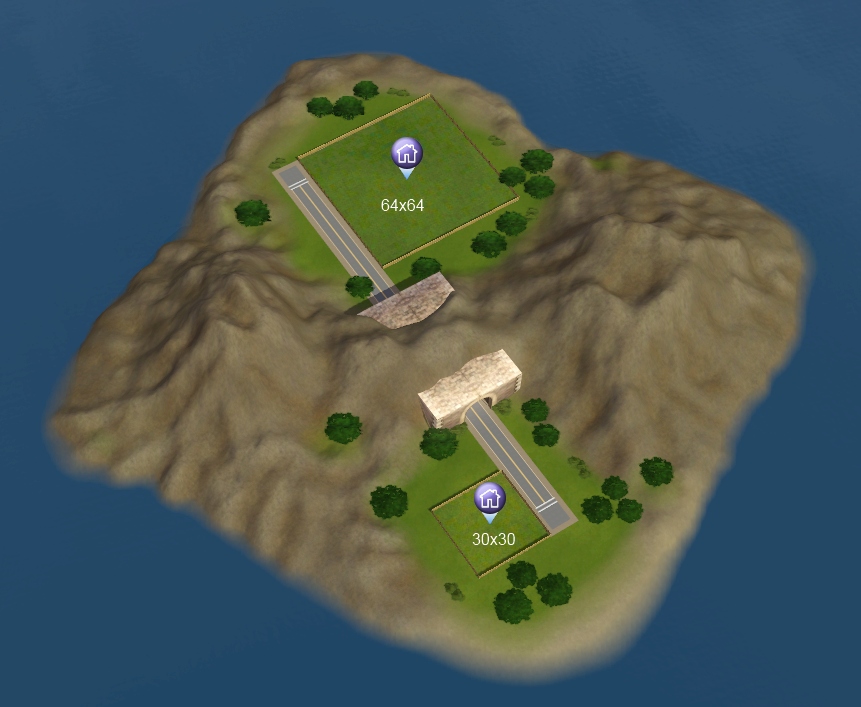 Here is an example of different lotsizes placed on the world: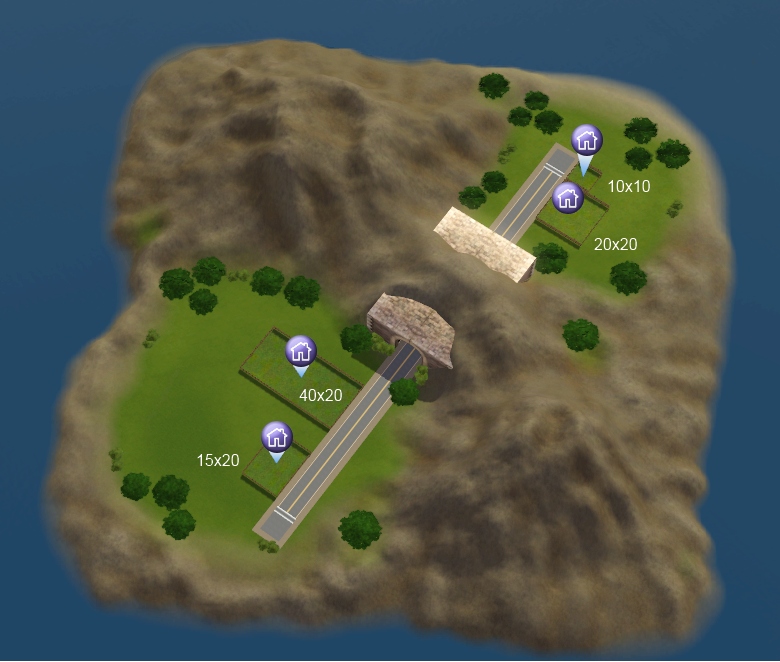 Technical info:
- Mapsize used: Small
- Layers: 2, World layer and Junk
- Terrainpaints used: 7
- Plants used: 3 different types
- Objects used: 1 type
- Load time should be 2-10 seconds from Choose map to Play (Depends on your stats.)
- The building areas are perfectly flat. You can put a maxsize of 30x30 lot to the smaller side, and maxsize 64x64 to the bigger side.
Some thanks, well, actually one:
I used Martines
CAW Textures megapack
when I made the world. Terrainpaints used are Rock granite base, Rock granite detail A and Rock granite detail B. These are automatically included to the world so you don't need to download them separatelly.
Thanks Martine for these amazing terrainpaints!!
Note about compatibility:
The world was built in CAW version 0.2.0.110, with Base game, WA and Ambitions installed, with patch 4.2. The world SHOULD be Basegame compatible, and you SHOULD need at least patch 1.12/2.7/3.3/4.0 to use!
P.S.
Like original Builder's Island, this too can be used for many things...
Fast access to Building, CAS and Object testing!!!
P.S.S.
This world is not ment for playing. There are no spawners, rabbitholes or additional landscaping that would make it enjoyable. I mean you CAN play on it, but that's not what it's made for...
Hello!
So you got lost and ended up here, eh? :)

I have retired from simming. This means I won't be supporting my uploads anymore.

Please take this into consideration:
My uploads have a date when they have been uploaded. If I have fixed something later, I have stated so in the post. If something is currently broken, it stays that way, unless you bother on fixing it yourself. :)

Policy regarding my uploads:
You may rip off, tear apart, re-use and destroy my content in any way you feel necessary. You have been given a permission right here and now.
Please do not however re-upload my content as is, and claim it as your own.
Please also notice, that my content is made to be free - do not include it in uploads that require submission, or paysites in general, thanks.
If you do use my work, a credit would be nice, but sure is not required. :)


Thanks for your time for reading this, for possibly using my creations, and for being generally awesome!

~armiel