>

Programs and utilities either to mod the game or to make it easier to install content.
Personality Inheritance Generator
MTS has all free content, all the time. Find out how YOU can help to keep it running.
Tell me how...
1,604

Downloads
96

Thanks Thanks
37

Favourited
25,420

Views

Uploaded: 4th Aug 2017 at 2:17 AM
Updated: 4th Aug 2017 at 11:48 AM
Recently
this thread
here at MTS encouraged me to reconsider my gameplay style (once again) and consider customizing the personality traits my Sims inherit from their parents.
Because I'm too lazy to roll dices every time a baby is born and I would rather get an automated way to randomize those traits I created this simple app. (An early version of which was posted in that very same thread.)
Traits are
not
calculated by adding points as the in-game system. Instead it uses a simple system which gets a partially random value and then calculates proportional values which match the criteria (see configuration below). Depending on the configuration you use you may get very random traits - or not.
NOTE:
This download is
not
an in-game download, and it does not automatically change Sims personality.
It shows you their traits (according to those parameters you choose to set) which you can then modify using
SimPE
(see tutorial below) or other tools such as InSimenator or SimBlender.
Installation
This download does not require installation. Simply extract the .rar file where you want it on your computer, and you should get a .htm file which you can view in any browser, on any operative system.
The app does not require internet connection to work.
Configuration
You may change the following settings.
Mode
Range: Uses the range of values between one parent score and the other one. (Set as default.)
Fixed: Calculates the average of the both parents score.
The fixed mode, used with a low plus setting (the extreme case would be 0, as in this example) would lead to average traits on the long run. To avoid this problem make sure you use it with a bit higher plus setting.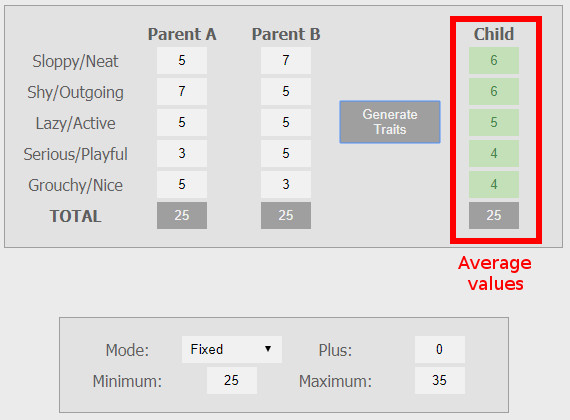 Plus
Increases the length of the range of possible results. Applies to both the fixed and range modes. (Default is 1.)
If you use the fixed mode, you may want a high plus setting. For example, if you set it to 4 and the trait average value is 5 you can actually get anything from 1 to 9!
If you use the range mode the range will also be extended, but depending on what you are looking for a lower setting may be enough.

Minimum & Maximum
Total amount of points will be limited by these values. (Default is from 25 to 35.)
You may want to have Sims with few personality points, or with lots of them, or anything that happens to be rolled. This is where you choose.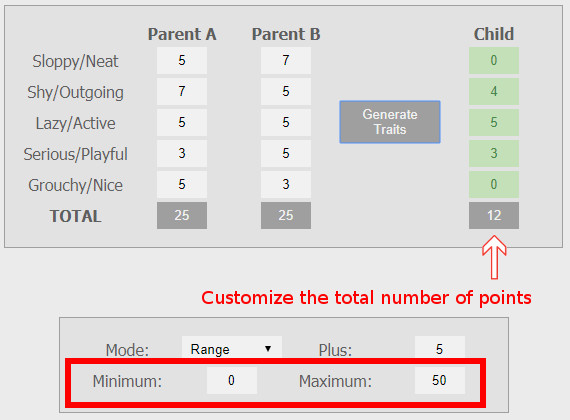 Tutorial
New to SimPE? Don't worry, this is fairly simple. Just follow the image tutorial.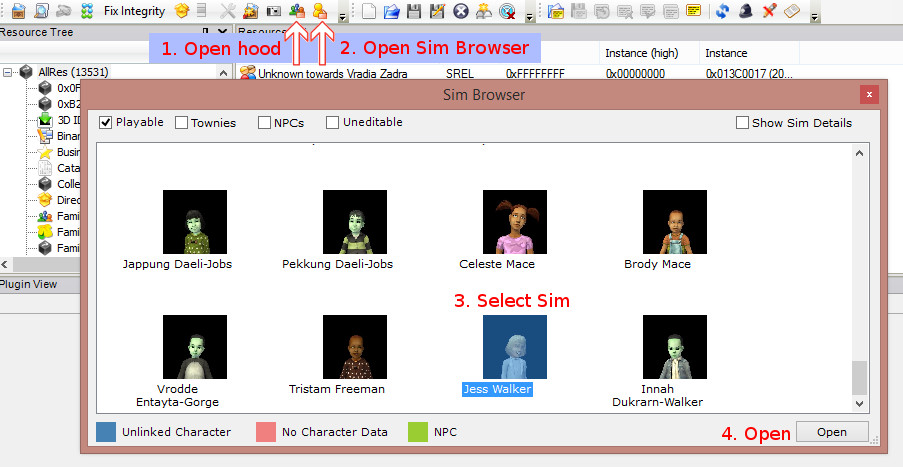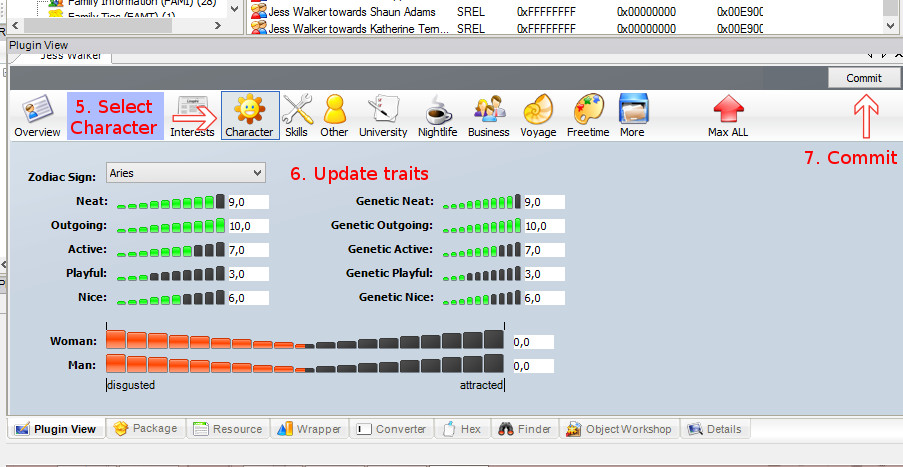 Known issues
In order to keep it simple I have limited the number of iterations of the script so it's possible to get some traits that are slightly lower/higher than expected. If it bothers you - just roll again!
Additional Credits:
* gummilutt & co for the great ideas in the forums
*
SimPE
for making everything we imagine possible
* Gimp for image edition
Thank youuuu ~
I am a humble TS2 creator who believes that playability is the uppermost important and who likes to share no-CC lots... so I guess my work is quite plain in some senses. But I'm very glad some of you like it, download it and even favourite it!
THANK YOU FOR YOUR SUPPORT AND ENCOURAGEMENT!