Rideable Motorcycle - The Beast modification
54,636

Downloads
530

Thanks Thanks
76

Favourited
67,986

Views

Uploaded: 7th Dec 2019 at 8:22 PM
Updated: 28th Jul 2020 at 7:40 PM - Updated due to sound broken by June 2020 patch
UPDATE JULY 28 2020: EA's game-busting June 2020 patch broke the custom sound on this bike. I don't know how to fix what they broke, so have replaced the original .package with a non-sound version. Sorry, please re-download, as the original version may cause some lag due to trying to play a custom sound that no longer works.
Coming briefly out of Sims 4 retirement because Discover University finally added two of my fave things - vehicles and robots.
Here is a clone of the new bicycle, to look like a motorcycle. I used the 'The Beast' motorcycle from The Sims 3, having already converted it as a chair back in the early days of TS4, which is also uploaded here. When University came out, a member here asked me if I could make the chair-motorcycle into a rideable one, and that was something I definitely wanted to do!
It comes in the same 11 recolours as the chair version uploaded here: Silver, Black, Red, Red-Black Flamepaint, Blue-Orange Flamepaint, Rust Flamepaint, Green, Army Green, the Bug/Monster (I'm not sure what it was supposed to be!) graphic from the TS3 motorbike, a Skull and Crossbones graphic of my own design, and a really lurid Multicolour graphic for your more flamboyant sims. (Also, a top-down view of the Bug and Skull models.)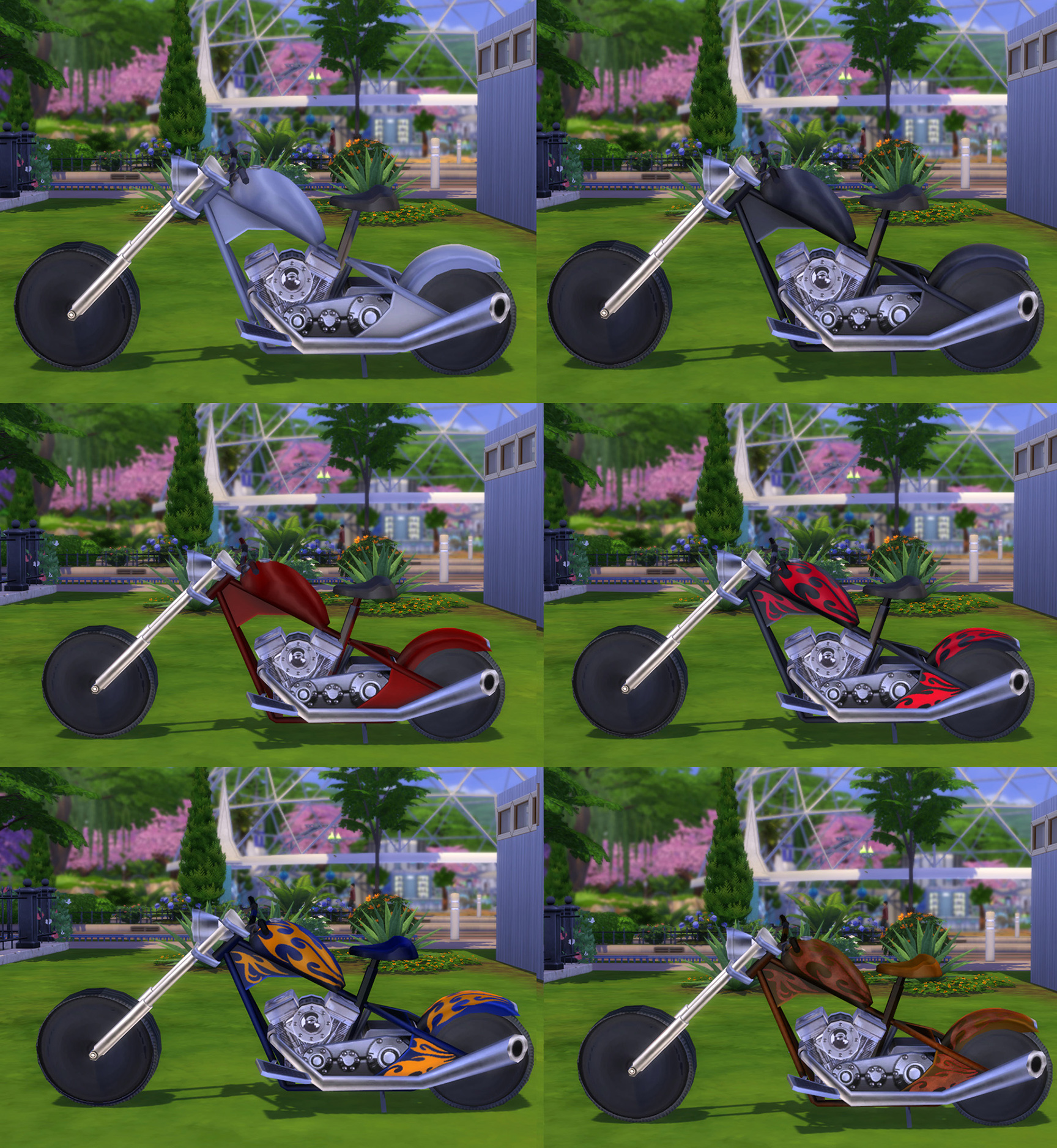 Although not perfect, since it's made from a bicycle and the animations, rigging and sound are not perfect for a motorbike, I tried to do the best I could with adjusting the rig and removing the pedalling animations. The sims sit in a suitable motorcycle-riding position and although their legs twitch a little as a leftover from the pedalling animations, it's not really noticeable in gameplay. You can just think of them as being a little nervous about riding a motorbike.
ISSUES:
1) The wheels don't turn. I tried but couldn't get them to work successfully. So I made the wheels plain dark matte solid-cast instead of spoked, so that their not turning is not so noticeable.
2) There is something odd with the bicycle object in that the tail light red glowing effect is not moveable or deletable. Myself and a couple of modders went over this together and could not get the darned thing to budge on either this or their own vehicles. So it's stuck in the wrong position. If anyone reading this knows how, I'd sincerely appreciate it.
I modified the Beast mesh to scale it down to bicycle dimensions and rig so that there would be as little body stretching or contortions as possible. The original high apehanger handlebars were too problematic so I replaced them with the bicycle's handlebars. All things considered, it looks cute in game.
Here's a short clip of it in game so you can decide whether it's something you want to use or not.
Please note, of course, that this video was made before EA broke the custom sound, so the bike will no longer have the motorbike engine sound heard in the video.
Bella goes for a ride during the day, and then at night, my Mr Skeleto sim, being the skinniest guy I could use as a model, shows clearly where the unmovable red tail light effect appears, right under the sim's backside. With regular sims wearing clothes, depending on how bulky the clothes are the light effect will be less noticeable. I guess you have to think of your sims as having had a hot curry or chili before going for their nighttime bike ride...
The bike is found under Transportation in Build/Buy mode, and costs 1200 simoleons.
Thanks for looking, hope you'll find this a bit of fun.
If you need a No Bicycle Helmets mod, I use the one by Scarlet, here:
https://scarletsmods.com/2019/11/16/no-bike-helmets/

INSTALLATION:
Unzip the motorcycle's
zip
file and move the .package file to your Documents\Electronic Arts\The Sims 4\Mods folder.
Polygon Counts:
2302 polys
Additional Credits:
Made with Milkshape, Blender, and Sims 4 Studio.
Thank you to MizoreYukii for all the brainstorming on trying to get rid of the tail light FX!
Packs Needed

For a full list of packs with names, see the Packs Needed popup.
Packs Needed
| | Base Game |
| --- | --- |
| | Sims 4 |
| | Expansion Pack |
| --- | --- |
| | Discover University |
About Me
~Retired Creator~
Retired to move to Fallout 4 creation but I'll still check here for questions, comments or PMs. Thank you to those who liked my Sims stuff, love all of you. Most of my Fallout stuff is on Nexus
https://www.nexusmods.com/fallout4/...?tab=user+files
and there are more of my Fallout creations, my tutorials on making cc for Fallout 4, and more of my Sims creations, at
https://colorfulcommonwealth.proboards.com/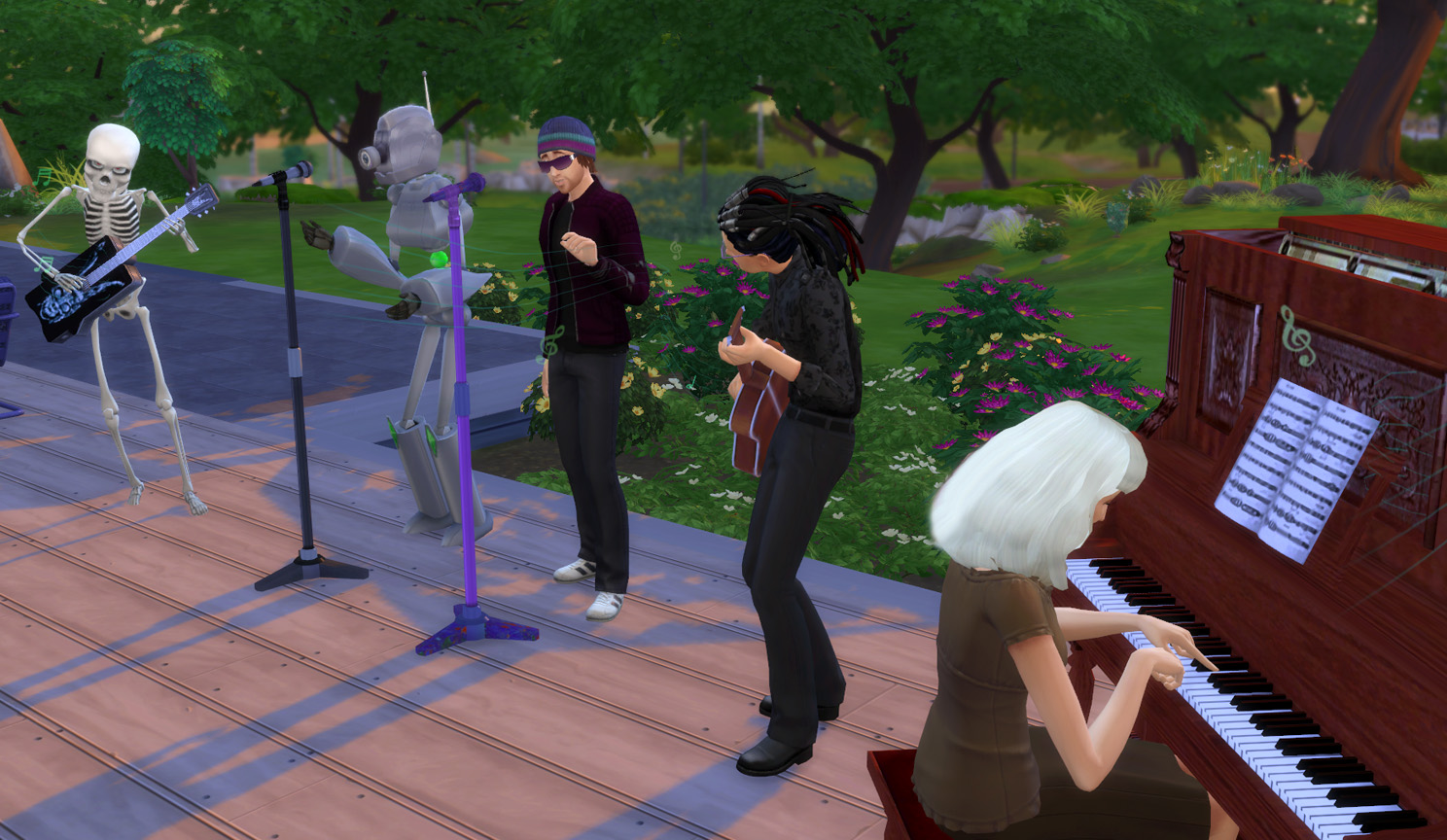 MY POLICY:
I'm pretty easygoing, please just don't steal or copy my work.
You may recolour my meshes, just please credit me and give a link back here to the item(s).
You may include my creations with your sims, lots, storytelling, etc - just please credit me and give a link back here to my item(s).
Don't claim my creations to be your own work.
Don't re-upload my stuff to The Gallery, paysites, adfly sites, or any other commercial sites.