Sims 2

>

Buy Mode

>

>

Plants, sculptures, wall hangings & paintings, mirrors, curtains, and miscellaneous.
Recolourable FullPoster "Wall Overlay - Wall Animation" *Update 06/11*
44,930

Downloads
2,973

Thanks Thanks
297

Favourited
205,296

Views
Featured Upload! This is a featured upload! It showcases the best talent and creativity available on MTS and in the community.



Uploaded: 1st Aug 2007 at 12:28 AM
Updated: 28th Aug 2011 at 2:44 AM by leesester

*Update 06/11* BoilingOil have made an improved version of the wall overlays : available here
('ll try the updated the meshes in this very thread asap but it won't be possible before August 2011.)
* The overlays were originally sold at §30, but were mostly used for adding cracks, smudges and filth to walls... things that would normally LOWER the value of a lot. So he made them FREE. (much more logical!)
* Room score was removed (adding cracks and graffs is not really improving environment !)
* As wall hangings, the overlays are considered art-work: sims will view them, comment on them, and approve or disapprove of them as if they were precious works of art! A damaged wall doesn't deserve such attention... So he found out how to disable that!

For those who want to learn how to make such changes themselves
BoilingOil has written an article Please have a look

Hi,
Animations, when placed on any existing walls will add moving "things" to it, while overlay will add "enhancement" such as graffs, torn posters, cracks, dirt, holes or blood splats. Or anything else you can imagine and draw...
A full heigh 1 tile or 2 tiles poster with animated or non animated recolour, the Mesh is static. It has its own GUID.
The polycount is minimum faces: 2 Vertex: 4. (The smallest possible object !)
It is base game and Ep's compatible, thanks to
Numenor
.
Can be found under decoration/painting
If you like to place the poster without to pick it each time in the catalogue,
hold Shift while clicking to place an object
I didn't make this object, it's a gift to everyone from
Numenor
, passing through me, so all thanks and credits goes to him.
I'm only responsible for the recolours.

The Degradation Kit
!
wall overlays to give your walls some history to wear...
Graffiti
Various tags, graffs and stencils. A light transparency has been added to allow the underlying pattern of the wall to be slightly visible. N°14 is reproduction of a Banksy's stencil at real size. Make your own tag, now!
Urban Art everywhere yay !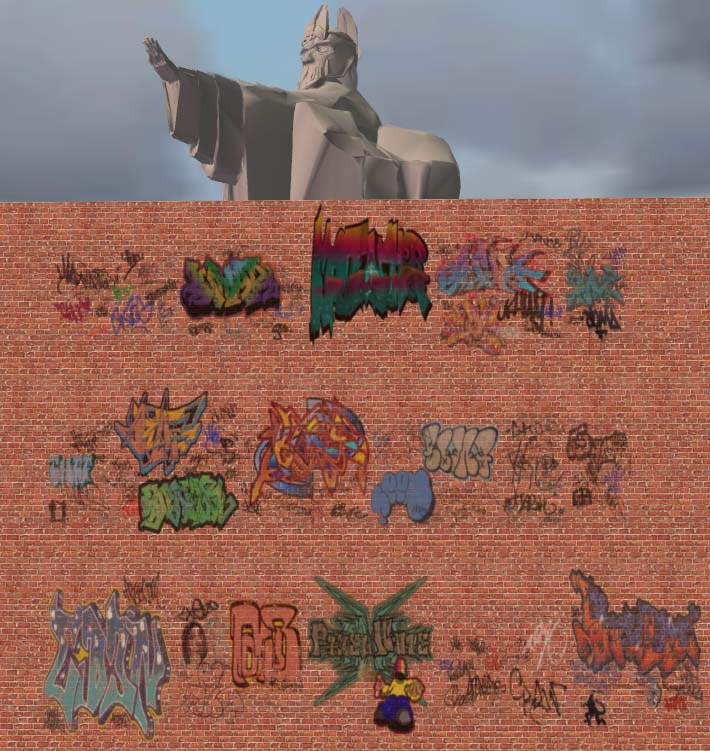 Posters
Some people glue posters, others tear them apart. Both are unaware that, together, they create beautiful abstract art pieces.
Degradation
A serie of crackles, scribbles, holes and dirt. Some walls are responding better to the treatment than other. You'll find out.
Bloody
Several Blood splats for gore fanatics, works better on walls with light colours.
Animations
Laser Beam
Security laser beam with subtle movements.
SIMatrix panel
Really moving Simlish walls in a matrix style.
Alien Wall Diseases
2 totally useless (and therefore essential) and ugly animated "things" from outer space. It's breathing, it conquered the wall, it's alive ! (the texture used is pretty big, so watch out, if you plan an invasion with many creatures, that it doesn't bug your computer)
N.B.
: The animations will only work in life mode, it won't move in building or buying mode.
Installation
Place the "1tile-ThankyouNumenor_MESH", "2tilesThankyouNumenor_MESH" and the recolors you like in your Downloads folder.
The thumbnails will appear with coloured background for easy sorting, but the objects are transparent.

To have it fully working, you'll need to send a loving thought to
Numenor
, I like to have him flooded with positive vibrations :lovestruc , so help me out people !
Recoloring
You're very welcome to make your own recolour and share them ! You can add the original mesh in your lot upload, a link directing to this thread is appreciated. Thank you.
The template is needed for making animated recolour
. Along with the template, a little recolouring guide has been provided, please be sure to have a look at it.
Pixelhate.
Polygon Counts:
Faces:2 vertex:4
Faces:2 vertex:4
Additional Credits:
Respect given up to Numenor, "The Modfather"
This object was partly inspired by
Qortex's big poster
and
Pacotacoplayer's replaceable graffiti
. May they be thanked as deserved !
Plasticbox, Dewshine, JLonier for useful and nice suggestions.
Simenroute for suggesting clearer description.
BoilingOil for bringing the possibility to improve the mesh
Packs Needed
None, this is Sims 2 base game compatible!
Other Information
Style
:
– Not Applicable : None of the above
Room
:
– Kitchen
– Living : Living Room
– Dining : Dining Room
– Bedroom
– Nursery
– Bathroom
– Study : Study/Office
– Outdoor
PixelHate's Weathering Area : Welcome...
If you find my work nice enough to be used, please respect the following.

YOU MAY NOT:
- Post my work on the Exchange or pay site or sites that charge fee for downloads access.
- Make money with my work, or part of it, in any ways. No pay site, no Second Life.

YOU MAY :
- Include my stuff in your uploaded lots .
- Use in your movies or stories, inform me when visible, so I can enjoy also.
- Alter my work, prolong, or continue it and share it for free, please PM me before uploading.
- Credit me whenever you think it's due.

THANK YOU.