Sims

>

>

Big eyes and blue hair/All the boys look like they're girls/DESU DESU YO
Vampire the Masquerade: Bloodlines - Male Brujah Playercharacter (Update: 23.Dec)
MTS has all free content, all the time. Find out how YOU can help to keep it running.
Tell me how...
1,061

Downloads
112

Thanks Thanks
17

Favourited
29,750

Views

Uploaded: 20th Dec 2009 at 8:52 PM
Updated: 1st Jan 2010 at 11:45 PM - text fixes, added downloadlink to bella3lek4's sliders, because they are NEEDED!

UPDATE 23.Dec:
Bella3lek4's amazing sliders are now available for download, they are NEEDED to make this sim show up correctly! downloadlink under "CUSTOM CONTENT"
--> DESCRIPTION:
As i've promised to the "Vampire the Masquerade: Bloodlines" fans, i will also create the playercharacters of the game, because they also have a very unique appearance, are a challenge to sim and they just look cool! The first one i share with you, is my favorite playercharacter, the Male character of the Brujah Clan! There are almost no black sims on MTS, so i thought this character is the perfect start!
For the ones who don't know the game:
Before you start playing you can choose between different clans and their gender, all have different and unique abilities which gives the player A LOT of replayability, because every clans has a different gameplay style.
The BRUJAH in particular:
(short version)
You can picture a Brujah as fierce warriors, anarchists and philosophs. The typical Brujah wears a biker jacket, tattered jeans, combat boots. In modern times, the Brujah have split into two primary groups: the intelligent, politically active Brujah, many of which are fiery and outspoken among the vampires society, and the raging, angry counter-culture Brujah that most other vampires think of when they try to picture a member of the Clan.
If you are interested in the full background of
"Vampire the Masquerade: Bloodlines"
and the which clans there are, here are some useful wikipedialinks:
-> VtMB - gameinfo
-> VtMB - clan info
-> VtMB - BRUJAH-clan info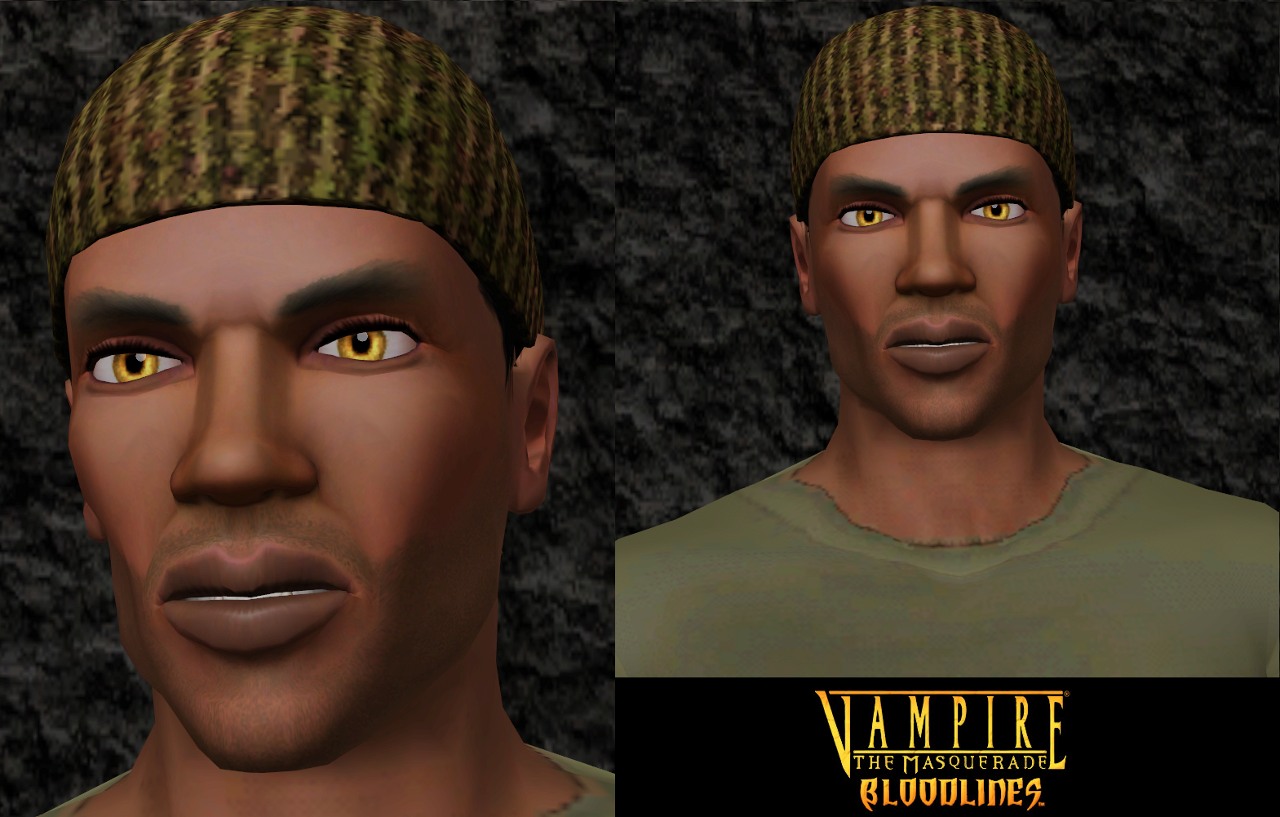 --> TRAITS:
-- Brave --
-- Athletic --
-- Evil-Minded --
-- Handy --
-- Daredevil --
--> FAVORITES:
-- Food: BLOOD, what else --
-- Music:
Rave, Aggrotech
like.. --
> > >
"Hocico - Tales Of The Third World"
< < <
-- Color: Black --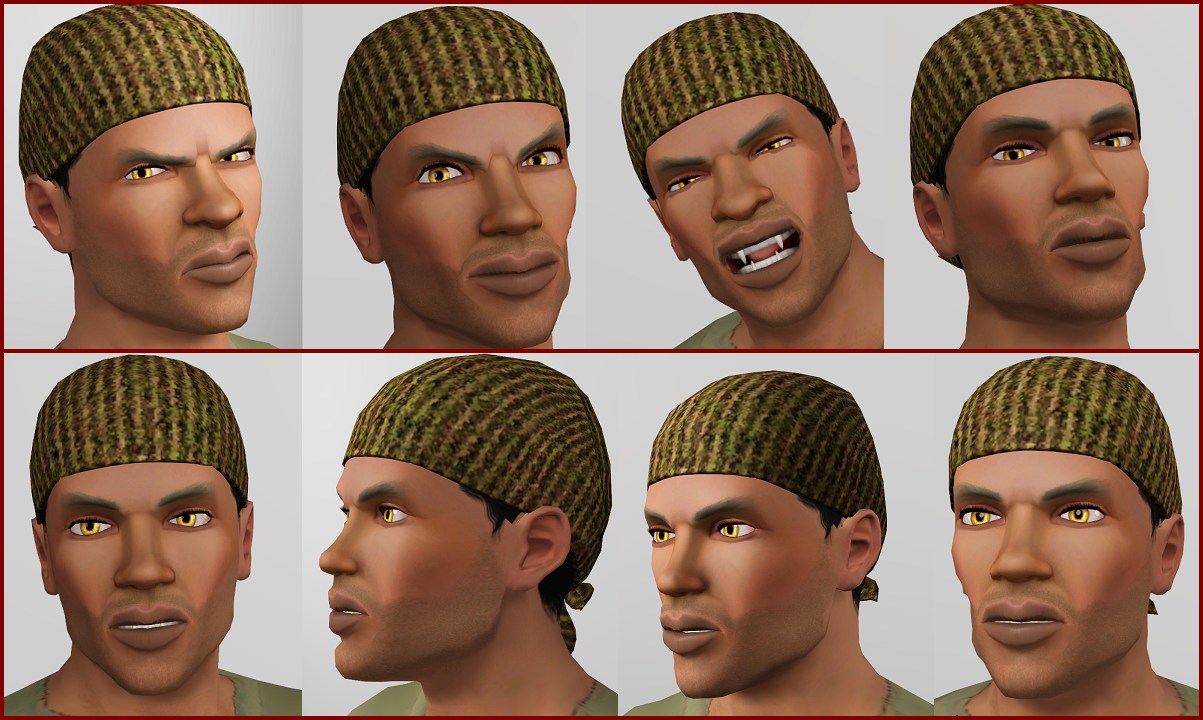 --> CUSTOM CONTENT:

NOT INCLUDED in the downloadfile
--
"Bandana"
(Hair with Accessories) from TS3-Store:
>> D O W N L O A D <<
This Bandana is a MUST HAVE to complete his look. I hate the Store, but sometimes it's a necessary evil... costs: 75 simpoints

INCLUDED in the downloadfile
-- "FANGS" by
Aikea Guinea
->
>> CLICK <<
-- "amTopJacketOpen_leather" which is an Sims 3 Original Item, converted to every clothing category with Delphy's
CTU
which you can find ->
>HERE<

Mods which determine his looks, like he looks in the pictures:
-- Latest Patch, Awesomemod sliderhack (x5): ->
>> CLICK <<
-- bella3lek4's amazing sliders: -> Here his profile
>> CLICK <<
, and download here:
>>CLICK<<
Thanks to "candy1985" for providing a downloadsource!
-- jonha's sliders:
>> CLICK <<
-- HP's Male face texture + "increased shine" ->
>> CLICK <<
-- Peggy's Male body ->
>> CLICK <<
-- escand's "Tiffany Glaze": ->
>> CLICK <<

Very Important!
You NEED any sort of sliderhack, or his face will snap back, if you try to edit it! Additionally you also NEED all the sliders and "Awesomemod" OR "S3Z's IncreasedSliderLimit" (to provide enough space for the sliders), or his face looks nothing like in the pictures!
--> HOW TO INSTALL:
--> Just put the ".sim" file from the download
rar
into the
"My Documents/Electronic Arts/The Sims 3/SavedSims" folder.
--> The ".package" files which are included in the download file must be installed correctly to create his unique look. The easiest way to install them is to download Delphy's
"TS3 Install Helper Monkey"
. Package files must be placed in your game directory "xxx/Sims 3/Mods/Packages" and the CC shows up correctly.
--> ADDITIONAL NOTES:
-- This sim has no name, because in the game VtMB you have to choose the name by yourself. I gave him the placeholdername "Brujah Male", use your imagination and give a name which fits for you.
-- My next bloodlines playercharacter will be definitely the female version of the Brujah-clan playercharacter. she is almost done.
-- His skintone was impossible to copy, we need more black sims anyways.
-- Thanks to Simmiller on CFF for feedback!
HF with him!
Custom Content Included:
- "...Accessories/Fangs" by
Aikea Guinea / http://www.clubcrimsyn.com/ts3/index.html
- amTopJacketOpen_leather by
SIMS 3 Original Item
About Me
-------------------- W E L C O M E --------------------
---------- TO THE WORLD OF DARKNESS ----------
------------------------------------------
I have quit creating for Sims 3 and moved on to other games. I enjoyed creating for MTS and i am happy that so many people liked my sims. I'm still lurking, but i am not active anymore. Hope you still find my sims here and enjoy playing them.
Farewell! But i will probably be back for Sims 4, let's hope they get it right with the editor ;)
!! Must have mods !!
Alternative UI mod for Non-default Skintones by Anach
(Anach_CASSkins6x4_1.17.package)
Mastercontroller mod by twallan
(Install it and experiment with this baby, you will be surprised!)
Alternative sliderhacks by [B]aWT
and
CmarNYC
(If you don't like awesomemod for some reason)
HQ Modification by aWT
(used for HQ textured uploads, you'll see them more often now i guess)
__________________________________________
[B]Q/A
- I create for the BASEGAME ONLY, no Addons! For maximum compatibility.
- All my sims are tested in the basegame without CC (to test , if they crash) and with all used CC before uploading, to make sure they look like in the pictures, if you installed all the needed CC correctly. So if my sims don't work in an addon it might be, because some mods or CC doesn't work there, or a new patch screws with mods.
- If you ask why i add musiclinks to my uploads. It's my way to share my musictaste with the community and i try to make the tracks fit the character.
- ''Why do you have such nice graphics?'' I have every graphic setting ingame and in my card's driversettings absolute max (x16 Ansitropefiltering, Antialiasing max ingame) and i use the max allowed filesize for jpg(250kb) and png(150kb), so i get the best picture quality possible. For the thumbnails i use png format, to avoid pixelation and the slight blurriness the jpg format gives these small pictures.
I use XP-Paint and
GIMP
to edit the raw bmp-screenshots, which i take with FRAPS.
- ''Do you take requests?'' Nope, sorry. I have too