Sims 3

>

>

Glasses, necklaces, earrings, and anything else you want to decorate your Sim's face with - get them here!
Sims 2 Medieval Hat and Hood by bettye, Converted for Sims 3 - One Male, One Unisex
21,451

Downloads
721

Thanks Thanks
79

Favourited
87,214

Views

Uploaded: 6th Mar 2010 at 3:59 AM
Updated: 14th Jun 2010 at 10:56 AM by EsmeraldaF - Added alternative version of plumed hat
UPDATE 8 May 2010: Added an alternative version of the plumed hat with a narrower fit for bald sims - see Download tab.
The Sims 3 desperately needs medieval wear, and here are a couple of converted Sims 2 medieval hats. They are both by bettye, who made them as a member of Magick Modders for their fantastic 'A Midsimmer Night's Dream' collection for The Sims 2 (
http://www.modthesims.info/download.php?t=99584
), many items from which I made a lot of happy use of in my Sims 2 game.
A member had contacted me to say that they would very much like for the Monk's Hood from that collection to be converted, and after a long and gruelling attempt at conversion including giving up at one stage (some Sims 2 items just prove very hard to convert without issues), it finally came out well. So I contacted bettye to ask her permission to upload it, and she kindly said she would be happy to have any of her items converted. As a result, here is her Monks' Hood and her Men's Plumed Hat.
First, the Monk's Hood. This was originally male only, but I've enabled it for both male and female.
It is found in the Accessories section under Earrings, and is for Teen to Elder
. It can be worn with your choice of short close hairdo (anything that doesn't stick out through the sides) and as an extra, so that your men can have medieval-style hair to go with it, I've included a .package file in the Monk's Hood .zip file for the hair worn by the guy in the pic, the TS3 ladies' straight shoulder length hair which I've enabled for men.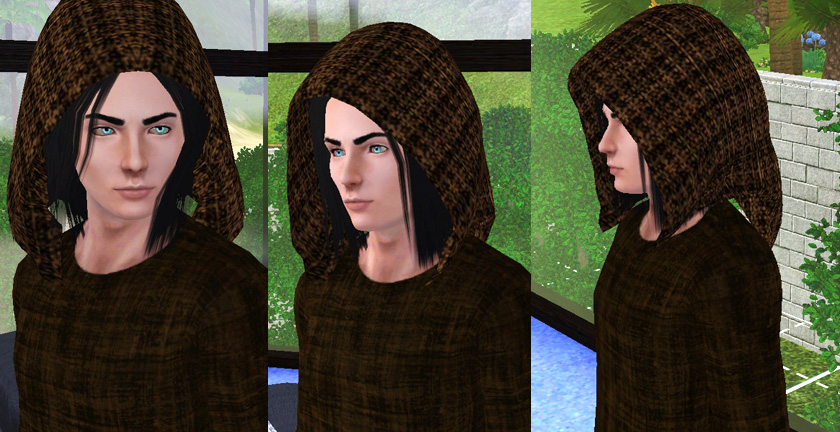 I've supplied the hood in two variations, which you will see as two thumbnails in the same row in CAS, the first one with bettye's original brown woven texture as shown in the above pics, and the second in a plain grey very lightly textured version that you can recolour/repattern as you like.
I made one modification to this item - the original hood had a strap in front, which I've removed, because in TS3 the strap tends to clip into the sim's chest too often. The three points at the bottom of the sides and back of the hood will occasionally clip into the sim when they look up or down, but it's pretty negligible. It's best not to use it with clothes with high sticking-out collars.
And as well as medieval wear, with female sims the plain version of the hood is also useful for modern outfits, where it can be used as a pretty scarf as in the first two pics in the image below.
As is the case with many (maybe most, from what I've seen) Sims 2 headwear meshes, be warned that this item has awful shadows and random blotches in CAS - the third pic below shows how it looks in CAS in its plain grey texture, but don't panic - the fourth pic is how that same item in that same texture looks in-game.
Next is the plumed hat.
This is for men only, from Teen to Elder, and is also found in Accessories under Earrings
. Again, it can be worn with a close-to-the-head hairdo of your choice, including the men's long hair that comes with TS3 base game.
Like the Monk's Hood, I've supplied this in a choice of texture variations too. There are five altogether:
In your thumbnails in CAS, you'll see five thumbnails in a row for this hat. First thumbnail is one of bettye's original textures, the criss-cross pattern in the first pic of the image below. This is in the original colours. The second thumbnail (default thumbnail of an ear) is the same texture but in a greyscale version, with two recolourable areas. This is shown below in the second pic.
The third thumbnail is a second original bettye texture/colours, followed by a fourth 'default ear' thumbnail which is a recolourable greyscale version of it - both also seen below, in the third and fourth pics.

Finally, the fifth thumbnail (another ear thumbnail) is a plain version for you to recolour/repattern any way you like, as seen in the first two pics in the image below. And again, the third and fourth pics show you not to panic in CAS - the hat looks like it's covered in tire tracks but in-game, it's fine.

INSTALL INSTRUCTIONS:
Unzip the .zip files, and copy the .package files to your Mods\Packages folder.
If you don't have a Mods\Packages folder and/or don't know how to install .package files, please see full instructions here:
http://www.modthesims.info/wiki.php...g_Package_Files
Polygon Counts:
Plumed hat: 2644
Monk's Hood: 2288
Additional Credits:
THANKS again to bettye for her permission to use these, and for making wonderful stuff for TS2!
About Me
~Retired Creator~
Retired to move to Fallout 4 creation but I'll still check here for questions, comments or PMs. Thank you to those who liked my Sims stuff, love all of you. Most of my Fallout stuff is on Nexus
https://www.nexusmods.com/fallout4/...?tab=user+files
and there are more of my Fallout creations, my tutorials on making cc for Fallout 4, and more of my Sims creations, at
https://colorfulcommonwealth.proboards.com/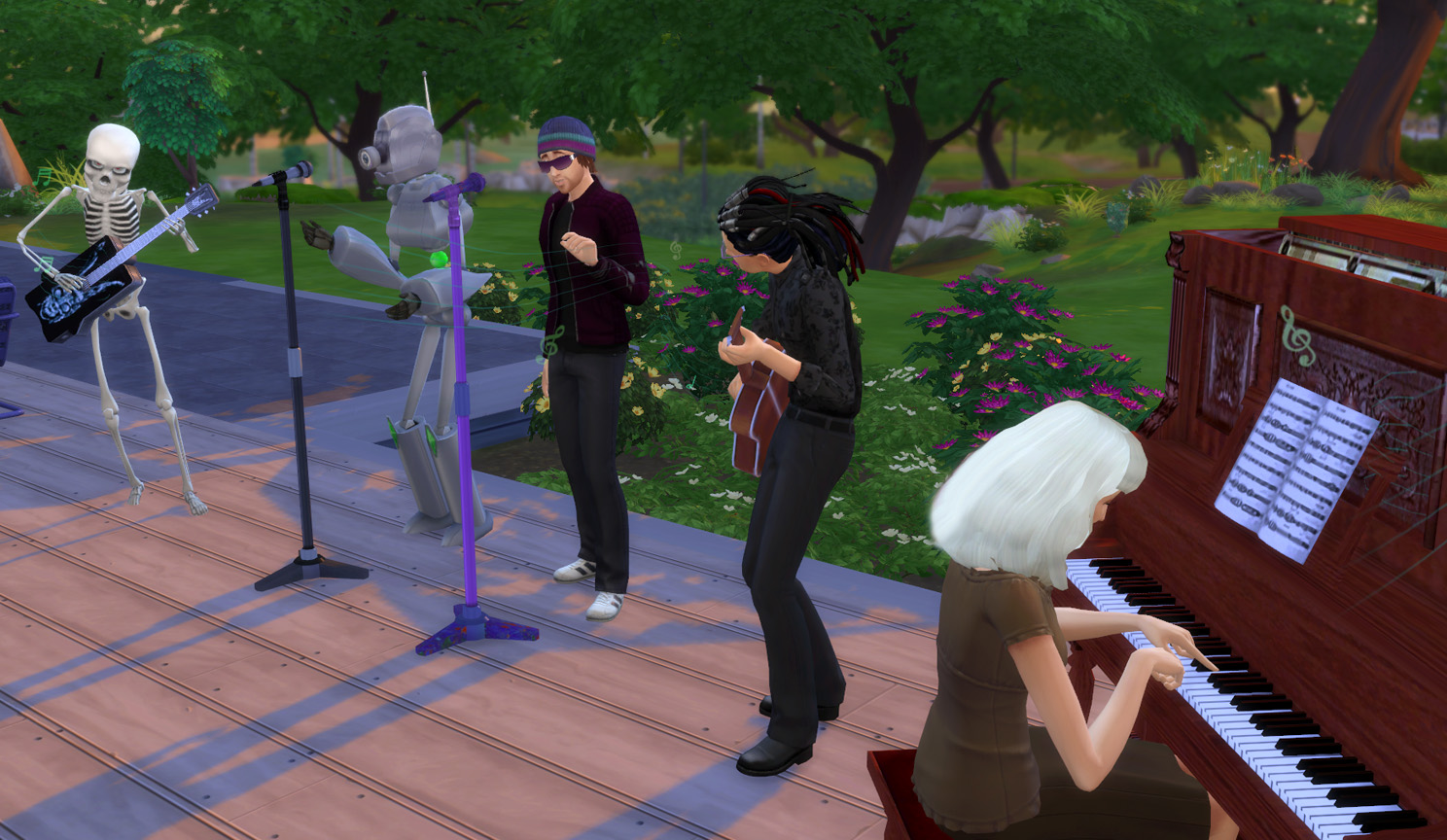 MY POLICY:
I'm pretty easygoing, please just don't steal or copy my work.
You may recolour my meshes, just please credit me and give a link back here to the item(s).
You may include my creations with your sims, lots, storytelling, etc - just please credit me and give a link back here to my item(s).
Don't claim my creations to be your own work.
Don't re-upload my stuff to The Gallery, paysites, adfly sites, or any other commercial sites.