Sims 3

>

Buy Mode

>

>

Counters, tables, end tables, coffee tables, desks, and park tables.
One More Slot Please! (with vertical shifting) [Update 2 Nov 2011]
337,813

Downloads
7,233

Thanks Thanks
1688

Favourited
927,249

Views
Featured Upload! This is a featured upload! It showcases the best talent and creativity available on MTS and in the community.


Uploaded: 16th Dec 2010 at 8:27 PM
Updated: 4th Mar 2012 at 6:37 PM - Updated link to Tipsy OMSP
Updated for Patch 1.26 / Pets EP
Will work with pre-pets patches as well.

Newshoes
has created a tipsy add-on for the OMSP that is available in the thread
Tipsy OMSP
A great add-on to allow objects to lay over on their sides when placed on the OMSP. Very Cool Stuff(tm)!

Have you ever wanted to place an object somewhere in your house, and just couldn't make it fit?
What you need is an OMSP -- A One More Slot Package object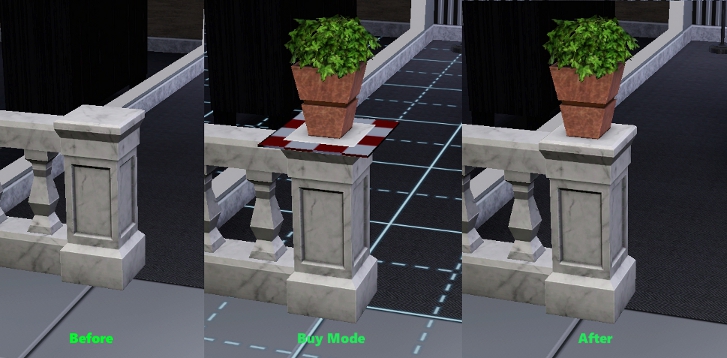 This allows you to place objects on the OMSP during buy mode. Then when you switch to play mode, the OMSP becomes invisible.
It appears in the Surfaces --> Misc.
To use the object, place it on the floor. It will appear as a red/white checkered object. Next, move it up/down using the menus.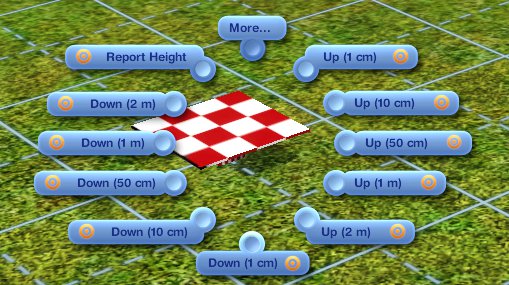 To activate the menu hold Shift + Ctrl and Click on the object.
Next place the object of your choice on top of the OMSP. It helps to move the camera to where you are looking nearly straight down at the floor.
Now, you can move and rotate the OMSP to place the object where you want it to appear. Holding ALT down while dragging or rotating allows you to move it off of the grid.
Update Information
20 Dec 2010 -- Added non-English string tables
21 Dec 2010 -- Fixed corrupted strings
23 Jan 2011 -- Added French and German Translations
Note to translators.... This Mod uses fairly simple text entries. If you wish to contribute a translation, please feel free to PM me.
WARNING
There are several potential issues with this object.
1) Currently it cannot detect if you try to move it below the floor, or above the ceiling! If you do so, it will disappear from sight.
2) Large Kitchen appliances do not work on the OMSP. They fall back to floor level as soon as you place them.
3) Placing a SIM on the OMSP works, but
DO NOT
allow them to step off. They will fall off the world and you will have to teleport them back.
4) It may be necessary to turn the MoveObjects cheat to On to place some items.
Conflict Information
This is a totally new object. It should co-exist with any other custom content.
Policy Information
This object was created by granthes for the community.
Feel free to include it in any lots that you upload.
There really isn't any reason to recolor the object, since it is invisible in play mode.
Please don't claim this as your own creation, give credit back where it belongs.
Polygon Counts:
Vertices = 68, Polygons = 29
Additional Credits:
I would like to thank the usual suspects for their tools and knowledge: Inge and Peter Jones for s3oc, s3pc, etc. and help with using them.
Thanks to Jynx for help with the mesh.
Also, thanks go to orangemittens, sunhair for the inspiration for this project and to Scratch, Inge, Shivar, Srikandi and ingeli for help with testing.
Translations by ninoo and Killc*a
Packs Needed
None, this is Sims 3 base game compatible!
Other Information
Style
:
– Not Applicable : None of the above
Room
:
– Kitchen
– Living : Living Room
– Dining : Dining Room
– Bedroom
– Nursery
– Bathroom
– Study : Study/Office
– Outdoor
Maxis Flags
:
– Not Applicable