Stairway to Cleveland Plant Stand
14,339

Downloads
1,001

Thanks Thanks
175

Favourited
53,525

Views
Picked Upload! This is a picked upload! It showcases some of the best talent and creativity available on MTS and in the community.
Personal Picked Upload!
This is a personal favourite of the creator!

Uploaded: 29th Jul 2012 at 3:22 PM
Updated: 14th Nov 2012 at 3:00 PM
There's a lady I know whose rocks and plants grow
on a shelf called the Stairway to Cleveland...
A mysterious stairway that goes nowhere…but does it really? Might it lead to the past? Or another dimension? Or maybe, it just goes to Cleveland? And what if
something
from the distant past, or another dark dimension, or
gasp
, Cleveland decides to come down those stairs in the middle of the night…Well, better put a bunch of plants and doodads on it so that the interdimensional thing from Cleveland's past trips and tumbles down the stairs, making lots of noise, which wakes you up, and you run, run, fast as you can while it wheezes and snuffles and plays accordion music behind you…
Oooooh, really makes you wonder…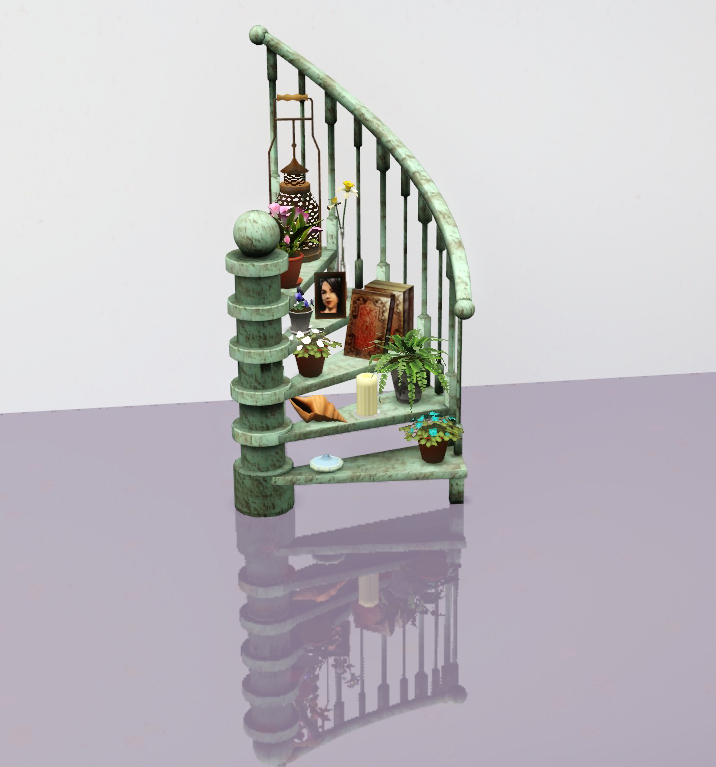 The Stairway to Cleveland Plant Stand has three recolorable channels: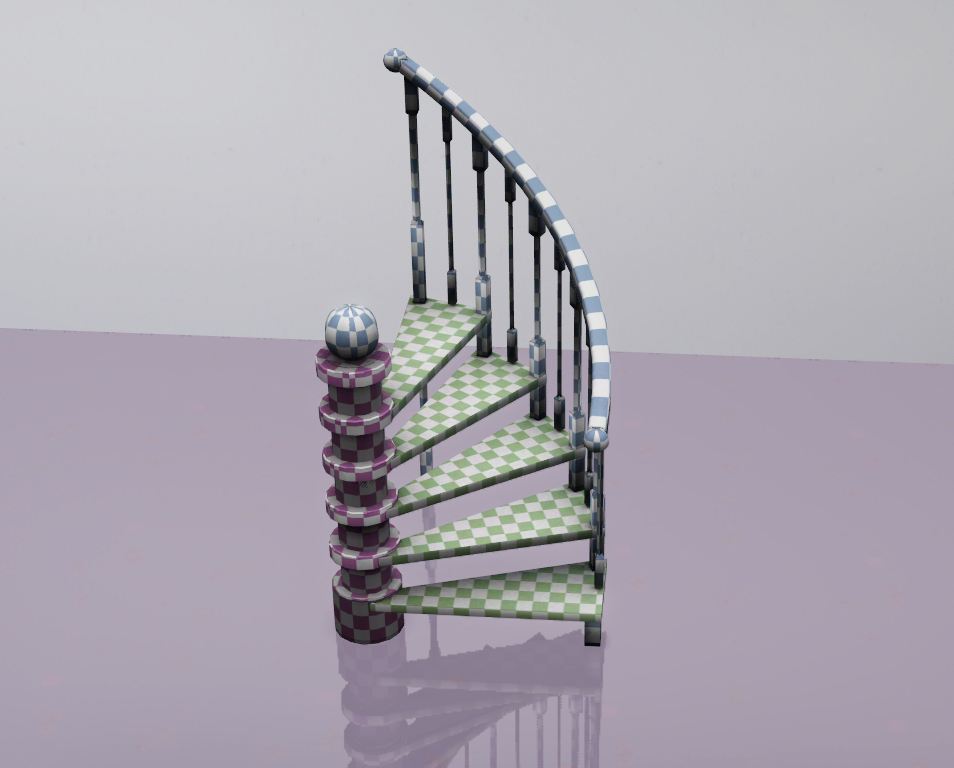 There are four presets: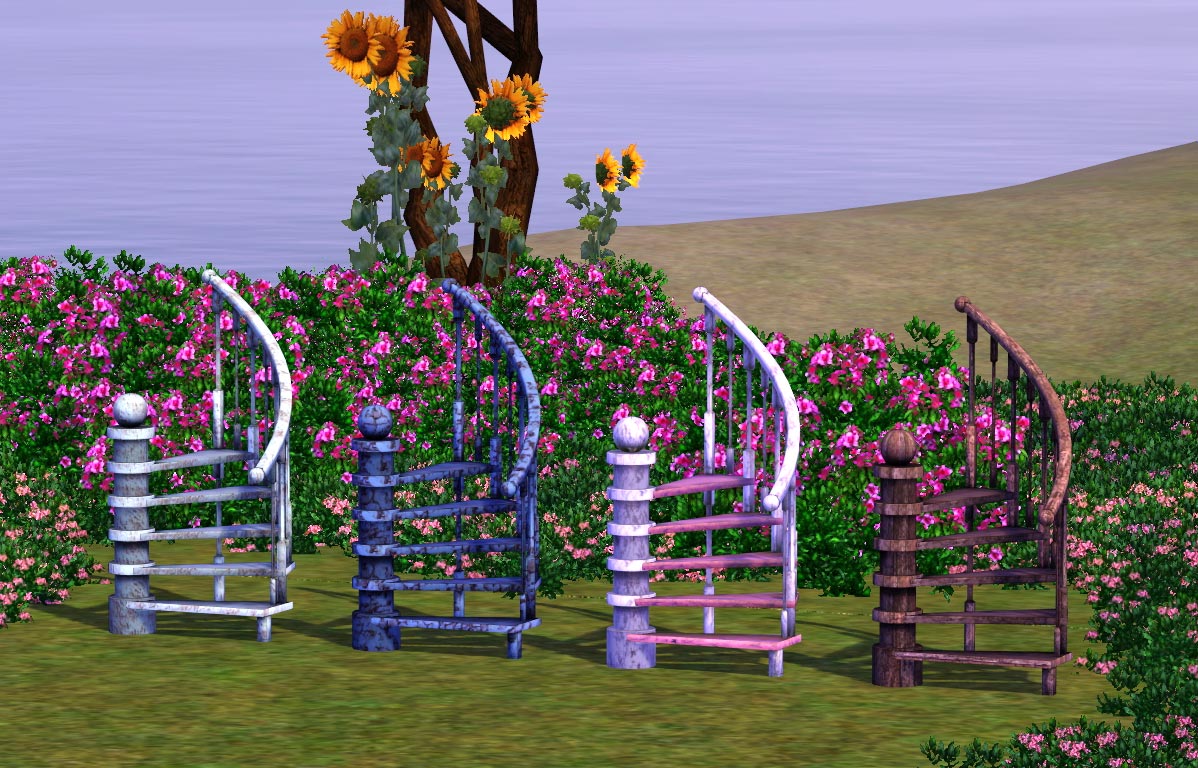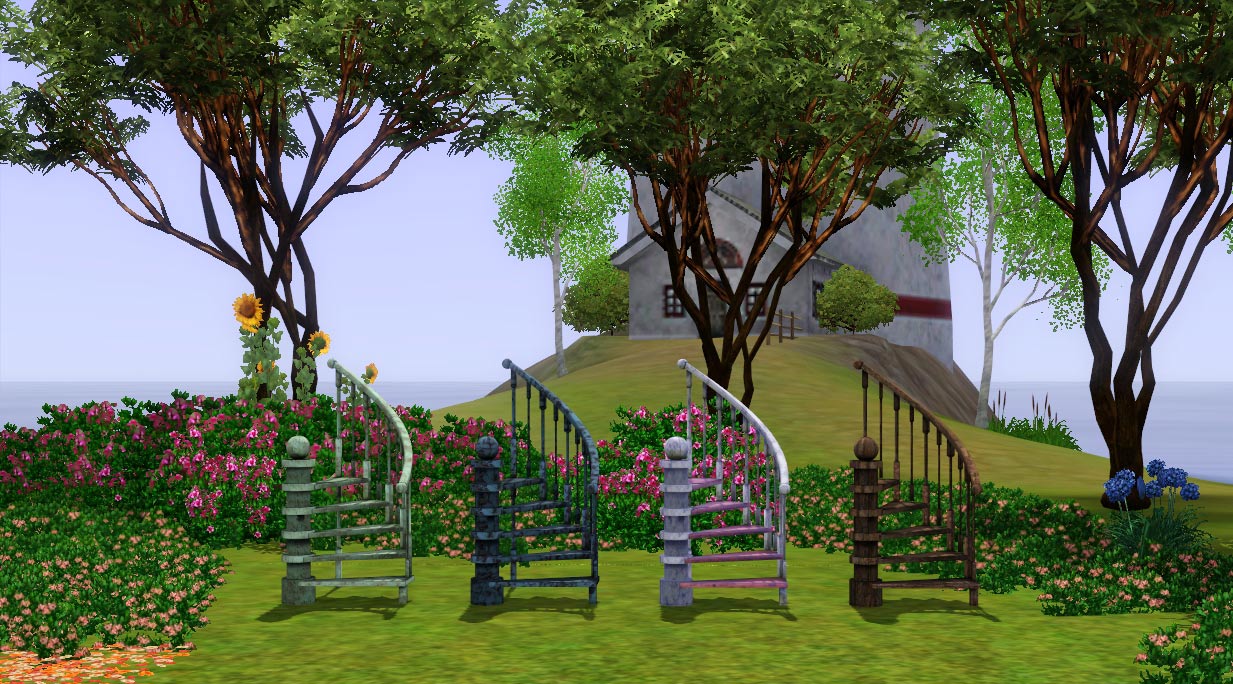 No expansion or stuff packs are needed. The Stairway to Cleveland Plant Stand was play tested on a base game fully patched to 1.36 and on a game full of expansions and stuff packs using 1.33. It might work on other levels, but there are no guarantees.
Note:
There is a small defect in the mesh, a little bit of flickering that occurs in a piece of the central post. This defect is also present in the EA staircase mesh that I kithri-fied. There was no way to remove it without completely rebuilding the mesh, the thought of which made me curl into the fetal position.
Technical and Other Relevant Information
File Name
: Kithri_StairwayShelf_7_12_v1
Name
: Stairway to Cleveland Plant Stand
Channels
: 3
Slots
: 15
Price
: 100
Environment Score
: 0
Buy Catalog Location
: Storage -> Misc. Storage
Tip:
To rotate the plant stand off the grid, press and hold the Alt key and then left-click and drag the stand with your mouse.
I love thanks and welcome comments, and of course, please report any problems you have with the mesh so that my shambling lackey Snortmorton can fix it.
Tools used: Maya, Blender, Milkshape, TSRW, S3PE, Sims 3 Pack MultiInstaller, a lizard's gizzard, an entrail or two, and Photoshop CS6
Custom Content Credits: Morphead's mirror floors, Cmomoney's lovely potted posies and shelf items, Lisen801's pretty plants, decorative books by Lemoncandy, and TS2 conversions by Purplepaws, all here at MTS, and decorative lantern by
http://lunasimslulamai.jimdo.com/
. The small vase is by me. And, apologies to Robert Plant and Led Zeppelin!
Caution:
If you climb a staircase that seems to lead nowhere, watch out! You might just end up in Cleveland.
Change History:
v1
Polygon Counts:
HighLOD polys: 2042
HighLOD vertices: 2145
LowLOD polys: 749
LowLOD vertices: 1107
Additional Credits:
Thanks to: Delphy, Inge & Peter Jones, Cmomoney for Blender plugins, Wes Howe for MS plugins, Armiel for Builder's Island, my sister Brenda Jean for her artistic input, and dear friend Kevin (from Cleveland) for listening to my endless babbling about those darned polygons.
Packs Needed
None, this is Sims 3 base game compatible!
Other Information
Style
:
– Antique : Antique or Historical
– Retro
– Contemporary
Room
:
– Living : Living Room
– Dining : Dining Room
– Study : Study/Office
– Outdoor
Maxis Flags
:
– Not Applicable
Visit my site @ http://www.kithri.jimdo.com/ for more stuff not available here at MTS!
Creative Policy:
Sims 2 Meshes--May be recolored, please give credit, no permission needed. Do not bundle mesh with recolors, link to mesh here at MTS. Meshes may not be altered without permission.

Sims 3 Meshes--Meshes may not be altered without permission. May use in uploads, but never to pay sites or to the Exchange; do not bundle with upload, link to mesh here at MTS. And please give me credit. :)

Patterns--Do not upload to pay sites or to the Exchange; otherwise, you may use in other uploads. Okay to bundle them into your package, no permission need. Just credit me, please.

This work is licensed under a Creative Commons Attribution-NonCommercial-NoDerivs 3.0 Unported License. See http://creativecommons.org/licenses/by-nc-nd/3.0/ for legal information.