The Doctors Are In - The NuWho Trio
27,144

Downloads
923

Thanks Thanks
300

Favourited
196,455

Views
Featured Upload! This is a featured upload! It showcases the best talent and creativity available on MTS and in the community.

Personal Picked Upload!
This is a personal favourite of the creator!


Uploaded: 7th Aug 2012 at 11:44 PM
Updated: 14th Oct 2012 at 7:32 PM
Allons-y!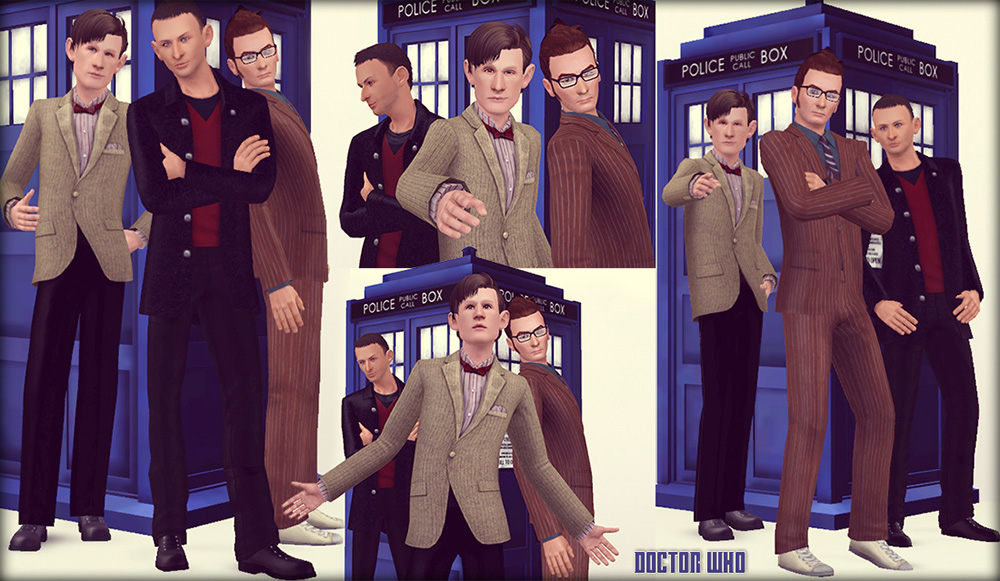 So I know I used to say I would never create for TS3, but now I guess "never" was a bit of an over-statement

I really only re-installed TS3 for the heck of it, played a bit and tried to make some sims. Anyway, I had so much fun that I decided to keep at it and try to make them good enough for upload. Well, at least I hope they are good

I tried to keep them as simmish as possible, because I think TS3 sims look better during gameplay when they're cartoonish instead of super realistic.
If you're not familiar with Doctor Who, here's a little tidbit from Wikipedia: Doctor Who is a British science fiction television programme produced by the BBC. The programme depicts the adventures of a Time Lord—a time travelling, humanoid alien with two hearts known as the Doctor. He explores the universe in his TARDIS, a sentient, telepathic time machine that flies through time and space. Its exterior appears as a blue British police box, a common sight in 1963, when the series first aired. Along with a succession of companions, the Doctor faces a variety of foes while working to save civilisations, help ordinary people, and right wrongs. Within the series' narrative, the Doctor is a centuries-old alien, a Time Lord from the planet Gallifrey, who travels in time and space in his TARDIS, frequently with companions. When the Doctor is critically injured, he can regenerate his body but in doing so gains a new physical appearance and with it, a distinct new personality.
I know most Who fans have a favorite Doctor, but I'm pretty much equally fond of all three Nu-Who Docs. They're all different, but all are awesome, so I decided to upload them together

I know HP made an awesome Ten, so I wasn't sure if I should have a go at it as well...but I guess having Ten times two can't hurt

On to the upload!
The Eleventh Doctor
as played by Matt Smith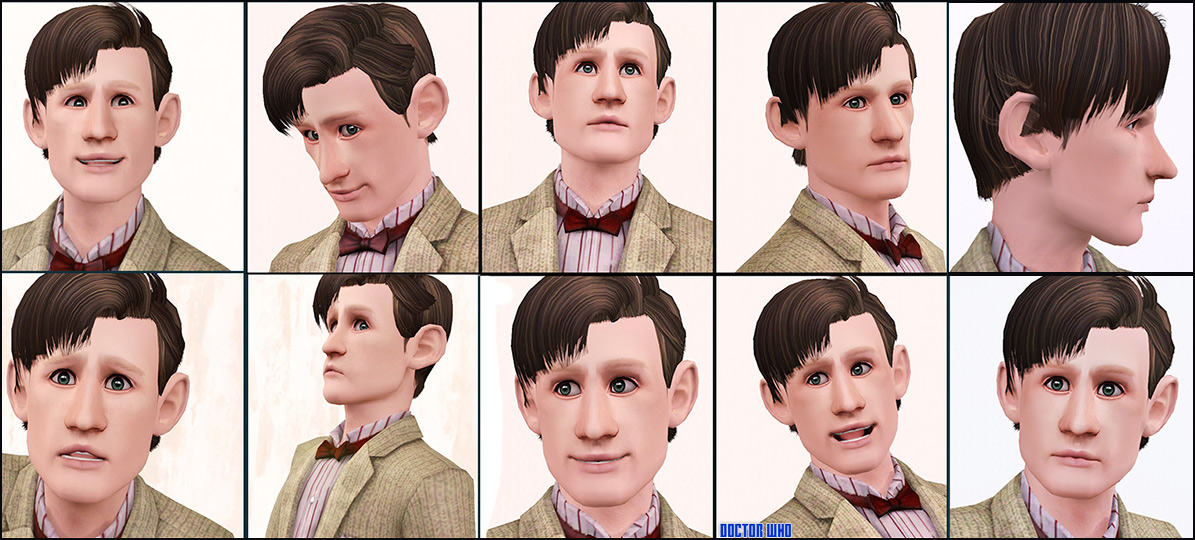 "I am definitely a madman with a box!"
The Eleventh Doctor sim is a young adult, he uses base game outfit and is packaged with default base game skin and hair. For him to look -exactly- like the in the pictures, you will need these:
- Non-default skintone by
Nilou
- Hair by
Catfish
- Contacts by
Shady
- Lips by
Tamo
- Eyebrows by
SLU
- set #4, brows no. 5
Brand new outfit for Eleven now available here!
The Tenth Doctor
as played by David Tennant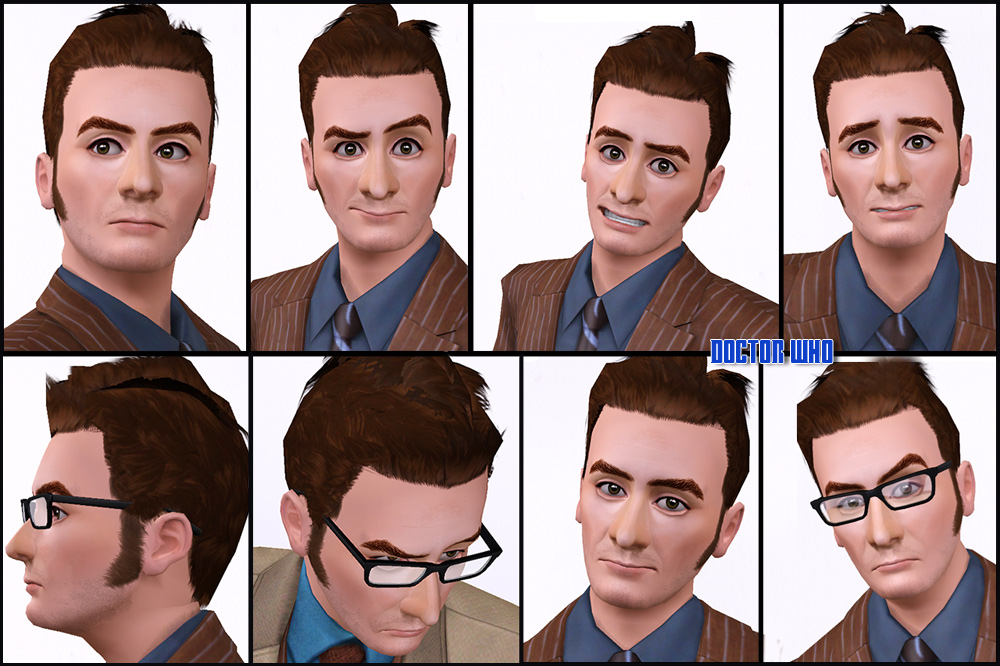 "People assume that time is a strict progression of cause to effect, but *actually* from a non-linear, non-subjective viewpoint - it's more like a big ball of wibbly wobbly... time-y wimey... stuff."
The Tenth Doctor is an adult, he uses the base game clothing, and comes packaged with default base game skin and hair. For screenshot look, download these:
- Non-default skintone by
Teru_k
(ESkin_WEAK_Asia.rar)
- Hair by
Aikea Guinea
- Eyebrows by
SLU
- set #2, brows no. 6
- Contacts by
Shady
- The Doctor is shown with a default replacement sideburns and stubble by
Kitty Klan
- Face contouring Blush
Kitty Klan
- The glasses Ten is wearing on some pictures are by
Tamo
The Ninth Doctor
as played by Christopher Eccleston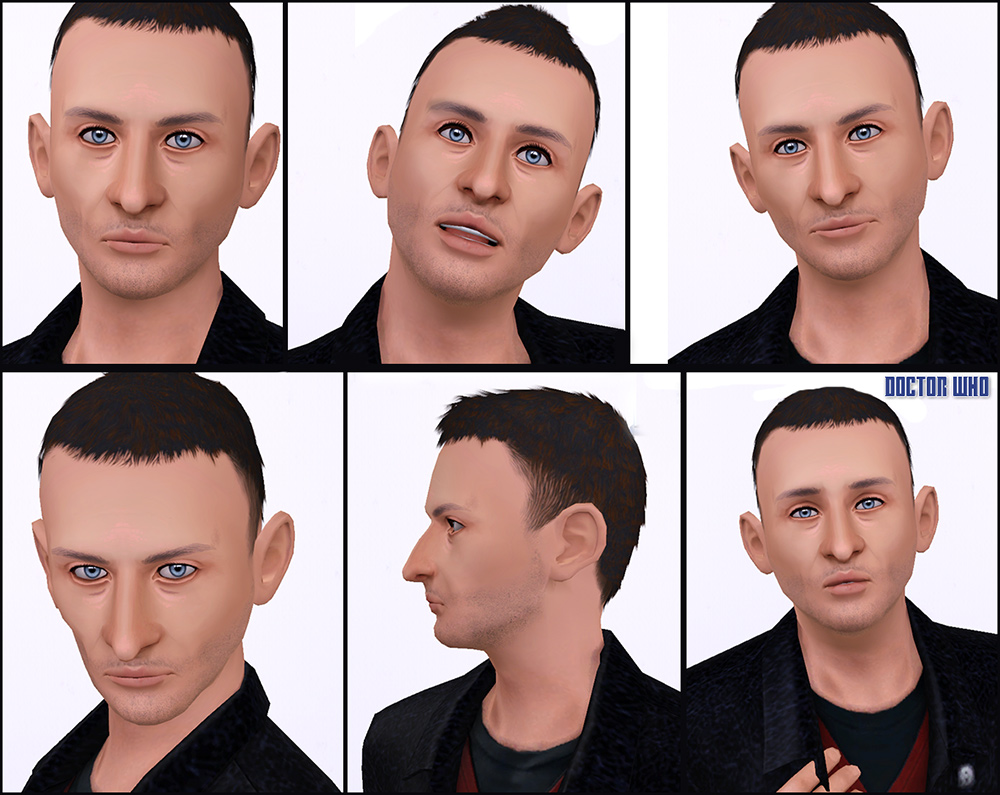 "Do you know like we were saying? About the Earth revolving? It's like when you're a kid. The first time they tell you that the world's turning and you just can't quite believe it because everything looks like it's standing still. I can feel it. The turn of the Earth. The ground beneath our feet is spinning at a thousand miles an hour. And the entire planet is hurtling around the sun at sixty-seven thousand miles an hour and I can feel it. We're falling through space, you and me. Clinging to the skin of this tiny little world and if we let go...That's who I am."
The Ninth Doctor is an adult, he's pictured with hair and trousers from Ambitions EP and the top is from
TS3 Store
. He is packaged with default base game skintone, and base game hair and clothes. Other CC to get him looking just like my screenshots:
- Non-default skintone by
Nilou
- Eyebrows by
Teru_k
- brows no. 1
- Contacts by
Shady
- Eyebags by
Tifa
(link has now been fixed)
- Face contouring Blush by
Kitty Klan
- Nine is shown wearing a default replacement stubble by
Kitty Klan
- Lips by
Tamo
These sims were made using Awesomemod and extra sliders, please see the list below:
Sliders:
Extended Slider Range/Quantity:
Awesomemod by Pescado
set at 3x
Additional Facial Sliders: by
bella3k4
and
aWT
Sim height slider by
Delphy
Head shape slider by
Jonha
Head size slider by
Jonha
Overlip curve slider by
Whiterider
Chin to neck slider by
hereit
As you probably already know, you only need these sliders if you intend to change these sims' faces. If you like 'em the way they are, then you'll be fine without the sliders.
I think that's it. Hope I did everything right...Gosh, am I nervous, it's my very first upload for TS3! *so excited*
Additional Credits:
I'd like to thank Fansee and Lee, because if it weren't for their encouragement my TS3 adventure would probably just stayed an experiment.
Thankyou goes to tumblr simmers as well, for being awesome, sweet and encouraging always.
Packs Needed
None, this is Sims 3 base game compatible!