>

Glasses, necklaces, earrings, and anything else you want to decorate your Sim's face with - get them here!
Recolourable/Patternable Glass Wings, for All Ages
MTS has all free content, all the time. Find out how YOU can help to keep it running.
Tell me how...

Created by Esmeralda View Policy / About Me View Downloads Home
Uploaded 16th Sep 2012 at 8:34 PM · Updated 17th Aug 2019 at 7:37 PM by Esmeralda : Just some changes to text
Having now figured out how to make recolourable glasses for my previous two uploads, here's something else I wanted to figure out for a long time: recolourable glass wings: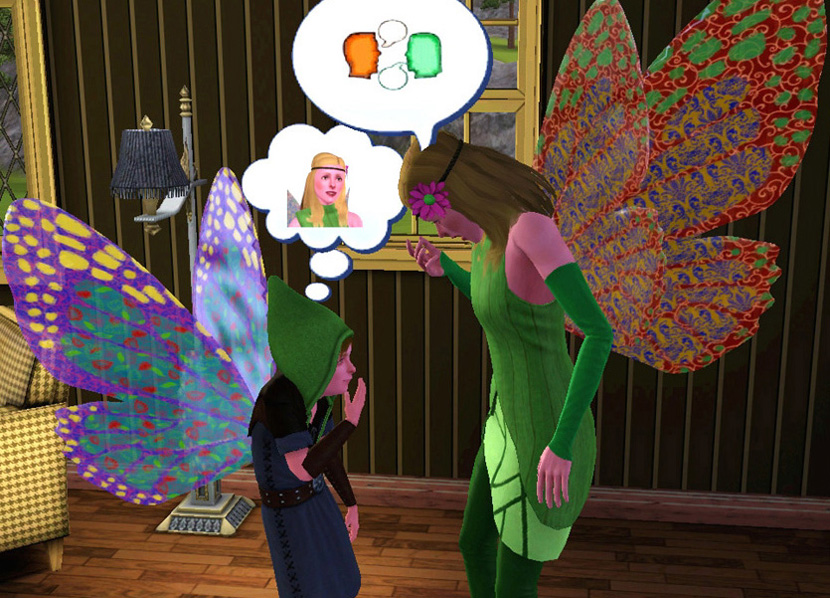 They are enabled for all clothing categories and are for both genders and all ages from Toddler to Elder.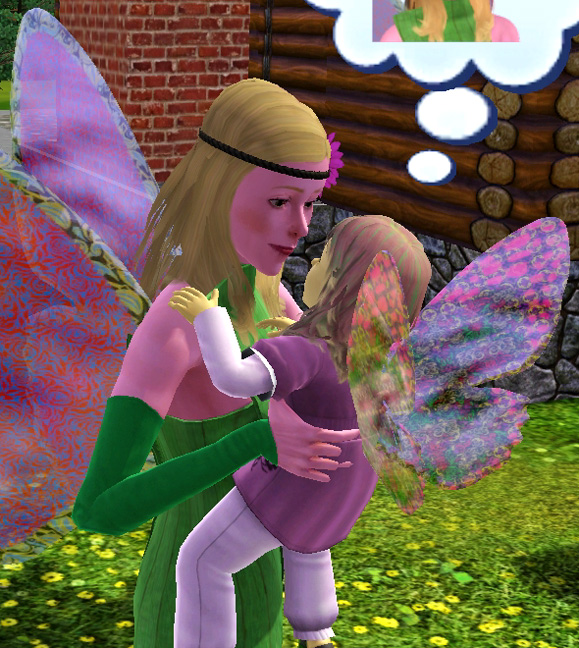 They're found in Glasses in the Accessories section in CAS, and come in two versions within the same package: a version with butterfly markings similar to that of my Butterfly Wings already uploaded here (they use the same mesh as those wings), and a blank version with a border around it. When you find them in CAS, the butterfly version is under the custom first thumbnail, and the plain/bordered version is under the second thumbnail in the same row.
So, you have a huge variety of wings that you can make by applying different colours and patterns to the two different versions, such as in this composite pic depicting the butterfly version in the two leftmost pics, and the plain/bordered version in the other four: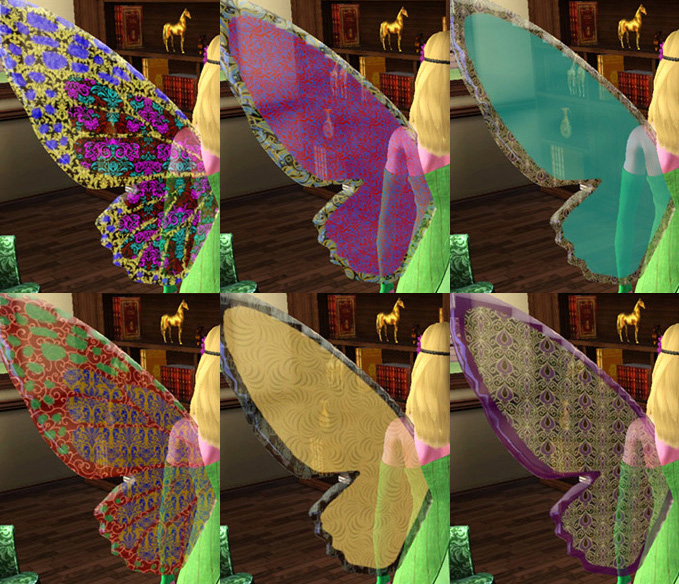 As you can see, a lot of pretty combinations are possible by mixing different patterns. For instance, I like the delicate stained glass effect of the wings of the below smoochy couple: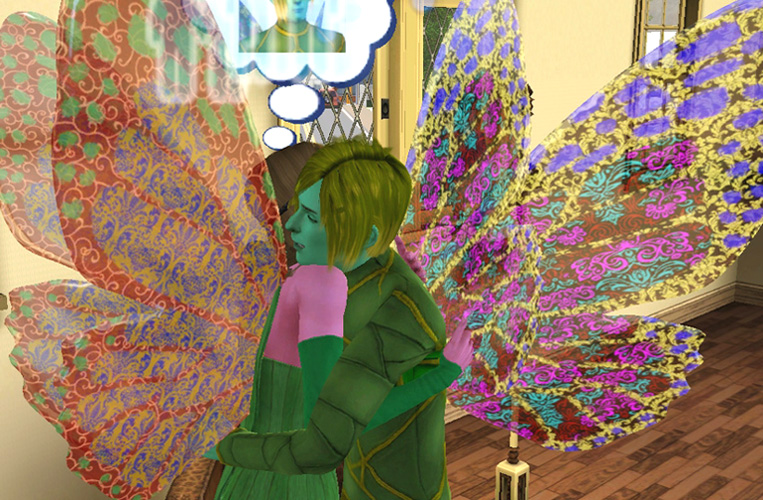 RECOLOURING:
Like my recently uploaded recolourable glasses, you need to keep the colours darker than you would normally expect: move the brightness slider well over to the right, or else the colours will be very bright. See my instructions in the
Shades
section of
'HOW TO RECOLOUR THE LENSES'
in my previous upload:
http://www.modthesims.info/d/483956
In the 7th pic at the bottom of this page, the top half shows how the wings look at night - they have a slight soft glow effect. But the bottom half shows what happens if you make the wings bright in CAS - Dayglo wings! If you WANT a Dayglo fairy, now's your chance. But if not, keep the colours/patterns dark.
PLEASE NOTE
that as is also the case with my previous wings, and with most (if not all) custom content accessories, having your sim wear any other accessory at the same time as the wings could result in the wing texture becoming blurry/pixellated.
Man and woman's outfits are from EA Store world 'Lunar Lakes', and boy's hair, outfit and woman's hair are all EA Store items.
Thank you for looking, hope you'll have fun with these.
INSTALL INSTRUCTIONS:
Inside the .zip file you will find three sets of wings, one for Teens-Elders, one for Children, and one for Toddlers. Unzip the .zip file, and copy the .package files to your Mods\Packages folder.
If you don't have a Mods\Packages folder and/or don't know how to install .package files, please see full instructions here:
http://www.modthesims.info/wiki.php...g_Package_Files
Polygon Counts:
2712: Adult and Children Wings
1518: Toddler Wings
Additional Credits:
Made with CAS Texture Unitool
A BIG thanks to whiterider for advice on how to install a working second custom thumbnail into an already-saved package.
Accessory Type: Glasses Misc
Age: Toddler Child Teen Young Adult Adult Elder
Maxis Flags: Not Applicable
Gender: Male Female

Tags: #wings, #glass, #transparent, #recolorable, #recolourable, #fairy, #fairies, #fantasy
~ * ~ RETIRED CREATOR ~ * ~
Retired to move to Fallout 4 creation but I'll still check here for PMs or questions. Thank you to those who liked my Sims stuff, love all of you.
My Fallout 4 creations: www.nexusmods.com/fallout4/users/38171995 . More Fallout 4 creations + more TS4 and TS3 stuff: http://colorfulcommonwealth.proboards.com/
~ * ~ POLICY ~ * ~
I'm pretty easygoing, please just don't steal or copy my work.
You may recolour my meshes, just please credit me and give a link back here to the item(s).
You may include my creations with your sims, lots, storytelling, etc - just please credit me and give a link back here to my item(s).
Don't claim my creations to be your own work, don't re-upload my stuff to paysites, adfly sites or similar, or to The Gallery.
And, please don't copy my work and upload it here. I learned that's allowed when someone duplicated my Sims 2 Servo conversion and got Featured for it. But, as happened with that person, you'll be disrespected by other Simmers for copying. Because of that, I now ask that if you choose to duplicate my work, you must credit me for having done it first and give a link to my item.
Thanks!