Sims 2

>

>

New terrains for your custom neighborhoods & CAS screens
Bayside Flats: Inhabited/Base Game/No CC/Storied Neighborhood
12,473

Downloads
363

Thanks Thanks
119

Favourited
60,675

Views

Uploaded: 25th May 2015 at 8:25 PM
Updated: 6th May 2018 at 4:12 PM
The HoodBuildingGroup proudly brings you...
Bayside Flats
an inhabited/BG/CC-free/storied Neighborhood
Bayside Flats lies peacefully at the water's edge. Many of the buildings are very old - there's even rumors of a dungeon
in the ancient Tower House. Things are usually pretty quiet around here. That is - until yesterday! It was a sunny afternoon,
the kids were home from school, things were winding down for the day - when suddenly, a gunshot rang out! Then another!
Screams were heard, then sirens. It was murder; a double homicide. Right here in Bayside Flats!

But wait! That's not all! This morning brought two more mysterious deaths! What is happening? Who is the killer? When will it end?
The new Detective in town, Chace Z. Keller, has his work cut out for him! We hope he didn't move here expecting to twiddle his thumbs
and enjoy the serenity! Follow his notes in the "Case File" reports found at the end of each character's bio.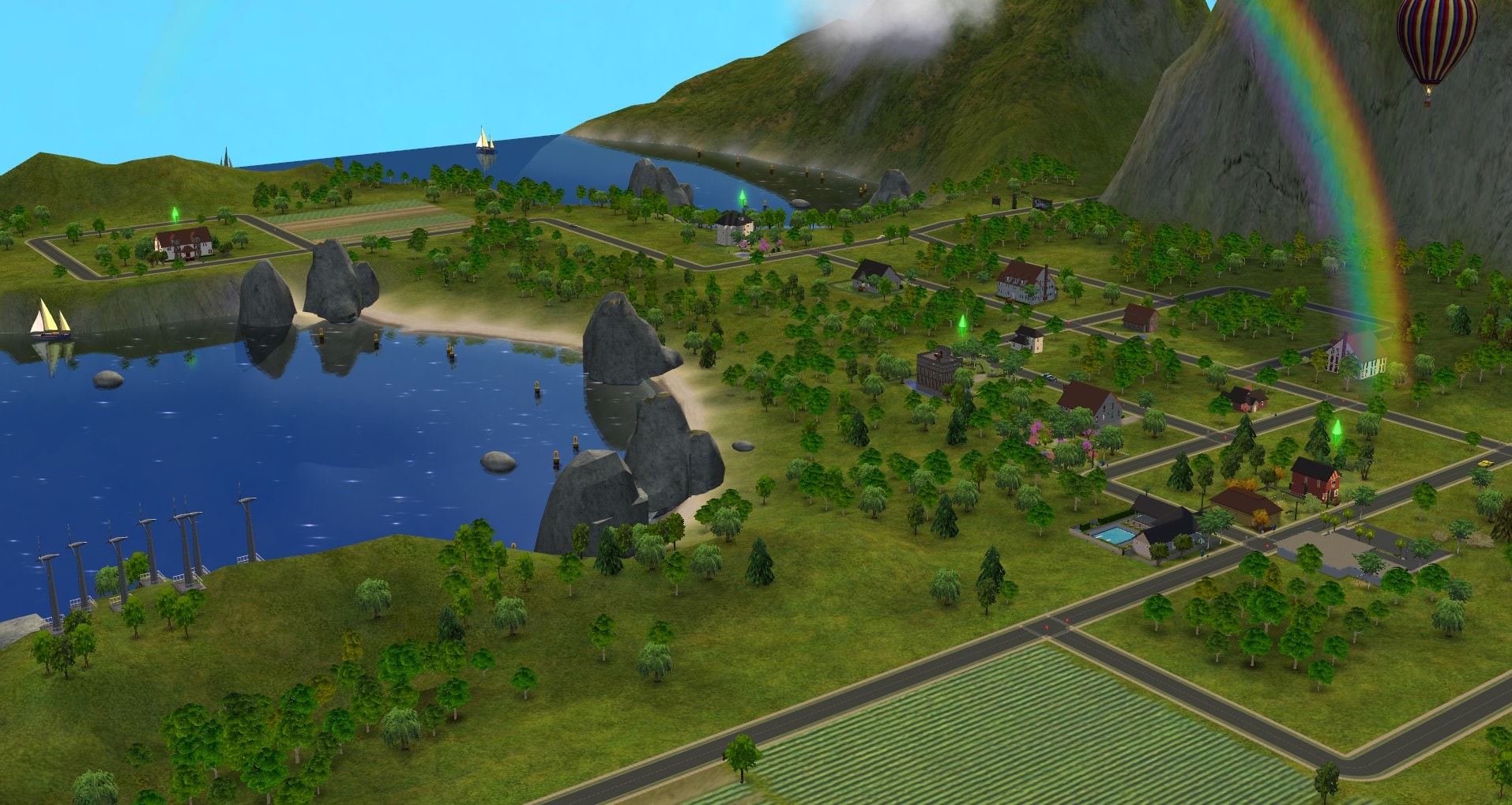 Install Instructions
For The Primary Hood Version:
1. Put the folder
BF01
into your
Documents\EA Games\The Sims 2\Neighborhoods
2. If you only have the
Base Game
installed, you have to copy the contents of the Storytelling folder into your
Documents\EA Games\The Sims 2\Storytelling
folder in order for it to function properly. Later EPs do not have this requirement.
For The Subhood Version:
1. Put the folder
BBF1
into your
Program Files\EA GAMES\The Sims 2 Open For Business\TSData\Res\NeighborhoodTemplate
Note:
If you have
The Sims 2 Ultimate Collection
, put it here instead:
Program Files\Origin Games\The Sims 2 Ultimate Collection\Best of Business\EP3\TSData\Res\NeighborhoodTemplate

In order to use the subhood template, please take note of the following:

-You need Mootilda's mods to fix the subhood selections, available
here
.
-To use Mootilda's mods, you will need
Pets
or a
later EP/SP
installed.

However, if you don't have
Pets
or a
later EP/SP
installed, you can temporarily remove Bluewater Village (B001) from the NeighborhoodTemplate folder and move this subhood in there. It will still be referred as Bluewater Village in the game. But the game will add Bayside Flats to your neighborhood. Restore B001 after adding the subhood and you're done.
This neighborhood has a story to tell...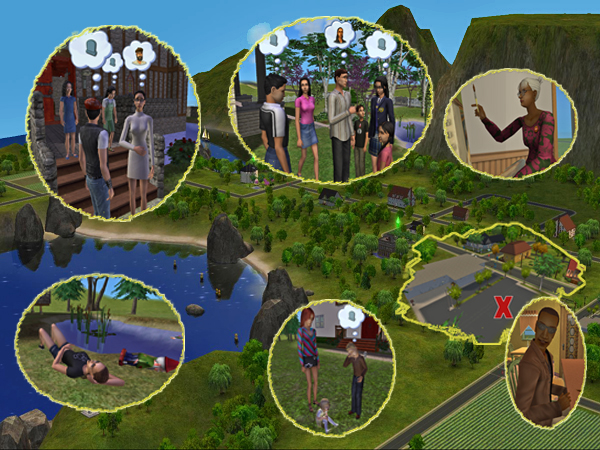 ...To follow the story, read
EVERYTHING
carefully. Start with the neighborhood storybook. It will introduce you to the characters and how the hood is structured - just
click
the storybook/album icon on the main map to get started! More bits of story are to be found in each family's photo-album, and in each character's biography (
click
for an example) We created six families for this neighborhood; with one family still in the family bin. There are also eight pre-made ghosts. You can read more about the families and the individual sims in the comments of this thread.
This town has been suddenly embroiled in mystery. Everything is chaos. Is there a murderer on the loose? Maybe one of the eight deceased sims knows what happened? You can resurrect one and see if their biography is helpful or not. To resurect the sims, you'll need University, FreeTime or the Apartment Life expansion pack. If you do not have those EPs, then you'll have to wait until the ghosts appear at night. Use "boolprop testingcheatsenabled true" to make the ghosts temporarily selectable in order to read their biographies. Don't forget to make them unselectable before the ghosts leave the lot.
Of course, you don't have to follow the neighborhood story. You can play as you want. Help the detective find the murderer, or help the criminal kill as many sims as possible - the choice is yours.

Further Information:
Bayside Flats uses an edited SC4 terrain of EA's Mesa Flats map.
You don't need to install a camera mod for this neighborhood. You will see all of the lots in a vanilla game. In some cases, you may have to rotate the camera a bit in order to load certain lots.
This neighborhood has been created with
Numenor's AnyGameStarter
with no Maxis content, so there aren't any townies or any NPC. You have to generate them yourself if you want them. We have built a cemetary lot for this neighborhood so you can move your urnstones to the cemetary. You need Nightlife for this. If you don't have Nightlife but later EPs. Then you can put the urnstone into the inventory of any sim and visit the cemetary lot with that sim. Then you can click on the ground and choose the option to place the tombstone. You can read more about that cemetary lot (Peaceful Lawns) in the comments of this thread.
There are 8 vacant lots in Bayside Flats.
All of the lots have been compressed with
Mootilda's Lot Compressor.
Bayside Flats is base game compatible and doesn't have any CC in it. The shopping district/suburb subhood requires TS2 OFB and the downtown subhood requires TS2 NL.
This is our 3rd neighborhood and we'll soon start working on the 4th neighborhood.
We always accept applications. So, if you want to join us, you can PM us and we'll add you to the group.

Stay tuned for more neighborhoods to come!
Additional Credits:
Numenor
for his
AnyGameStarter
which we used to make this neighborhood base game compatible and empty.
Mootilda
for her
Lot Compressor
which we used to compress all of the lots and for her
LotAdjuster
which we used on some lots as well and for her helpful
HoodChecker
(to see whether there are any problems or not)
Peni Griffin
for proofreading the descriptions.
The Riverside Group
for the following lots that we renovated and renamed:
13 Baypoint Circle
,
37 Bayside Drive
,
46 Bayside Drive
,
11 Douglas Lane
and
26 Flat Road
Compressjpeg.com
for compressing the size of the required images for the download page.
The makers of
SimPE
Packs Needed
None, this is Sims 2 base game compatible!