>

Pixel dollhouses/For sims to live their lives in/Nice houses for sims
1920's Vintage Home Design ~ 1-click Foundation Spanish Colonial, 47th in the Series
MTS has all free content, all the time. Find out how YOU can help to keep it running.
Tell me how...
801

Downloads
49

Thanks Thanks
10

Favourited
3,078

Views

Uploaded: 14th May 2020 at 7:10 PM
Updated: 23rd Aug 2021 at 2:37 PM
The forty-seventh house in my "1920s Series" - inspired by
62 Beautiful Vintage Home Designs from the 1920s
- is the "Camarillo," a Spanish Colonial with three Bedrooms, one and a half Baths, a proper Receiving Hall, Living Room, Library, Dining Room, Kitchen, Basement, Courtyard, semi-attached Carriage House Garage, and a Pool. Or, as the brochure says, "7 Rooms, Bath, Toilet, Garage, and Court."
I, uhhh, ...went a little overboard, I think, on this one.

Living in Central Florida, like I do, most of the really nice older architecture has a Spanish influence - so, I really like this house! It is definitely staying up on Belladonna Cove's "Affluent Ridge" in my game. This is the most expensive of my 1920's Houses so far - coming in at a whopping $93K - but, you get a lot for your money. Many of the rooms have wood paneling, the kitchen has upgraded cabinets and appliances, with a higher grade tile than what I've used in other of this series' houses. More furniture is included - mostly from the Maxis Mission set. And, curtains are included in all the bedrooms. Also, don't forget the pool! All-in-all, I'm really happy with this build,

I hope your sims will be too!
This lot has been adjusted with Mootilda's
GridAdjuster
to have a cute little 1-click foundation.
AND it has a basement (a regular dug-out basement, not a no-slope/page-down-to-the-Nether basement.)
It is also Big Dog approved (Thanks to
Shasta and Huge Lunatic
.)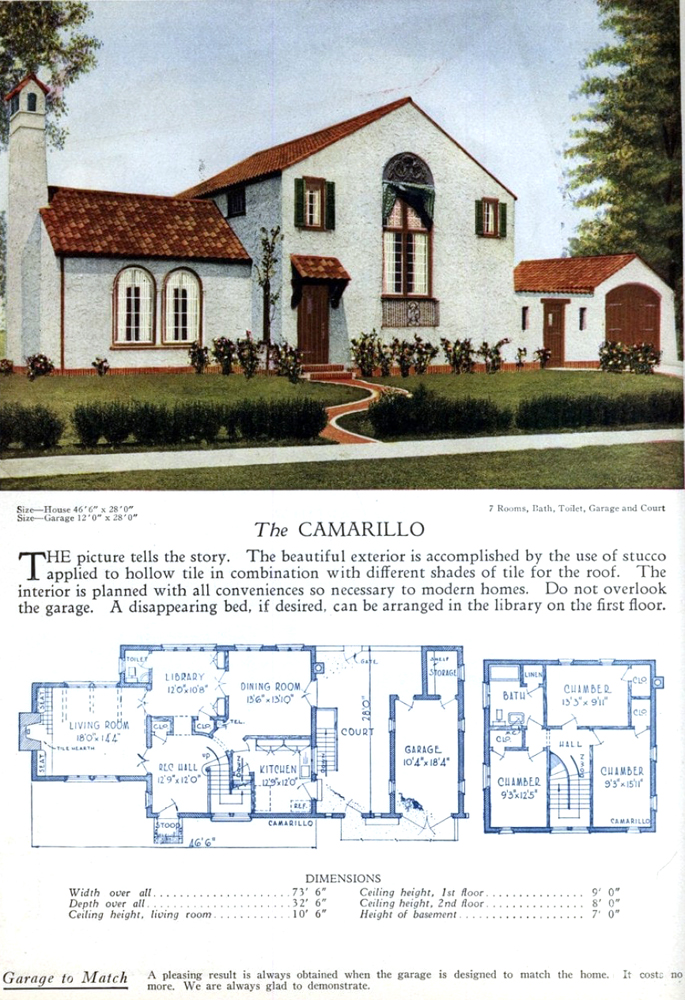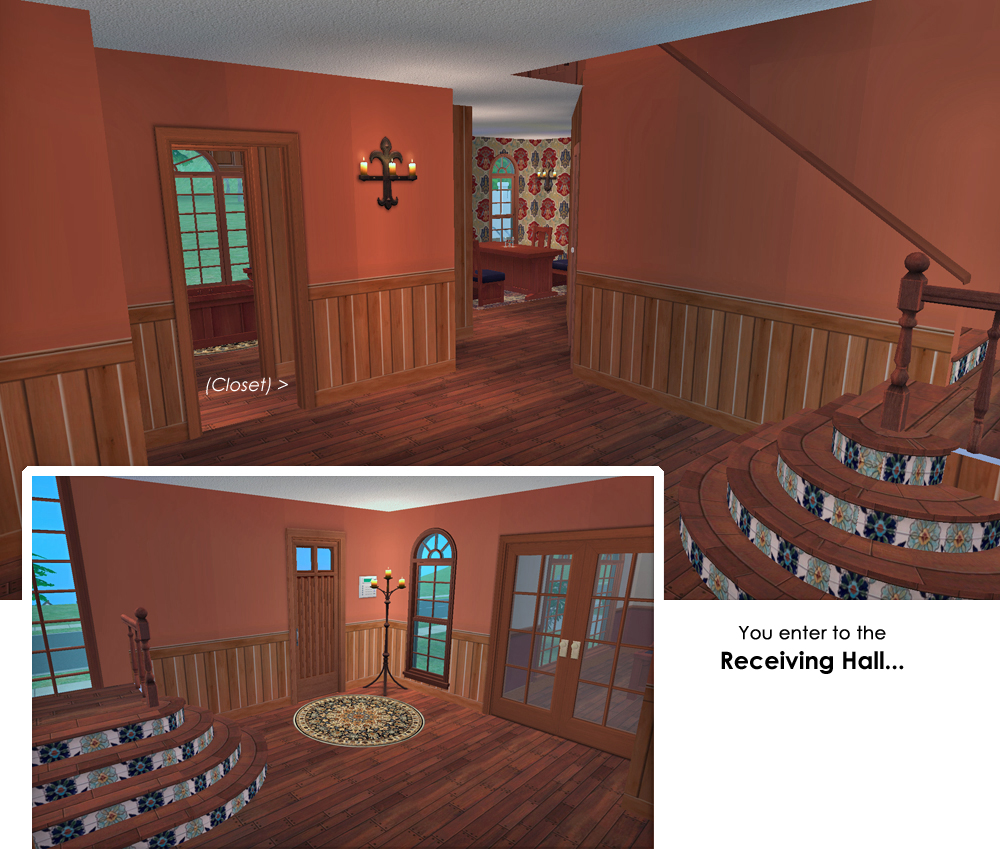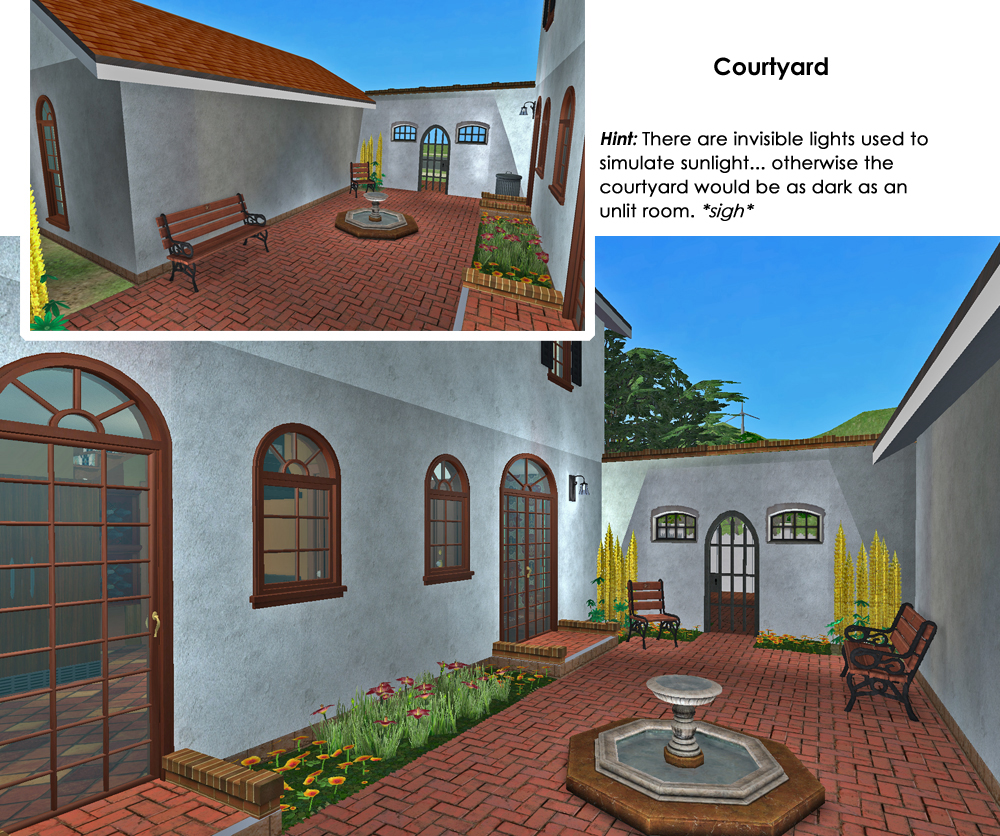 Please scroll through all the above pictures to see everything this house has to offer. Like I said above... I went a little overboard with this one - it is more fully furnished than the rest of the 1920's Series houses. Only one room is completely devoid of furnishings and that is the 2nd bedroom. The house is not "cluttered" though, there is still a lot of room for you to add furniture, decorations, and artwork. Of course, you can completely redo it however you want when it's in your game

All appliances, plumbing and lighting are included. The telephone is located in the hall across from the kitchen door, as the original plans indicate. The front door is burglar alarmed. The range and fireplace have smoke alarms.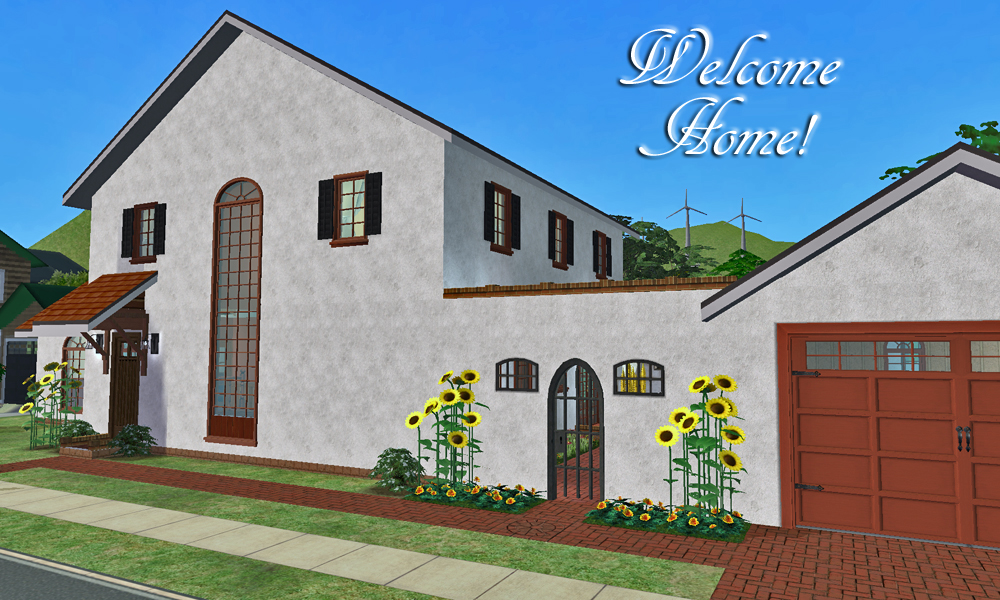 This is a clean copy of this house/lot; no sim has ever lived here. The package has been cleaned with Mootilda's
Clean Installer.
Pictures were taken with
Invisible Fire Alarms
in place, but the lot is packaged without that mod. So, you will see the fire alarm over the range in the kitchen and over the fireplace in the living room.
There is only parking for one vehicle - in the garage.
A quick note about the roof: If you use Niol/Moi's
Roof Shader
(like I do) and do NOT use
THESE adjusted versions
of Honeywell's Bespoke Roofs by The Llama Park/Tumblr, then WOAH! Man! That is gonna be one bright orange roof! When I opened this lot on my Win10 (
noCC except whats pertinent to the lot I'm packaging
) Sims2 game, I almost jumped out of my chair it was so bright!

...just a word of warning. You may want to get the
toned down version
of the Bespoke roofs -
IF
you use a brighter roofs mod.

CC list
- used but
NOT included
- so,
GO
get it:

-
Unlevel Wall - #90
by Numenor @ MTS2 - used to fix wonky wall issues.
Some people weren't sure how to install this wall... Click the info button down below to see how I did it

-
Lifestyle Build Bundle
- It's the second link in the top post - extracted from Lifestyle Stories by Argon @ MATY. Many of the wallpapers used in this 1920s series come from this bundle.
-
Demolition Set
by Guatla @ MTS2 - you need the "Industrial_win" download, which includes the Industrial Small window (used in the courtyard) and it's MASTER file - the Industrial Round window (not used in this build, but without it the other window will flash blue!)
-
Bespoke Build Set MASTER file
by Honeywell @ MTS2 - ...without this the Bespoke items will flash blue.
-
Shiftable Support - MASTER
by mustluvcatz (MLC) @ MTS2 - ...without this the roof supports will flash blue.
-
Old Yankee/4-Score Door REC in Cayenne
by iCad @ MTS2
-
Midnight Ride Window REC in Cayenne
by iCad @ MTS2
-
SSNs Flowerboxes REC in Monument
(which also recolors/used by the shutters) by Michelle @ MTS2
...and I highly recommend getting:
-
Invisible Smoke Alarm
by pfish @ MTS2
Custom Content by Me:
- Deck Stairs REC - NouveauHacienda
- Deck Stairs REC - NouveauHacienda2
- Wallpaper -
SeasonsContinental De-trimmed
Custom Content Included:
- Simple Passage Modular Stair by
HugeLunatic (HL) @ Sims2Artists
-
these do need a script file so follow the link and make sure you install them properly!
- DeckStairs_OpenUnderneath by
Reyn @ MTS2
-
these do need a script file so follow the link and make sure you install them properly!
- Tiny Ceiling Light by
senesi2003 @ MTS2
- Arts&Crafts Door (MASTER) & REC by
Leesester/LeeFish @ MTS2
- Castle Iron Door by
Solander now hosted @ the Graveyard
- Stair Corner - Wooden by
Spaik/slaved by HL @ Sims2Artists
- Stairwalls & REC by
Inge Jones @ Simlogical
- SHIFTABLE Roof Support (SLAVE) by
Mustluvcatz (MLC) @ MTS2
- Colonial Doublehung 2T - short by
Leesester/LeeFish @ MTS2
- Small La Fenetre Window 2T by
Leesester/LeeFish @ MTS2
- Fuller Width Colonial Window by
Leesester/LeeFish @ MTS2
- Country Window Shutters by
pbox @ MTS2
- Lafenetre Add On Set - Windows/Doors by
tBudgett @ MTS2
And these Bespoke Build Set Items:
- Bespoke: doorFrench_Double-2t by
Honeywell (HW) @ MTS2
- Bespoke: doorArch_Single-2t by
Honeywell (HW) @ MTS2
- Bespoke: doorGarage_CarriageStyle by
Honeywell (HW) @ MTS2
- Bespoke: Manor Roof REC23 - DragonsBlood by
Honeywell (HW) @ MTS2
- Bespoke: porchFascia_corner by
Honeywell (HW) @ MTS2
- Bespoke: porchFascia_straight by
Honeywell (HW) @ MTS2

Standard mods I use that are
not
necessary nor included - but were probably used whilst building/photo-ing/prepping this house for upload...

If you need help installing Numenor's Unlevel Wall #90, click this info button:

If you don't already have it, go get and install the Scriptorium by Numenor - it makes it super easy to install Modular Stairs, Fireplaces, Custom Walls, Lights/lamp mods (You can read about the what/why/how of it on his post) To sum up - all these items use scripts to work properly in the game - and that means they have an extra .txt file along with the regular .package file. And, you don't just dump it all into your Downloads folder. Once you install the Scriptorium, it will install all the other stuff for you.

Then - go get 90_UnleveledWall also by Numenor. (This wall is amazing!) Numenor cautions on his post that some people have experienced problems with this wall; but, I've used it since he first released it in 2006, and I have NEVER had a problem with it - I've used it through various EP/SP disc installs on XP, Vista, 7, 8, and now on Windows 10 with UC.

Unpack the zip file and find two items:
90_UnleveledWall.txt
90_UnleveledWall.package

In your DL folder, find the Scriptorium shortcut labeled "Scriptorium_Walls-Fences-Arches" and drop the .txt file into it.
(If you open the shortcut, you'll see it's path goes to: C:\Program Files (x86)\Origin Games\The Sims 2 Ultimate Collection\Double Deluxe\Base\TSData\Res\Catalog\Scripts\Scriptorium_Walls-Fences-Arches - if you have the UC)

Numenor advises that you put BOTH the .txt and the .package in the shortcut folder. However, my 90_UnleveledWall.package file is in my documents/Downloads/zHacks folder - always has been, and, like I said, I've never had a problem with it.
==========================================================
I use Niol/Moi's
Roof Shader
for brighter roofs
And, HW/Honeywell's
A Little Greyer: Roof Trim Defaults
Then, if it's a Bespoke Roof recolor - it will be
THESE adjusted versions
by The Llama Park/Tumblr that you see used in the pictures.
(However, what you get in the packaged file, will either be the plain EA roof or the straight, un-modified Bespoke roof from the set here on MTS2.)
Maranatah's
White Wall Top
texture replacement
Moo's
Turn On/Off Lights
Menaceman's
Lunatech Lighting Fix
BeosBoxBoy's
no-red-pause-mod
Nopke's
Go Under Spiral Stairs
mod for proper spiral stair usage
And, of course, everyone needs Numenor's
CEP
and
SEP
!
I also use
FRAPs
to take in-game pictures, and
PhotoShop
to clean/collage said pictures.
And, I highly recommend using gummilutt's
Invisible Medicine Cabinet
to add features to any mirror - as per her policy, it's not used or included in this lot.
Lot Size:
3x2
Lot Price (furnished):
$93,748
Additional Credits:
Thank you EAxis for this wonderful game

And, MTS2 for this terrific website!

My TOU:
Play.
Smile.
Invent.
Don't steal.
Sims are FREE.