Sims 2

>

>

New terrains for your custom neighborhoods & CAS screens
Moonbase Apollo - "Far-Eastern", ahem... "Far-Earth" Vacation Subhood - Pet & Toddler Friendly! - No CC
2,477

Downloads
125

Thanks Thanks
50

Favourited
12,327

Views
Personal Picked Upload!
This is a personal favourite of the creator!

Uploaded: 10th Jul 2020 at 10:24 AM
Updated: 10th Jul 2020 at 12:31 PM
Have your sims ever wanted to stand on the Moon? Have your sims ever wanted to jump on the Moon and experience the weak Lunar gravity?
Now, your sims can do that! The flight may last long, but it will be worth it. We promise!
-
Welcome to Moonbase Apollo!
-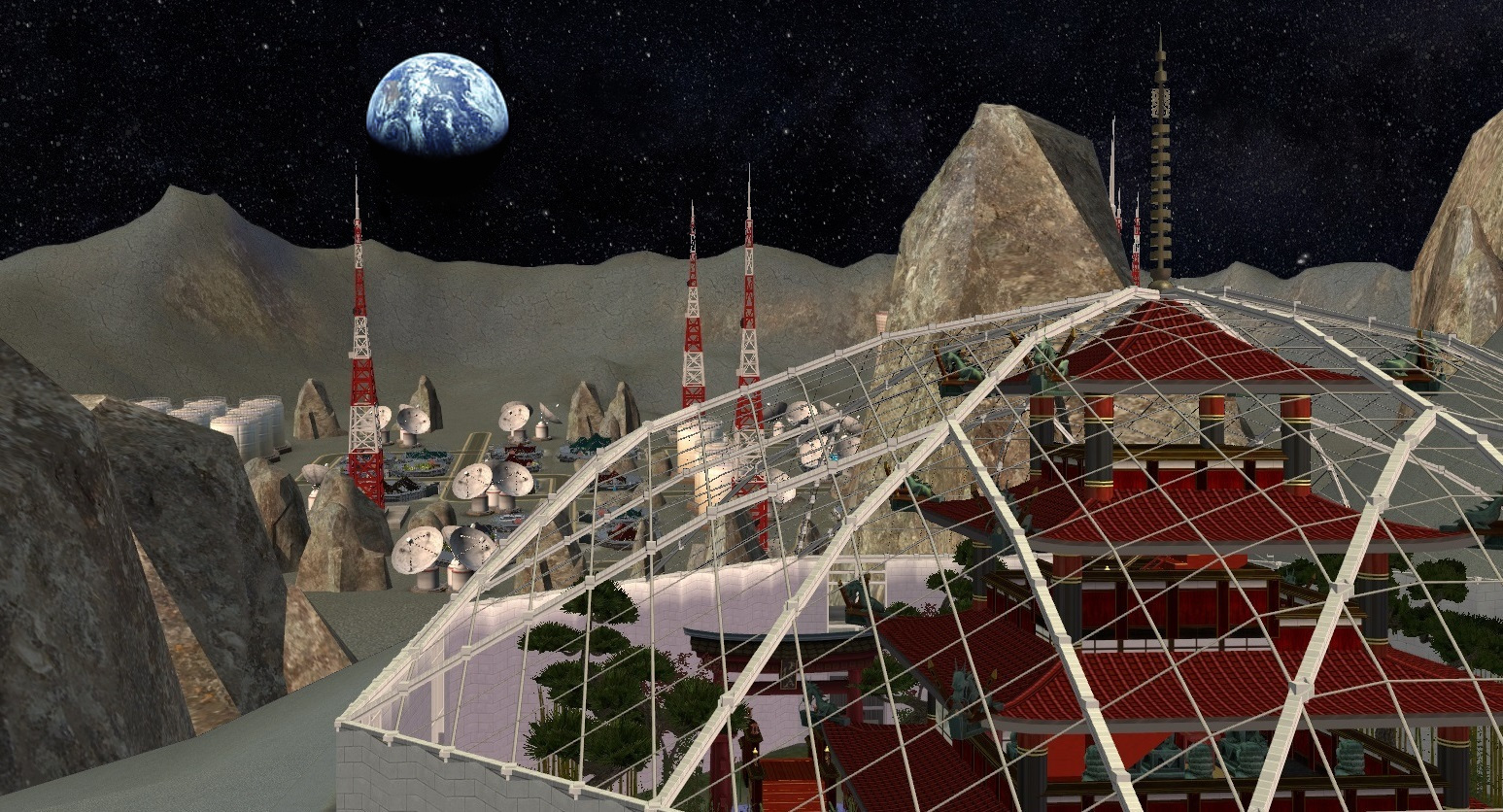 -
P.S. Because of the way how the game handles vacation subhoods, I
had to
choose a vacation theme for this (either Mountain, Tropical, Far-Eastern)... and because the Moon is not a tropical place and there aren't
that many
mountains on the Moon, I made it a "Far-Eastern" vacation subhood.
You know... since the Moon
can be
east from the Earth (of course, depending on the current orbit position), why not count it as "Far-Eastern"? Since it's a
"Far-Eastern"
, ahem... "Far-Earth" neighborhood?
Oh, and I made this vacation subhood pet & toddler friendly, so it can be used with
Lamare's Pets and toddlers on Vacation
mod.
Hurray, your pets and toddlers can experience the weak Lunar gravity, too! Isn't that fun?


Install Instructions
This does
NOT
go into the Neighborhoods folder like normal neighborhoods, it's a vacation subhood, that's why it goes into the NeighborhoodTemplate folder.
1. Unzip the file and put the one of the folders
AMA1
or
AMA2
into your
C:\Program Files\EA GAMES\The Sims 2 Bon Voyage\TSData\Res\NeighborhoodTemplate
2.
Note:
If you have The Sims 2 Ultimate Collection, put it here instead:
C:\Program Files\Origin Games\The Sims 2 Ultimate Collection\Bon Voyage\TSData\Res\NeighborhoodTemplate
If you can't see Moonbase Apollo in the subhood list, download
Mootilda's Fix subhood selection
mod.

Warning about Vacation Subhoods
By default, only the
first
Far-Eastern vacation subhood added to a neighborhood will have its sims.
All the other Far-Eastern vacation subhoods will be empty. So if you add Moonbase Apollo first and later Takemizu Village, then you won't have the Takemizu Village sims and vice versa.
They will simply be deleted - and as you know, EA doesn't delete the sims properly - the junk references can be seen in SimPE. In order to solve this issue, please try
this method
. It's written for custom Downtown subhoods, but it's systematically the same for vacation subhoods.
Note:
If you plan to add
only one
populated Far-Eastern vacation subhood to your 'hood, then you won't need to use this method.
Bear in mind that this issue only occurs on vacation subhoods
of the same type
. So, it's completely safe to add Mountain and/or Tropical vacation subhoods after adding Moonbase Apollo as a Far-Eastern vacation subhood.

Further information
Moonbase Apollo was created in a
TS2
(Base Game) +
Nightlife
+
Pets
+
Seasons
+
Bon Voyage
only game using
Numenor's AnyGameStarter
! Apart from these EPs,
no CCs
are required for this. I only used EA's content. No townies/NPCs (no sims in general) were in the neighborhood folder during development.
Btw, the sky has been made black using the cheat "boolprop useEffects false". I didn't download any sky changing mods (ie skybox) to take the required pictures for this neighborhood! So, Moonbase Apollo is
completely
CC free indeed!
Actually, you can
also
temporarily use this cheat once your sims travelled here. Just toggle it back to "true" to make the sky blue again when you leave. Oh, and remember to enter this cheat
before
you depart home, though. I
admit
that I used Photoshop to create the neighborhood preview picture; but other than that, all of the uploaded images are straight from the game!
This neighborhood was built on a custom SC4 map, which I made myself for this neighborhood. However, you don't need a camera mod for this neighborhood. You'll see all of the lots with EA's default camera.
Speaking of lots, Moonbase Apollo has 25 lots in total. 5 of which are hotels, 13 community lots and the remaining 7 are residential lots.
Lot Sizes
| # of Lots | Size |
| --- | --- |
| 4 | 5x5 |
| 10 | 4x4 |
| 8 | 3x3 |
| 1 | 2x2 |
| 1 | 2x3 |
| 1 | 2x1 |
Lot Prices
| # of Lots | Price |
| --- | --- |
| 2 | Low (§0 - §20,000) |
| 4 | Medium (§20,001 - §90,000) |
| 11 | High (§90,001 - §200,000) |
| 8 | Insane (+ §200,001) |
For more information about the lots,
have a look here
! All of the lots were built within oxygen & pressure protective domes - you know there's no air on the Moon and I had to do that to keep this as realistic as possible. Oh, and this neighborhood even has its OWN custom "Pagoda in the Shadows" lot... which is also in a dome and all! If you visit that lot, you'll notice that the Wise Old Man will be at the top of the pagoda in the dome,
impatiently demanding
politely asking
your sims to serve him tea!
All of the lots were compressed using
Mootilda's LotCompressor
. Some of the lots were modded using
Mootilda's LotAdjuster
. It's been checked through
Mootilda's HoodChecker
and no issues were found.
Credit also goes to
Zarathustra
for
his awesome dome building tutorial!
Btw, I'm working on another Sci-Fi themed neighborhood... which also has domes... but somewhat
different
looking domes, so stay tuned for that!


If you download the
inhabited version
, you'll get 8 custom locals and some ghosts in the graveyard lot. If you download the
empty version
, the game will generate the locals as you play.
So, if you don't want to see template-faced sims wandering around town, I recommend getting the inhabited version. For more information about the sims,
have a look here
!
I tried to make them Far-Eastern looking, but made them also aliens to combine the neighborhood theme a little...
Oh, and I've also written a guide book for Moonbase Apollo, just like EA did in their vacation subhoods. To read the guide book, load Moonbase Apollo after attaching it to your neighborhood and click on the Storytelling button. It will give you more information about the individual lodgings in Moonbase Apollo!

Btw, I've been working on this for 4 years now? Fun fact that I started building this
when I actually should have been studying for my finals
and now I'm actually uploading it because my finals got cancelled? Lol.
I actually
tried
to finish this earlier to upload as an entry for
#themespace
during
Theme Catch-up 2019
, but I didn't have the time to... you know, take all the pictures and all for an entire neighborhood! Well... I'm sooo glad I could do that
now
and that this thing's finally up!


Additional Credits
Maxon
for helpful information and for
her tutorial
on how to create a custom secret vacation (Pagoda in the Shadows) lot.
Lili975
For more helpful
information
about custom vacation subhoods, custom secret vacation lot, custom locals, etc.
Numenor
for his
AnyGameStarter
Mootilda
for her
custom subhood tutorial
,
LotAdjuster
,
LotCompressor
and
HoodChecker
Nopke
for his
10 Sliders
and
24 Sliders
which have been used while creating the sims in the neighborhood.
Zarathustra
for
his awesome dome building tutorial!
Lamare
for their
Pets & Toddlers on vacation
mod! While it's
not required
for the neighborhood to work, Moonbase Apollo is specifically designed to be used together with that mod.
Peni Griffin
for her
Widespot
neighborhood! As you might have noticed, some sims from Widespot have travelled here to take the pictures for the upload.
compressjpeg.com
for compressing the size of the required pictures
MTS
for being such a great website
EA/Maxis
for developing such a great game
Makers of
SimPE
And last but not least, a
big thank you
goes to my playtesters or to anyone who gave me feedback, comments in the CFF forums, including:
Zarathustra
,
caitawesome
,
marka93
,
bloodstained_black_lace
,
Secret™
,
Jonipoon
,
Peni Griffin
,
Kukamuukaanmuka
and
Tigercat58
Thank y'all for your time and playtesting and/or for your helpful comments either here on MTS or on Tumblr! Without you, I wouldn't have found the issues you pointed out.
If I forgot anyone, I'm SO SORRY! Please let me know and I'll add you here.
Oh, and if you're having problems, please let me know in a PM or in a comment. I'd be more than happy to help you.
And I'd love to read your sims' adventures in Moonbase Apollo! :lovestruc
Packs Needed




For a full list of packs with names, see the Packs Needed popup.
Packs Needed
| | Base Game |
| --- | --- |
| | Sims 2 |
| | Expansion Pack |
| --- | --- |
| | Nightlife |
| | Pets |
| | Seasons |
| | Bon Voyage |