>

A little dab'll do ya. Or maybe a lot. Paint your Sims faces at this makeup counter.
Simlish Tattoos and More!
MTS has all free content, all the time. Find out how YOU can help to keep it running.
Tell me how...


Created by daluved1 View Policy / About Me View Downloads Home Tumblr
Uploaded 7th Aug 2009 at 10:54 PM
Hello lovelies!
I love putting tattoos on my sims, but one kind I haven't seen for download are name tattoos. I really wanted one to go on my Mini Me's calf, so I decided to make one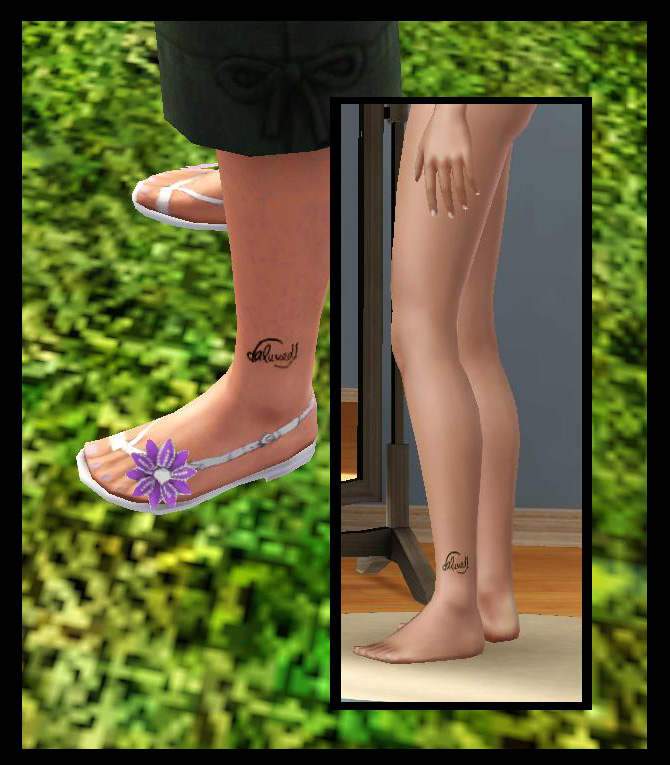 In my usual fashion I got carried away, and ended up making eight more!
I
hand drew
all of these with pen and ink, then scanned them in and retraced them in photoshop.
I know a lot of people hate having real words in their game, so I made them using "simlish". Writing cursive simlish is way harder than it looks by the way. =.='
There are five "name" tattoos (including the daluved1..one).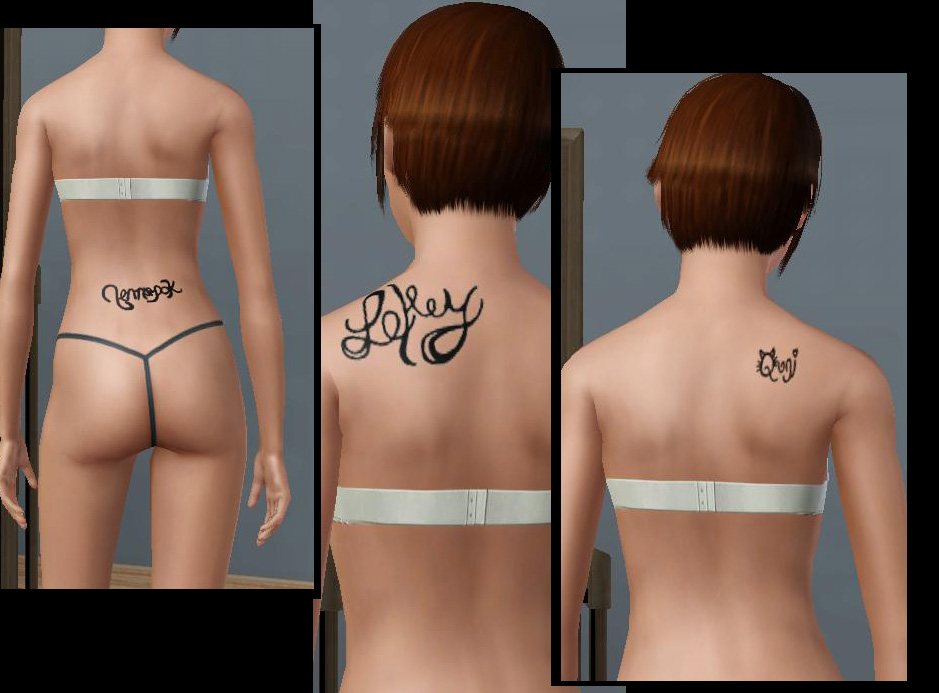 Two tiny tattoos on the hands and feet.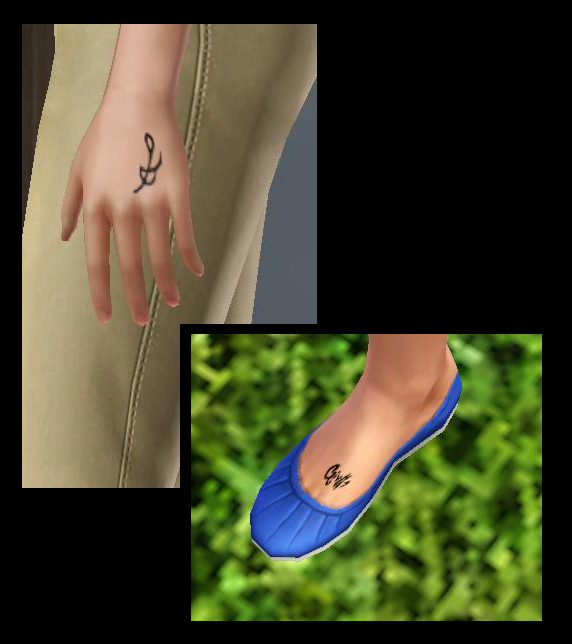 And two tribal tattoos.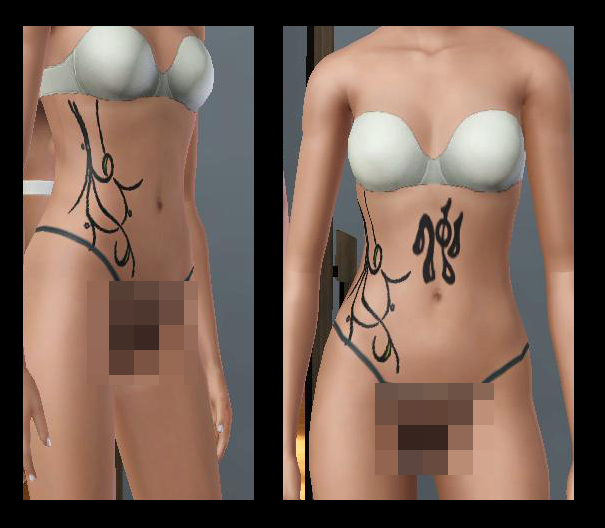 Each tattoo has its own custom thumbnail (see screenshots).
I tried to get these to mix-match as much as possible, without taking up too many accessory slots. So, each type can be paired with another, but two tattoos of the same type will override each other. For example, two back tats cannot be worn at the same time, but a back tat and a chest tat can. As soon as a better way to get accessories to overlap comes along, you'll have to live with that

These can be used by males and females, teen and older. I have them set so they will not show up randomly on townies, if you wish to change that, then be my guest.
The base color of all the tattoos is black, however some tattoos allow for a colored outline. If you don't want the colored outline, then simply color the whole thing a dark grey/black.
And just about with every tattoo out there (I think) they won't stay on when your sim gets nudie

I don't know anyway to get around that yet, but if someone knows how, please enlighten me

Since I actually drew these myself, I ask that you do not redistribute any of these without my permission. That includes the exchange and paysites. You may, however, upload with lots/sims as long as you link back here.
If you want to change the placement of a tattoo, then you can download the Textures.rar for all of the original scanned in designs, then create a new CAS part as you see fit. The designs are in .psd format (Photoshop), but I believe you can open them with other imaging programs as well. Anyhoos, all I ask is that you do not reupload a tattoo with my design

Enjoy!

Additional Credits:
Photoshop 7.0
Delphy's
CTU
Tags: #tattoos, #name, #tats, #letters, #simlish, #tribal, #tiny
Awesome to the tenth power...squared.
Want to convert one of my TS3 creations to TS4? Go right ahead! Just please credit me for the original texture/mesh.

MY INBOX IS DISABLED. I WILL NOT RECEIVE ANY PMS.

Because my policy is really inconsistent on my uploads, I've decided to make an official policy! So
whatever you see here on my profile is my current policy
. You may
disregard any ''policy'' information you see on the actual upload itself
.
-You may use my creations with sims
-You may use my objects with lots.
-You may retexture my meshes.
-You may include my meshes with retextures.
-You may NOT upload my creations with sims
-You may NOT upload my objects with lots.
-You may NOT upload my creations to paysites.
-You may NOT upload my creations to the exchange.
-Always credit me with a link
-I do NOT take requests!