CUSTARD Sims3Pack Cleaner
149,579

Downloads
2,266

Thanks Thanks
530

Favourited
598,080

Views
Personal Picked Upload!
This is a personal favourite of the creator!


Uploaded: 6th Feb 2010 at 11:52 PM
Updated: 17th Oct 2018 at 2:49 PM
Hi All,
What is this?
Welcome to the new tool. Clean Up Sims3packs Today! Also, raise dead. aka CUSTARD.
Also known as:
Clean Up Sims3packs - Totally Amazing Rubbish Detection (CUSTARD)
Clean Up Sims3packs Today And Revere Delphy (CUSTARD)
Clean up simspacks - totally automated rubbish detection (moar CUSTARD)
Clean up Sims3Packs today! Or die young.(CUSTODY)
Clean Up Sims3Packs Today! Advanced Research Division (Mmm birds eye...)
Clean Up Sims3Packs Today! Only MTS (CUSTOM)
aka CUSTARD: TO FIX UR PUDDINGS
(Thanks to Leesester, Davey and CN)
What does it do?
This tool is basically the "Clean" part of the old Sims2Pack
Clean Installer
that some of you may remember from TS2 days. It features the same functionality as the TS3 Dashboard, but works solely on Sims3Packs.
You can use it to basically "clean" your Sims3Packs, and also see if they have any corrupted packages inside.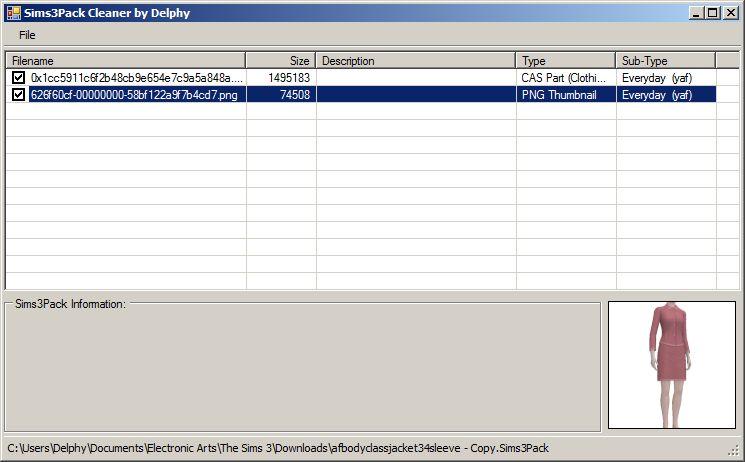 NOTICE - Read this!
This tool is in ALPHA stage. This means that it might have bugs. This is NOT intended to be on general distribution and ONLY people who are willing to test the tool should be using it.
How do I use it?
Extract, open the tool. Open a Sims3Pack.
Uncheck stuff you don't want in the resulting file.
Save or Save As.
Note: You currently
cannot
right click a Sims3Pack and use Open With.
Note
THIS TOOL DOES NOT INSTALL SIMS3PACKS INTO THE GAME.
Requirements
.NET Framework 2.0
Some Sims3Packs

Changelog
v1.0.3922.35965:
- Fixed bug where selecting ANY package file to be disabled corrupted the XML of the saved Sims3Pack, thus making the entire Sims3Pack unusable.
v1.0.3830.15895:
Fixed some bugs, but it's been so long that I can't remember which ones.

Probably something to do with clearing the list up properly or something....

v1.0.3786.38707:
Fixed the following bugs:
1) Didn't actually remove anything from the Sims3Pack, just removed it from the XML.
2) Had errors in the DimX, DimZ and sizes. (Reporting negative log sizes)
3) Had errors in the other metatags.
4) Was missing PackageId and Date.
5) Didn't correctly remove Lot thumbnails
6) Was missing lotName
7) Was missing EPFlags
Added:
1) Object description appears in Description column
2) Button to uncheck all thumbnails
Feedback wanted
I'm mostly interested in using this to load as many Sims3Packs as possible, of all types and sizes, and seeing what the resulting file looks like in terms of 1) Does it work

2) What the filesize is and 3) If anything is missing.
Please use the Debug menu to dump the Raw and Generated XML and then
zip
up and upload the resulting file, to help me out.

Packs Needed
None, this is Sims 3 base game compatible!
Other Information
Operating System
:
– Windows : Windows XP, Windows Vista, Windows 7, etc
Utility Type
:
– CC Editors : Tools for modifying .package files, sims*pack files, and resources contained within those files.
– CC Managers : Tools for installing and managing custom content, custom music, custom paintings etc.
Plugin Type
:
– Not Applicable : Standalone tools
Test
This is a test about me.