>

Community lots/For when sims leave their houses/It's scary outside
Behind the 8 Ball
MTS has all free content, all the time. Find out how YOU can help to keep it running.
Tell me how...
Created by iCad View Policy / About Me View Downloads Home Tumblr
Uploaded 15th Mar 2011 at 3:42 PM
Well! It's been a while since I've uploaded something, eh? I've been very busy with professional life since New Year's (which of course is a good thing!)...annnnnd I've just been too lazy to put things together for MTS-uploading purposes. But I'm trying to un-lazy myself, since I do actually have a bunch of stuff that I could share...
Anyway, it's come to my attention that there aren't a lot of community lots available for download. I've been recently revisiting some of my favorite community lots and adding stuff from my new EPs/stuff packs, mostly because I've fallen in love with the new-for-me flowers, shrubs, and terrain paints. And while I was working on this one, I realized that it was relatively CC-less. Between that and the fact that there aren't as many community lots available for download, I thought I'd share it. It also gives you a chance to see how much I fail at interior decorating. *laughs* Those of you with a better eye for that and who, unlike me, can be arsed to do the whole "clutter" thing could have a ball with this place, I would think. Especially with the nice big bar with lots of empty counter space to clutter the hell out of with bar stuff...
So, I present...Behind the 8 Ball, one of my favorite community lots that I've ever built: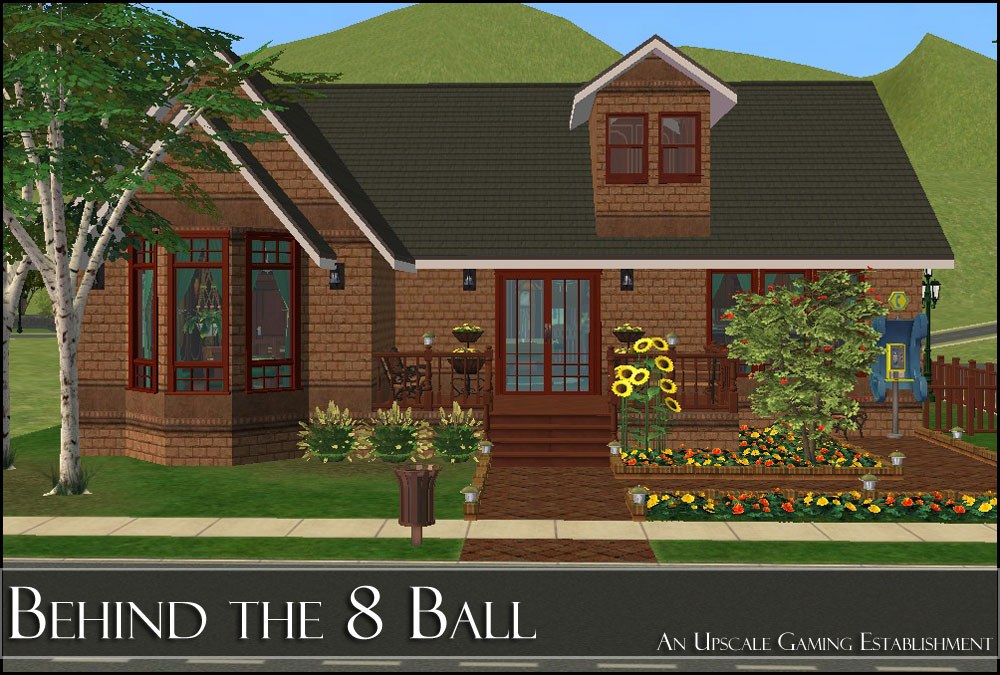 This is a bar/pool/poker place with a sunken karaoke lounge in back. It sits on a 2x3 lot with some room left for expansion if you want/need to expand it. It is fully furnished and decorated as elaborately as I get (which isn't terribly elaborate, I'm afraid), all in various shades of dark: dark wood, dark brick, and dark(ish) green and brown. There's a 6-seat mirrored bar. There's a unisex bathroom with three toilet stalls and a sink. (Because, really, Sims don't care if the bathrooms are gender-separated, do they? And it saves space. *laughs*) There's a pool table, two card tables, and two chess tables, plus the karaoke lounge in back. There's a front porch with seating that overlooks nice front plantings and a small rear porch with a dart board and some more seating. I've got the community-lot speakers in place, specifically the ones that play R&B because there are no jazz speakers (Why? WHY????!!!!), which is what I would have preferred. If that annoys you, take them out. I tend to like automatic music on community lots, myself. I don't really know why...
This lot's interior look and color scheme and, partially, its floor plan is based on a local real-life cigar/martini bar at which I have a regular gig on Saturday nights with a couple of friends, playing improvisational jazz as a piano/bass/drums trio. The real place doesn't have karaoke but rather a small stage where small music groups, comedians, and beat poets (Yes, they still exist) perform pretty much every night. Karaoke works better for Sims, though. Like the real place, this lot fancies itself to be upscale, what with the fancy-shmancy inlaid wood paneling and all...but you could make it as sleazy/divey as you want if you redecorate it. *laughs*
Here, there be a few random pics, with a few more attached below: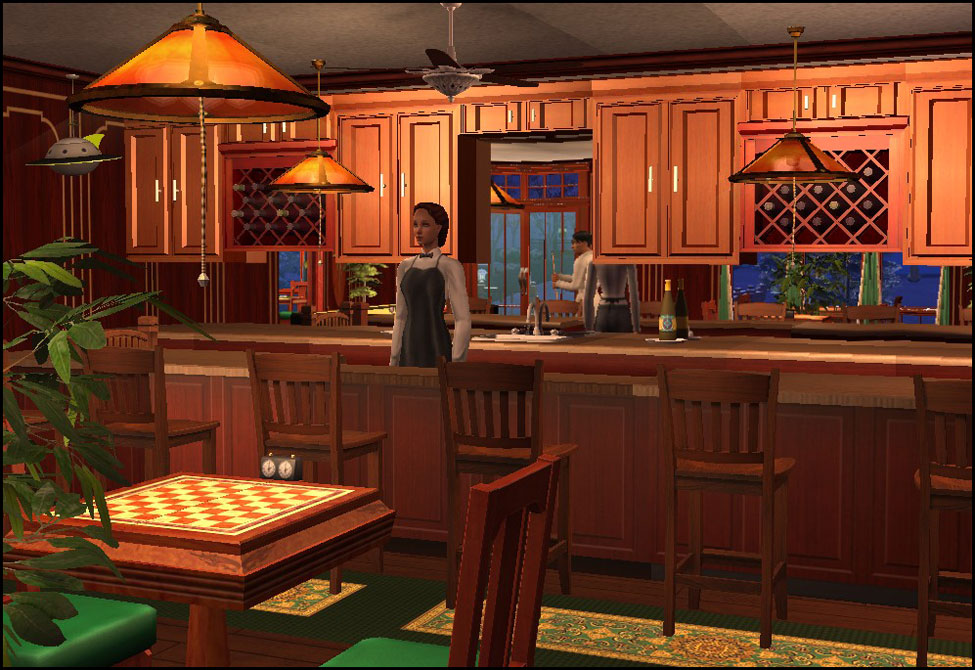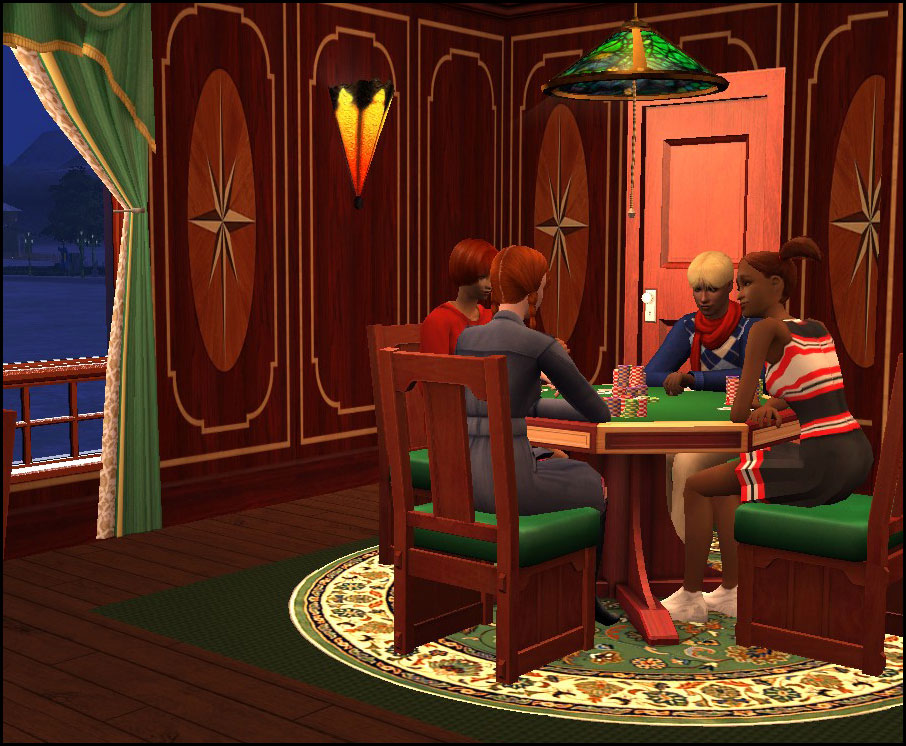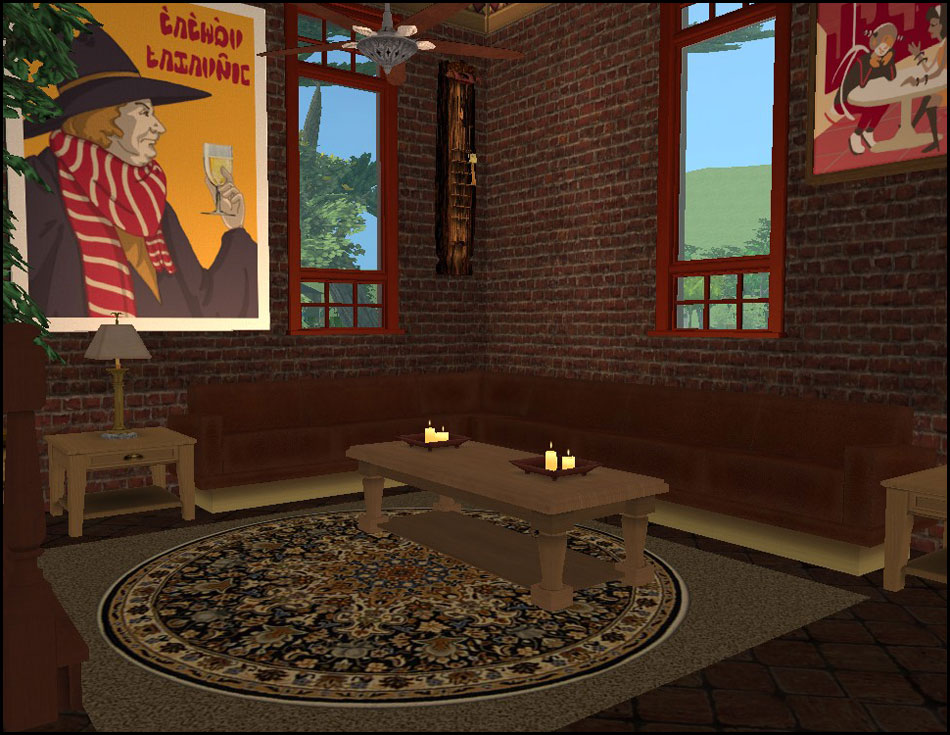 And, as usual, a "few" notes:
1) All the CC that you see in the pics, with one exception below, is included, and it's not much. Since it's not very much, you could very easily use the Clean Installer, not install any of the CC, and then fill in any resulting "holes" with your own stuff, if you wanted.
2) The recolor of the Breezeasy window in the dormer, which more or less matches the Independent Expressions window I used, is NOT included. It's one of Piggi's recolors of that window, and you can download the set of recolors that includes that
on her site
. Otherwise, those windows will have black frames. It doesn't look too bad that way, actually, but it's nice to have a match. Alternatively, if you don't want to download those recolors and don't have a window that looks nice and that matches (The Independent Expressions windows, including MaryLou's "completer" pieces, are, IMO, too wide and/or too tall), you can delete the dormer entirely with no harm done. It's
completely
decorative, only there for aesthetic balance purposes.
3) The "Chic" modular stair recolor will show in your game even if you don't have
HugeLunatic's override that makes that stair recolorable
. However, without the override in your game you won't be able to change the color of the stairs, if you should want to. You'd have to demolish and replace them.
4) The white-trimmed roofs are not CC and are not included. Get
Phaenoh's default replacement
if you don't already have it and want much nicer-looking white-edged Maxis roofs. That said, this particular lot doesn't look too bad with the grey roof edges, probably because the exterior is brick and the window/door frames aren't white.
5) I usually use this as an owned lot, but of course you can use it unowned as well. If you do want it to have an owner, it will set them back, with everything included, by $108,172. Yowch. If you do use it as an owned lot, there is a gate that you can lock to keep Sims other than your owner/employees out from behind the bar (That
really
annoys me.) If you use this as an unowned lot, you can just delete that, if you want, since you won't be able to lock it anyway. Or just leave it there for decorative purposes. Whatever.

6) The lot that I packaged was a corner lot, specifically a backwards-"L"-shaped one. As such, it has streetlamps along the right-hand side of the lot. Which, of course, will look utterly stupid if you don't use this on a corner lot with the same orientation. Just delete them, if not needed. I meant to do so before I packaged the lot...but I forgot.

7) CFE was used to create the sunken karaoke lounge. This may or may not hamper efforts to expand the building, if you want to do so.
8) I ticked the Celebration stuff pack as needed for this lot because I believe the champagne bottles I put on the bar are from that pack. If you don't have that pack and download this, that's all you'll be missing. I do believe you have to have M&G for this, though, because that's more like a mini-EP than an actual Stuff Pack.
Annnnnnnd I think that's it! I hope that you might get some use out of and enjoy this lot. It's one of my personal favorites that I've created.

Lot Size:
2x3
Lot Price:
108172
Custom Content by Me:
- Wooden Fence in Cayenne
- Chic Fence in Cayenne
- Smitty's Distressed Floorboard in Cayenne
- Limber Timber Decking in Cayenne
- Chic Stairs in Cayenne
Custom Content Included:
- 2-Tile Independent Expressions Glass Door by
MaryLou
- 1-Tile Independent Expressions Glass Door by
MaryLou
- Upper Cabinet by
lara9Taylor
- Upper Cabinet by
lara9Taylor
- Large Macrame Hanging Plant by
CTNutmegger
- Big Ficus by
Khakidoo
- Big Ficus by
Khakidoo
Number of bedrooms: Not Applicable
Custom Content Included: Build and Buy Mode Content
Furnishings: Fully Furnished
Special Flags: Not Applicable