>

New terrains for your custom neighborhoods & CAS screens
Twinbrook.world with Fixes applied
MTS has all free content, all the time. Find out how YOU can help to keep it running.
Tell me how...
186,953

Downloads
894

Thanks Thanks
175

Favourited
88,839

Views

Uploaded: 25th Sep 2011 at 4:24 PM
Updated: 3rd Jan 2013 at 7:54 AM
What is this?
This is the Twinbrook.world file with the Resources imported from this download thread
[In Testing]Resources for Twinbrook.world's various Fixes
.
What has been done?
A recap:
Quote:
As explained in the Game Help:World Routing Lagswiki,
the yellow spots denote areas where the Sim non-routable and Camera non-routable painting have been repainted over blank spots. This includes at the world edges, too, although it may not be denoted on the image
the red spots denote areas where the intersections have been corrected so that the Intersection and Road pieces now all connect.
the light-blue spots are roads that have been regraded and smoothen a tad (with adjoining world geometry also "Smooth - Gentled"). You can see the rebuild routing in the "fixed" image has the routing lines covering more surface area.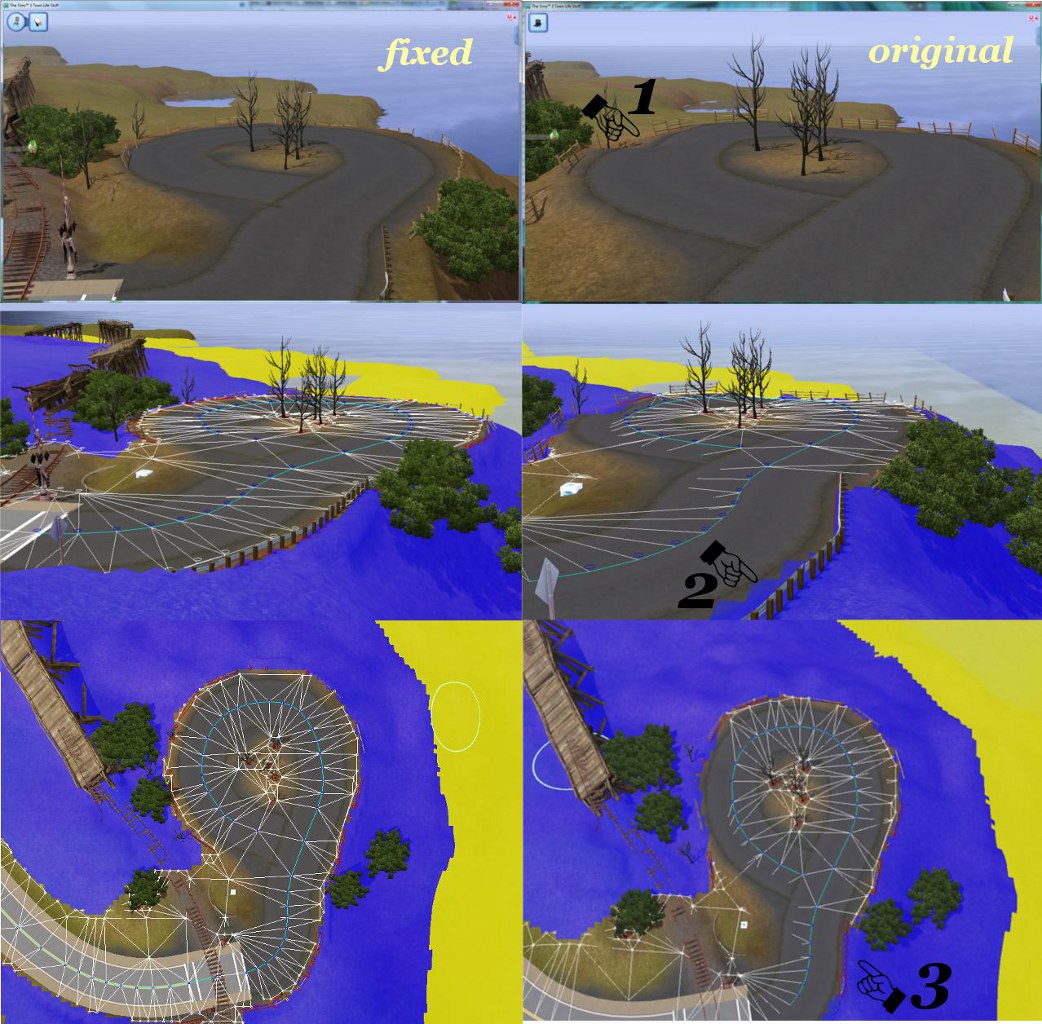 Quote:
This is the dip in the road I was referencing above. What I've done here is:

Regraded the road and smoothen it. Also smooth the slopes to match, though I'm still not that good at sculpting.
Removed the non-routable terrain painting that was touching the roads to ensure the routing encompass the road surface
Pushed all the railings back a tad so the non-routable terrain painting can be pulled back

The are 2 others spots where the Roads were regraded - refer to the aerial map with the Dotted spots.
Quote:
There is a visual way to tell if the fixed resources have been imported, and the fixed world is "Live" in a new game or your Save games.
Look at the spots denoted by Red dots - at a road intersection. If you can see the intersections are yellow (instead of blank) from Map View, the fix is applied correctly.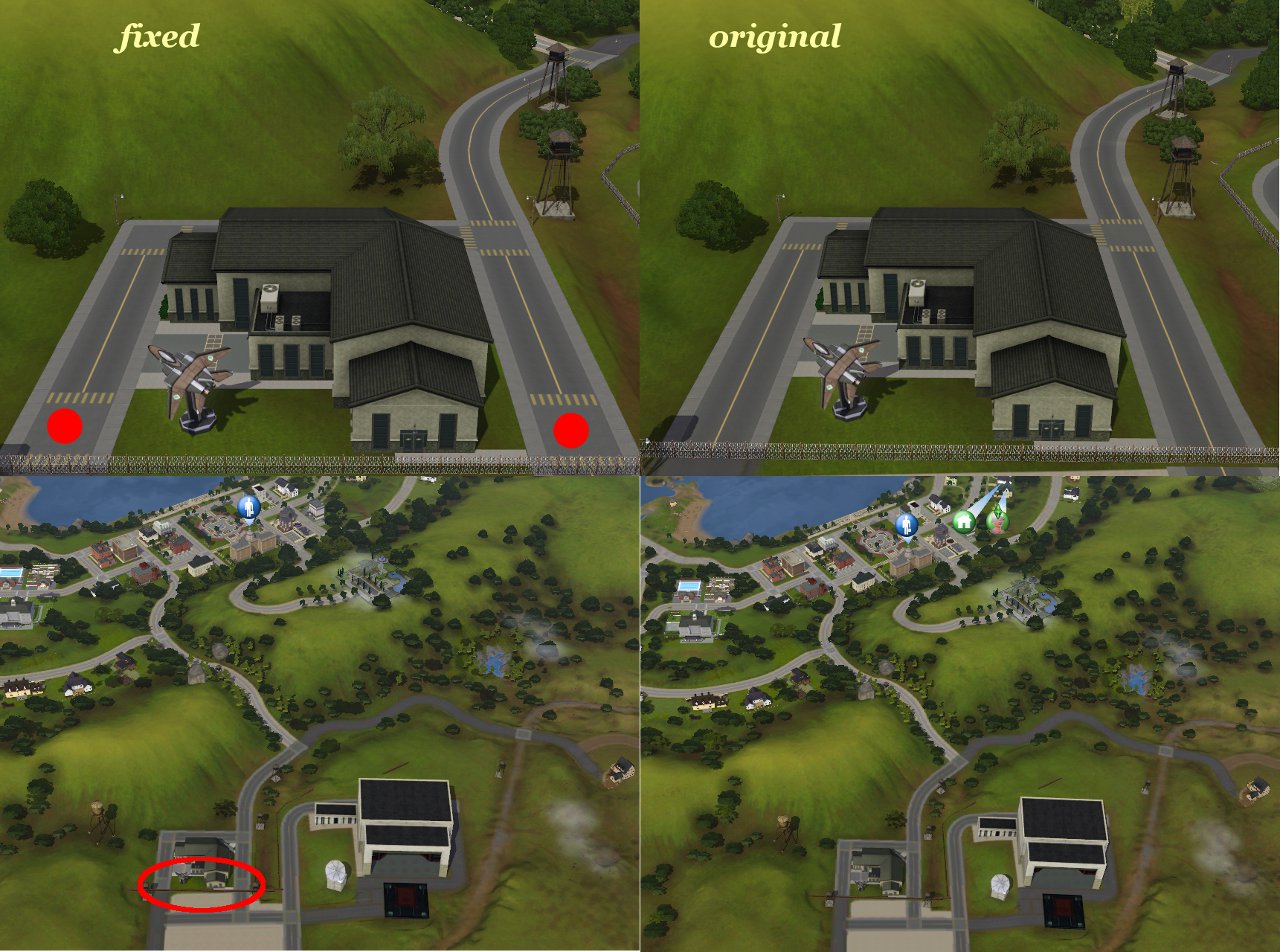 Notes & Changelog
:
As and when I get reports of any issues, or new spots, or patch changes (if any).
Oct 18, 2011 update:

Compatible with Patch 1.26.89. Would most likely be compatible with any patches in the future as well.
If you had renamed the modified worlds to *.fixed before patching (or installing new add-on), you can simply renamed the pair of them back to *.orig and .world respectively, as the Wiki instructions state

Compatible with all patch levels up to the current 1.24 (as of Jul 26, 2011).
Would conflict with any other download that make changes to the .world file that changed these resources. A total of 797 Resources has been modified, with following Types:

0x05CD4BB3 UNKN World Routing
0x05DA8AF6 UNKN World boundaries
0x9063660E UNKN World Roads & Walkways
0x00B2D882 0x00000001 _IMG DDS Image
0x01661233 0x00000002 MODL scene Object Model (aka Object Geometry)
0x033B2B66 UNKN ?? World Model/Geometry/Terrain/Height map info ??
0xAE39399F UNKN World geometry
Backup!
Heed that
backup
instructions, really! You've been warned!
How to install?
How to remove or restore the file before updating?
Go to the path above
Delete the *.world file. Or if you want to reuse it after patching, rename it with a ".fixed" extension, so the filename becomes "Twinbrook.world.fixed"
Rename the "*.orig" copy by removing the .orig extension (or from whatever you have renamed it to).
Delete caches before starting game. Game Help:Sims 3 Delete Cache Fileswiki
Additional Credits:
Jones' for
S3PE
and the folks in Create (and #create), and all of you with feedback and other contributors with images and such. Thank you.
About Me
Game Help / Technical Help
Yes, I can help you with games problem, but I need INFORMATION! I cannot help in a vacuum. So, please specify gameversion, games you have and what triggered the issue, and post in the HELP FORUM (not via PM!). Not an essay on what the Sims were doing from when you woke them up in the morning to the time you make them sleep. Just make it as concise and relevant as you can. If there's no information and you make me chase you down by asking questions already asked in the WIKI FAQs, I'm afraid I no longer have time for such. Which means your posts get ignored. Don't be offended, though, it's nothing personal. I just have to prioritize the complete threads over incomplete ones.
I'm also not a psychic. So if you have done and work through any FAQs, MENTION IT! How am I to know you had done it if it is not stated in the post?
If you're trying to hedge your bets and post the same issue on separate forums - MATY, thesims3, TSR, or any where else - I'd also ignore it; especially if you had gotten replies elsewhere. I'm not keen on hitting my head against the wall repeatedly, you know?
And no, I don't provide Technical support for the game or your system one-on-one via PMs. So, don't even go there. These PMs would be ignored as well. Well, unless you want to pay me for my time as a Personal Technical Coach. Then, I'm all ears.
Game content
You're welcome to use, edit, take apart any content I created and share. But if you use any of my work as a base, I'd appreciate a link back to the original, and you're welcome to post your version in the comments of that upload. So that if either one of ours become outdated, there's a link to the original and vice versa.
And no, I don't provide support for my content one-on-one via PMs. Each of them has a Comments/Feedback section. Please use that.
I don't take requests, sorry. I have tonnes of ideas I haven't even started on.
Having done a mod or a fix does not mean I would do a similar mod or a similar fix. If it interests me and there's still potential for learning, I'd continue doing them like for the World fixes whenever a new world is available. But as we're all working with finite time, there's only so much I can do alone compared to the speed of release EA employs. So, if you want to do a world fix yourself, go ahead. This World fixes thing is not under my sole purview, you know. There's a whole Community of us.
And last but not least, yes any content that I share would get updated if it is warranted. You don't have to ask. As long as I'm able and can afford to buy new packs, I'll schedule any work needed for them.