>

Glasses, necklaces, earrings, and anything else you want to decorate your Sim's face with - get them here!
*Request* Wind Up Doll Key
MTS has all free content, all the time. Find out how YOU can help to keep it running.
Tell me how...

Created by VioletPadfoot View Policy / About Me View Downloads Home
Uploaded 11th Jan 2012 at 11:30 PM · Updated 12th Jan 2012 at 8:18 AM by VioletPadfoot
TONYPILOT sent me request for a wind up doll key and since it didn't seem to difficult I agreed to make it for him. He also requested that it be animated, but after repeated failure, I'm sorry to say this one is quite stationary. If the rotating one ever quits being stubborn Tony just might get his whole request. But I figure part is better than nothing at all so here's the stationary one.
It fits all ages and genders and comes in nine different colors: Silver, Gold, Copper, Bronze, Wrought Iron, Rust, Tarnished Gold, Tarnished Silver, and Tarnished Bronze. I'm especially proud of the Tarnished Gold and Tarnished Silver colors since those I made myself instead of relying on pictures. All use a custom icon since the standard EA camera shows absolutely nothing of the key. And the tool tip for each one will also tell you the color. Also, it's showerproof and stays on in all categories except outerwear.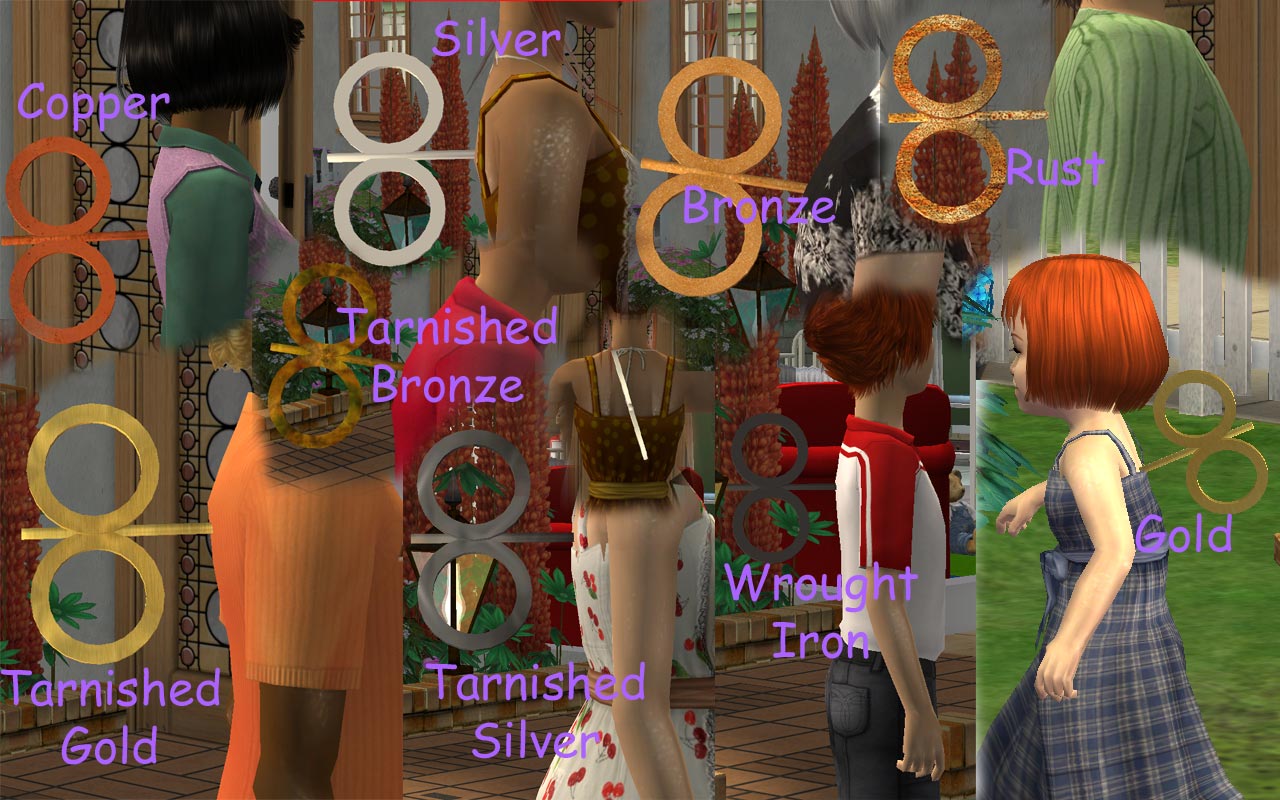 I can't begin to tell you where any of the custom content seen in the pictures came from, I'm not that good at keeping track of everything, just that it's all free. The skintones though are Astiees Sparkling Flesh skintones made into defaults by me. And the dresses on the toddler and child girls are age conversions of the UberFamily dress from FreeTime, by me (I'll link as soon as the thread is approved) (This particular photo shoot killed two birds with one stone.)
Polygon Counts:
433 F/ 507 V
Accessory Type: Misc
Age: Toddler Child Teen Young Adult Adult Elder
Maxis Flags: Not Applicable
Gender: Male Female

About Me
VioletPadfoot's Creations

I make things mostly b/c I want them in my game and can't find them elsewhere. So far I know how to make objects, clothing and accessories. I cannot and have no plans as of yet to learn how to make hair or any other Bodyshop content. Mods are also currently beyond my scope of comprehension, but I'm working on them.

I will take requests, but whether or not I choose to fulfill them depends on how easy it would be to make the item (ie. is it knowledge I already have?) or how much I'm willing to learn to make it. Mind you I'm willing to learn a lot. So don't be afraid to send me a PM requesting something.

My policy: You can use any of my meshes or textures anyway you want, but if you base something off of them, or use them in another project, please credit me and provide a link to my MTS profile if possible. Also any part of my work or anything based off of it MUST remain free. This includes putting it in a free section of a pay site. If someone has to pay to get something off that site, I don't want my work there. I'm not making money off this stuff, neither should you.