Create-A-Lip Workshop
59,630

Downloads
605

Thanks Thanks
216

Favourited
58,694

Views
Picked Upload! This is a picked upload! It showcases some of the best talent and creativity available on MTS and in the community.

Uploaded: 14th Jun 2014 at 12:29 PM
Updated: 10th Sep 2014 at 10:21 PM - learned to proofread
So, what is Create-A-Lip Workshop? I'll tell you. What you'll get here is...lots. Of lip stuffs. And you can find them all in the lipstick category of CAS.
Okay, so the truth is, I've always felt limited with lipstick without having to download a billion colors. So I made the main feature of this upload, the lip tints, which I've brilliantly named InstaColor. It comes in six shades: Red, Green, Blue, Pink, Orange, and Purple. They are completely layer-able, fitting smoothly over each other and over any other lipstick (they're layered at 91, or 5B, since Maxis lipsticks are 90 in my game, and are multi-wearable). They're very transparent, so they don't have a lot of visible texture, but this is intentional. This leaves you with virtually limitless color options, allowing our gals to find the perfect shade for them. Which brings me to add, sorry, these are only for female Sims, ages Child through Elder. I just had no intention for guys to use them when making them.
Some ideas for how these can layer even by themselves: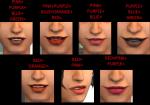 Also included in this pack of lip stuff are matte lipsticks. I made these as a complement to the InstaColor set, honestly, since those look best layered over matte lips. So I decided these would be default replacements in my game. (Thus the OFB requirement, since you'll need that for the OFB replacements, which ARE separate from the Base Game's lipsticks.) I took the eyedropper tool to all of Maxis's original colors, since I liked the variety of them, and remade them with my own textures and an alpha I edited a good lot from Nysha's
Candlelight
glosses, which I'm pretty sure were an edit of ZombieJill's
Excessum Nusquam
alpha. It's a beautiful tale of an alpha being mangled by one generation of modders to another. Or not. They didn't have a clue who I was 'til now.
Anyway, I didn't think everyone would want the Matte Lips as their defaults, so I shot them through BodyShop again and turned them into custom lipsticks. This means that if you choose to download the custom ones, you won't have to worry about switching out defaults or needing Open For Business. Instead, you can find all the colors clearly labeled in the folder and choose what you want. Or I guess you can download both the custom and defaults and have a clogged up lipstick category. Your choice.
Matte's fashionable. Trust me.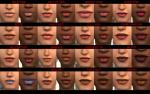 And lastly in this "kit", you have the option of downloading layer-able lip glosses, known in these parts as InstaGloss. Brilliant again, I know. I've always had a knack for naming things. These layer right over the InstaColor tints, so they can make those look glossy, too. They're also multi-wearable, meaning you can have a Sim with the sparkliest lips ever, if you want. I was inspired by the shine on Nysha/ZombieJill's glosses, so I drew my own in honor of it. That one would be Subtle Shine. But then I figured variety is the spice of life, so I drew up two more glosses. Natural Sparkle (or Shine, can't remember what I called it) has a sort of, well, sparkly-ness that complements other lip gloss effects. Extra Juicy is...so dripping with gloss that it wouldn't last two licks. Good thing Sims don't salivate. These InstaGlosses can layer on each other, and also are found under lipstick. Both genders and all ages can use them (okay, not all ages, since babies can't use them, but toddlers can, as the subtler ones give them a cute moist look).
Sorry, no toddler models to show how cute it looks. Just picture big, wet baby kisses for that.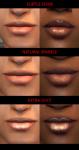 So, hopefully you'll find these useful. I have, at least. I mean, these things changed my life. Really.
Recommended Download:
CatOfEvilGenius
made an unhider for Maxis' Sioux lipstick. Normally, you won't be able to select this lipstick, but she went and made it available right in CAS.
In case you don't check out the Related Uploads tab, I'd highly recommend you check out Catherine TCJD's
LipGloss for Everyone
to get more layer-able goodies for your Sims lips.
Also, AlfredAskew has unique
lip shapes
that can further define your Sims' smackers.
Additional Credits:
Nysha
and
ZombieJill
, for their glosses that inspired the whole InstaStuff project. Since I did use a bit of their alpha, please respect their policies when using these in a project of yours.
CC Seen on Models That You Can Barely Make Out: The hair on Romia, the fair-skinned blonde, is
XMSims Sue Hair 005
, with a retexture done by me. Naranna, the one with olive skin, has hair by
Lidiqnata
, which was an edit of this hair by
Nouk
. And dark teen beauty, Alma, has hair by Trapping and Nymphy, found
here
.
All their skin is by Hysterical Paroxysm, from her
Idolatry of Flesh
and
Idolatry of Flesh Redux
sets. They may look a bit different because I made some edits to them, but I can't remember what those edits were now.
Additional thanks: My brother, who encouraged me to try uploading my creations. Also to the tutorials here on MTS that taught me so much. Thanks, everyone.
Hiii... I'm SleepyTabby, or Sleepy, or Tabby, or "hey you".
TOU-Have fun! You may use my textures for anything you like. You may tear apart my meshes and do whatever you want with them. Just respect the policies of any creators whose work I may use in my own projects. Otherwise, have fun.

If you ever do use any of my stuff as a basis for your own, I'd love to hear from you, just to check it out. You can either PM me or leave a comment in one of my uploads. But you don't have to get permission from me to post anything; consider permission already granted.