Buy Mode

>

>

Table lamps, floor lamps, wall lamps, hanging lamps, outdoor lamps, and miscellaneous.
A Candle in the Window
MTS has all free content, all the time. Find out how YOU can help to keep it running.
Tell me how...
2,407

Downloads
271

Thanks Thanks
27

Favourited
13,416

Views

Uploaded: 24th Dec 2012 at 7:01 AM
I admit it. I'm a sucker for Christmas songs. (I'll even listen to them in the middle of summer.) The title for this download comes from a song by Alabama by the same name.
Give it a listen HERE if you'd like.
No Chrissy Mas this time? Nope.

She's at her house getting ready to travel to her parents, while they're putting the finishing touches on their decorating and waiting for their beloved daughter to arrive. (Yeah, yeah..I know that's the Goodies in the pic, just play along will ya?!? )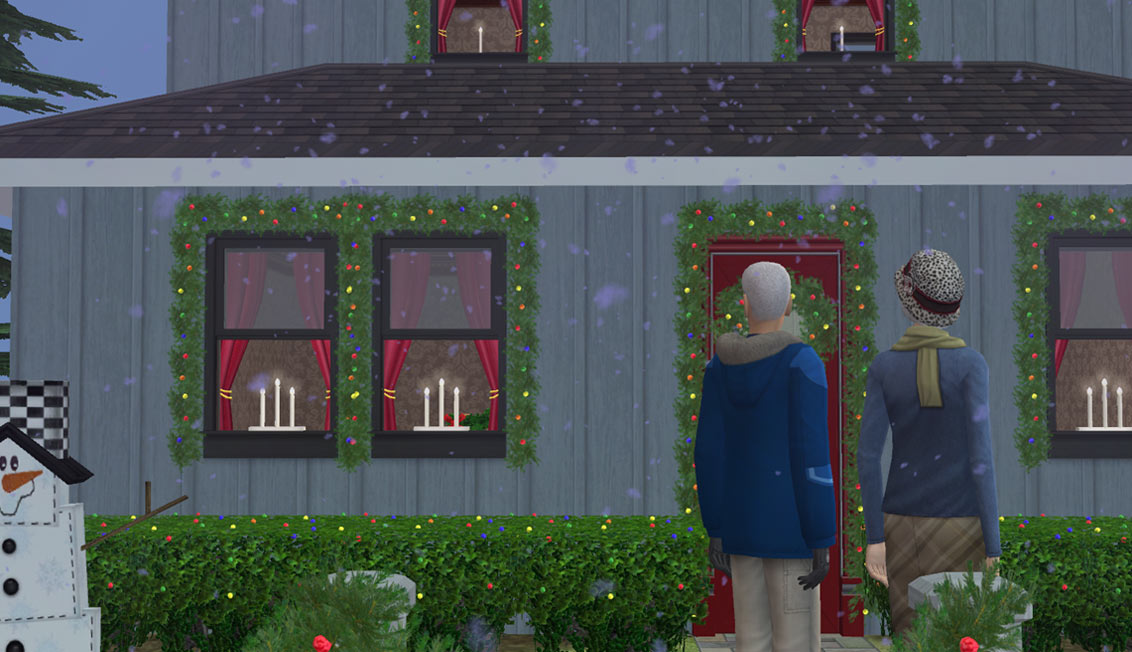 The Meshes:
A triple light - 2 subsets
A single light - 2 subsets
A mutli-slot OMSP - 1 subset
The lights have 2 subsets, but I only recolored the base and you get 3 colors: white, silver and gold. The OMSP has an invisible recolor.
Now, The Important Stuff:

The lights and OMSP are placed towards the back of their footprints to make it super easy to place them in a window. If you want to use them for anything else, you'll have to use cheats to place them so they won't be partly in the wall. (Sorry about that, but I made these lights for windows!)

The OMSP has multiple slots so you can use the lights in different windows. There are 6 heights altogether- in my testing this made it possible to put them in quite a few windows, Maxis and custom. The base might cut into the bottom of the window slightly with some windows. The only way around that would've been to make a slot for every single window available.

To use the OMSP: If you can cycle through slots with "m", just cycle through them to get the right height. If you can't cycle through slots with "m", you'll have to fill all the slots then delete the lights you don't need. (You can click on the very sides of the light bases to make this possible.)

All the meshes will keep buying. I made it that way to make it easier to place the lights in a lot of windows at one time. Place all of the OMSP's first, then the lights.You can cycle through the slots and then go on to the next light without rebuying.

If you don't want to use the OMSP and have Apartment Life, the lights will shift. They might not fit in all windows, but it is a solution if you don't want another OMSP in your catalog.
To Recap Some of That:
This has been marked as Basegame- because it is. You do not need any expansions to use any of these meshes. But if you can't cycle through slots using "m",
you will need to fill all of the OMSP's slots and then delete the lights you don't need
. If you can cycle through slots using "m", please do so since it's easier to do so! The lights are shiftable
only
if you can shift objects.
Hope you enjoy these! Happy Holidays everyone..and best wishes for 2013.
A little note (because I just looked at the pictures attached): In the above pic the base of the lights shows on the outside. The base doesn't show from the
outside
- just like the real lights I have, all you can see from the outside is the "candle". The windows are open for some odd reason, which I didn't notice at the time. I DID make a mistake showing the OMSP's slots. One of the heights in shown twice. There are 6 different heights. NOT 4 different heights and 2 that are the same, lol.
Polygon Counts:
Triple Light - 858
Single Light - 294
OMSP -12
Additional Credits:
MlkShape, SimPE, PhotoShop CS2, Alabama for the song title and their all-round awesome music any day of the year

Terms Of Use
Feel free to clone/modify/recolor/convert my meshes. Meshes and recolors can be included with lots. The only thing I ask is that you DO NOT include my meshes/recolors in Adfly links or make money from them in any other way. ALSO: Please don't include any of my downloads in a big all-in-one download. You know how people upload their downloads folder for others to download. Yeah, please don't include my stuff in one of those. Thanks in advance. :)

The exception: My TS4 Robert Williamson sim. I would really like it if he's not edited in any way. He's my tribute to Robin Williams, who was someone I greatly admired. Changing him would make him just another sim.