>

Mods that replace game resources other than the script core.
Resources for Lunar Lakes.world's various Fixes
MTS has all free content, all the time. Find out how YOU can help to keep it running.
Tell me how...
2,498

Downloads
107

Thanks Thanks
31

Favourited
33,829

Views

Uploaded: 13th Dec 2013 at 5:27 PM
Updated: 14th Dec 2013 at 10:29 AM - correction: # of files
Lunar Lakes, just like all the other "hilly-type" worlds have more routing issues than most. I've attempted to fix them in this download.
If you haven't done so, I encourage you to read these FAQs, which contain more information that I can't keep repeating over and over without boring everyone to tears.

WARNING!
The fixes won't be visible on pre-existing Saves, you have to start New Game based on the fixed world.
Pre-requisites
From EA

: Lunar Lakes

From MATY

: s3rc-win

From Simlogical

: S3PE

From MTS

: Jonha's Any Game Starter (optional)

From NRaas

: Twallan's Porter (optional)

From my Google Share

: Click to download the run.bat file. This file contains commands I simplified for you. This is not necessary if you already know how to recompressorize - just do what you normally do. If you decrapify your items, then you may need to decrapify this download, as well.
The fixed resources ie, this download
Remember also that any mods and programs listed here are supported by the respective modders/developers of each item. Not by me. So, if you encounter problems using the mods/programs, please read their download threads and ask your questions there.
Before you begin
Make a Backup! Game Help:TS3 Back Upswiki

Store this backup away from the user Documents path - in a separate folder or another location, like an external USB stick, external HDD, sync it to your cloud, give it to your friend to store. Anything that is outside of the computer system, in case you need it back and you messed up the one in Document so bad there's no recovery possible!

Prepare the Porter! Porterize your favorite Households before you do the steps below.

Reminder that I don't guarantee that the transplanting procedure would be successful in a fixed world. So if you run legacy games you might want to test this in a different AGS profile
Steps
In the User Documents path, do a backup of your The Sims 3 folder. If you have not installed the Lunar Lakes item, install it now. You might want to use Twallan's Porter to transfer your household(s) to a new game, because the fixes are only applied when a new game is started. They won't appear on a pre-existing Save.
Download and extract the Recompressor linked above from MATY. Copy and paste the s3rc.exe into the InstalledWorlds folder.
Download and install s3pe.
Download the run.bat file from my blog and place it in InstalledWorlds folder. Double-click the run.bat file.

Each world that was processed would have such a message to indicate it has been "fixed" -

Quote:

C:\Users\<username>\Documents\Electronic Arts\The Sims 3\InstalledWorlds\Lunar Lakes.world - fix only
Done!

If all goes well, you should get the following line in the Command Prompt window. You can close this window now.

Quote:

All files processed successfully. Press any key to close this window.

Download the resources from the 7z file and extract the contents somewhere. There should be 2 files. These are the Resource Types that were edited, in all this fixin'.

UNKN 0x05CD4BB3 (World - Routing info)
UNKN 0x05DA8AF6 (World - Routing info)

Open Lunar Lakes.world from InstalledWorlds folder in s3pe. If you get an error about a "Found DBPP" error, means the run.bat was not successful or you have not done that step. Try it again.
Import the resources you extracted in (5) above and replace.
Save in S3PE and quit.
Launch the game and start a new game based on the Lunar Lakes.world.
What was done?
Refer to the attached Map for the fixed spots. Red dots denotes routing - either blank or disjointed routing splines like the one below the pipes at the Perigree. The image below shows all the areas that I fixed.
The red in the edges of the map were painted blue (no-sim-routing) instead of yellow (no-camera-routing), I fixed those bits with blue. So that may explain the camera jumping all over the place when one zooms out. I outlined that little bit in black to denote that has no routing paint at all. There's also no routing paint in the lake at the waterfall, and as it is not deep enough nor has the routing for the beach as it is too steep, I just painted it blue.
Some of the red spots are for steep areas, like the one presentation I picked at that little valley with the Park Lot.
There's no visual indicator in this one, but you can try going over the spots where I showed for the mountain and plateau, to see if you can get the mouse to change to the feet that indicates you can "Go Here". If all goes well, those feet won't ever appear at those spots.
Due to time constraints, I haven't been able to play much to wait for a routing issue occurrence, and whether there were specific Lots that need editing. Google search is also a bust, as not many routing reports exists for Lunar Lakes compared to Sunlit Tides.

If you know of any areas I have not addressed or routing issues not connected to any of the fixed spots, please post in the comments.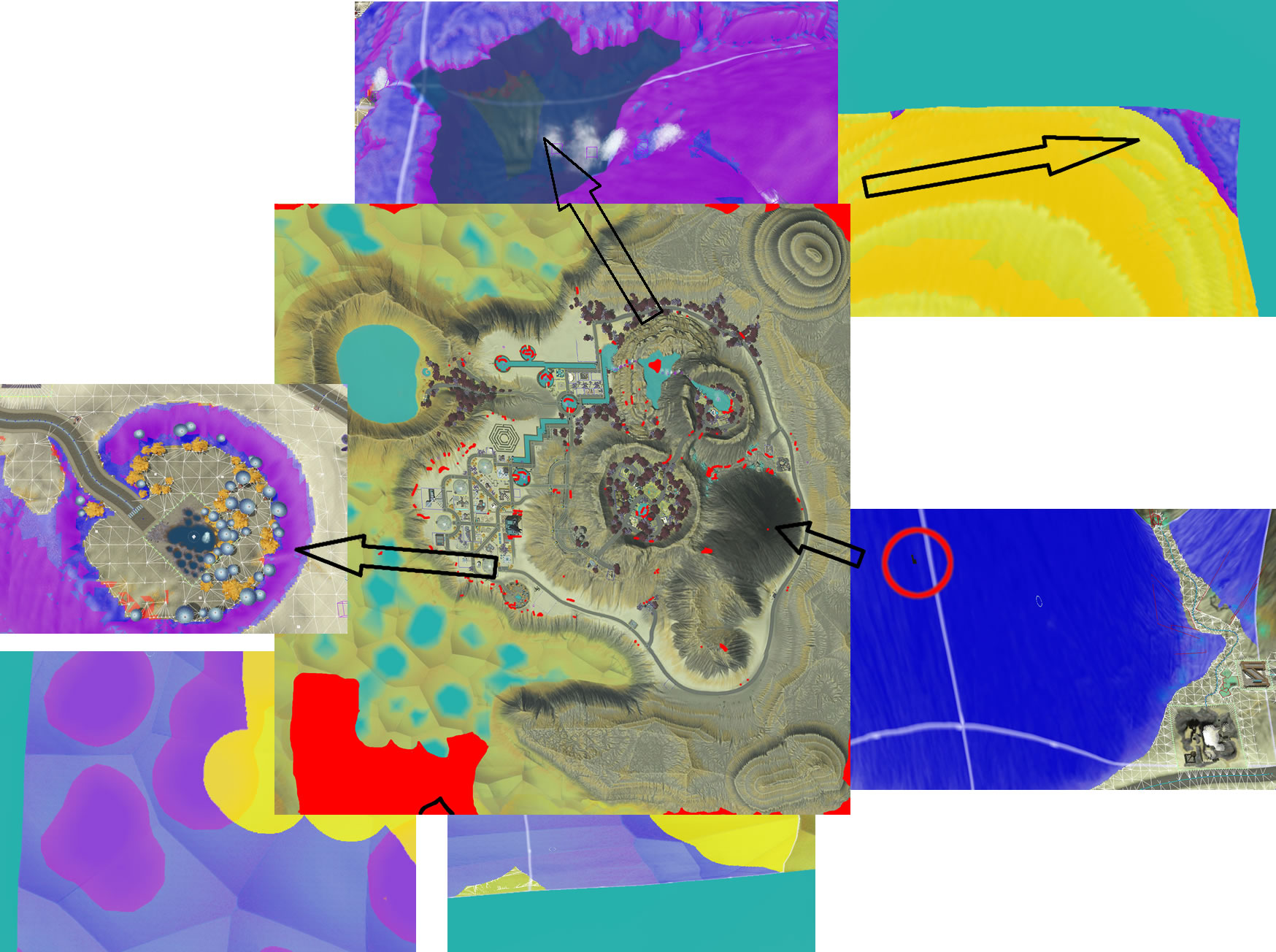 FAQs
Q
: Will this show up in my existing Saves based on Lunar Lakes?
A
: No, which is why I added the

WARNING!
above. You would need to start a totally New Game and then select the World (with the fixes imported).
Q
: When I open the Lunar Lakes.world file in s3pe, I get an error: "Expected magic tag 'DBPF'. Found 'DBPP'.

A
: Have you recompressorized? If you don't know what that means, have you downloaded and double-click on the run.bat file? Perhaps read the
Steps
section again?
Q
: I'm on a Mac, will this work for me?
A
: I don't have a Mac to test. I've been using virtual machines to test, but I've run out of harddrive space. I'm still doing some system maintenance and reorganizing my partitions. If you try it, please do share and let us know...
Additional Credits:
Inge & Peter Jones; the tool makers of s3pe, s3su, package compare
Pescado for the Recompressor
My beta testers.
spagtscully & StormchaserOne for the gifted worlds.

About Me
Game Help / Technical Help
Yes, I can help you with games problem, but I need INFORMATION! I cannot help in a vacuum. So, please specify gameversion, games you have and what triggered the issue, and post in the HELP FORUM (not via PM!). Not an essay on what the Sims were doing from when you woke them up in the morning to the time you make them sleep. Just make it as concise and relevant as you can. If there's no information and you make me chase you down by asking questions already asked in the WIKI FAQs, I'm afraid I no longer have time for such. Which means your posts get ignored. Don't be offended, though, it's nothing personal. I just have to prioritize the complete threads over incomplete ones.
I'm also not a psychic. So if you have done and work through any FAQs, MENTION IT! How am I to know you had done it if it is not stated in the post?
If you're trying to hedge your bets and post the same issue on separate forums - MATY, thesims3, TSR, or any where else - I'd also ignore it; especially if you had gotten replies elsewhere. I'm not keen on hitting my head against the wall repeatedly, you know?
And no, I don't provide Technical support for the game or your system one-on-one via PMs. So, don't even go there. These PMs would be ignored as well. Well, unless you want to pay me for my time as a Personal Technical Coach. Then, I'm all ears.
Game content
You're welcome to use, edit, take apart any content I created and share. But if you use any of my work as a base, I'd appreciate a link back to the original, and you're welcome to post your version in the comments of that upload. So that if either one of ours become outdated, there's a link to the original and vice versa.
And no, I don't provide support for my content one-on-one via PMs. Each of them has a Comments/Feedback section. Please use that.
I don't take requests, sorry. I have tonnes of ideas I haven't even started on.
Having done a mod or a fix does not mean I would do a similar mod or a similar fix. If it interests me and there's still potential for learning, I'd continue doing them like for the World fixes whenever a new world is available. But as we're all working with finite time, there's only so much I can do alone compared to the speed of release EA employs. So, if you want to do a world fix yourself, go ahead. This World fixes thing is not under my sole purview, you know. There's a whole Community of us.
And last but not least, yes any content that I share would get updated if it is warranted. You don't have to ask. As long as I'm able and can afford to buy new packs, I'll schedule any work needed for them.