>

Mods that replace game resources other than the script core.
View Old Style
[GP09:SW] Allow Regular Outfits + Occult Interactions in Batuu
MTS has all free content, all the time. Find out how YOU can help to keep it running.
Tell me how...

Created by TwelfthDoctor1 View Policy / About Me View Downloads Home Patreon Twitter Tumblr
Uploaded 15th Sep 2020 at 6:31 PM · Updated 23rd Jan 2021 at 2:32 AM by TwelfthDoctor1 : Update 5
Compatibility Updates
This mod is should work with The Sims 4 Version 1.70, However if you have any LE issues, please report them on my
Discord Server

Update Log & Information
Update 5
The Transportalate spell should now work in Batuu.
Update 4
The mod is now updated for Patch 1.68, mainly the Vampire Teleport System section. (Idk why did they wanted to modify it, but I blame it for causing routing issues with the cauldron)
Additionally, This mod is updated to work with the Teleport Memory System mod.
Update 3
Alien Interactions added; Thanks Zero for the interactions.
Updates 1 & 2 (Combined)
The 2 consecutive updates serve to fix the following:
Readded the Outfit generation for Traveler Sims
Fixed all types of Vampire Travel toggling as the game will disable that
Spells are added - I missed it due to the usage of a mod that overrides it
Magic Duels are now added
Plasma Jane is added to the Cantina Bar Menu, for more Practical Reasons
Regarding the Usage alongside Zero's Mods
While all the Batuu mods were held up, Zero has released their own version of Occult Powers Enabled. If you use any Vampire and/or Magic Mods by Zero, you should use that one instead as my mod will override certain elements that those had been overridden and Zero's mod has taken care of the problem.

Mod Description
This mod allows the Traveler to dress in their regular Outfit and Use their Occult Interactions & Powers whilst in Batuu.
Allow Regular Outfits
With this Mod, your Sim can now roam in Batuu wearing their regular outfit and upon first arrival, will not dress you in Batuu clothing. This mod is perfect for Simmers whose Sims already have a Star Wars clothing or want their Sims to look unique. Or have an Occult Sim (Mainly Vampire Spellcaster) and you are concerned at the fact that going into CAS will mess up (in this case, delete) your Sim's secondary form.
This mod also unlocks the Change Outfit in Batuu so that your Sims can change without MCCC.
Unlock Occult Powers and Interactions
In Batuu, Vampires, Spellcasters and Mermaids have some or most of their abilities affected when in Batuu. Vampires had been hit with the most and can't teleport all the time. So the mod fixes up things.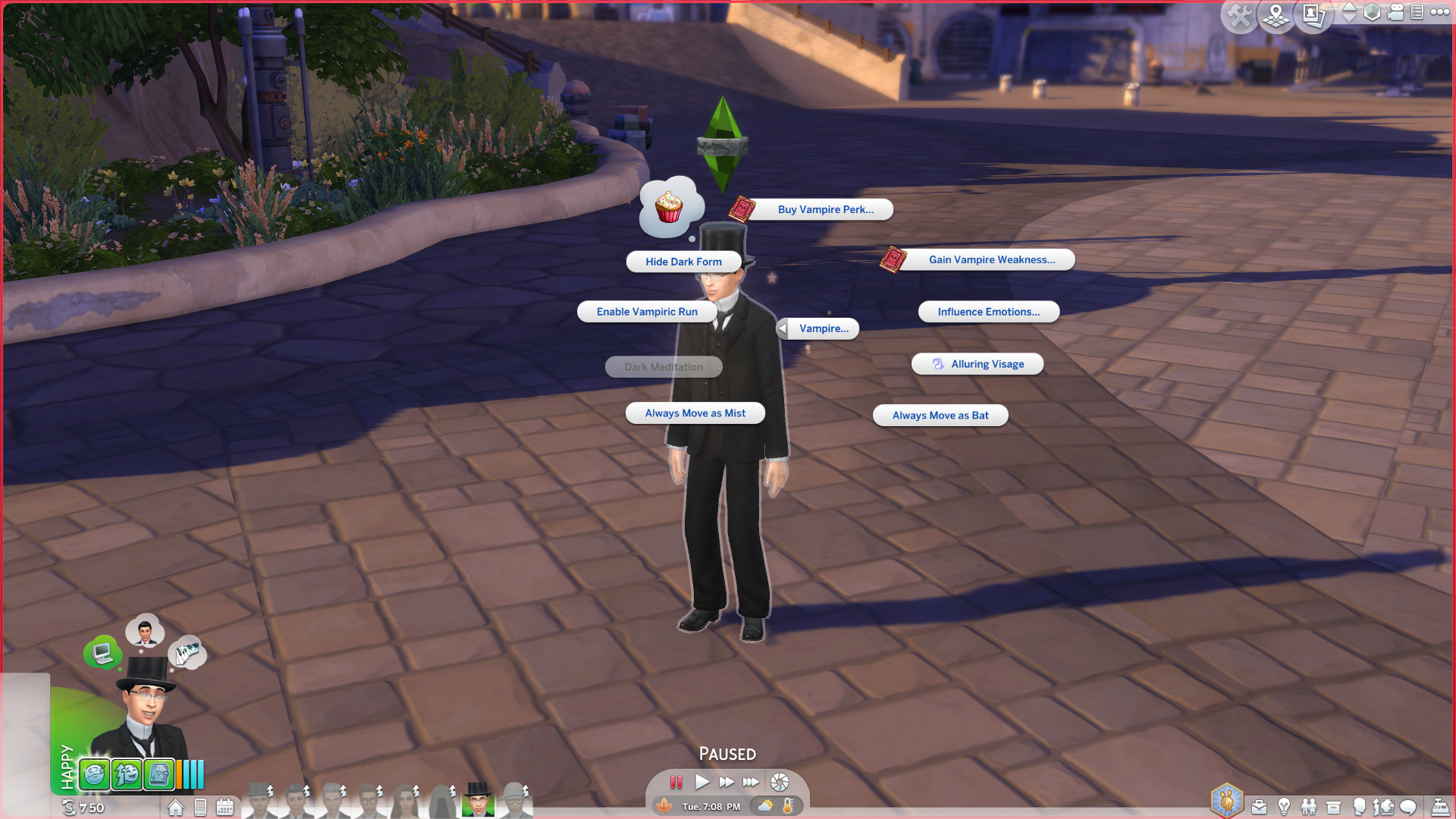 Most Vampire Powers & Interactions should now work In Batuu
Spellcasters can now Practice Magic & Summon their Familiars EXCEPT Pet Familiars in Batuu
Mermaids can now summon the rain and lightning in Batuu
Vampires will not be able to drink from the people in Batuu, I'm still looking into it
Additional Credits:
- Scumbumbo's XML Extractor
- S4S
Type: Unlocked Maxis Content Fixed Other

Just a Simmer getting bored with original content and want to spice things up with mods.
Policies:
No reuploads
Mod modifications are fine, so as long you do not reupload.
For more information on Mod Policies: https://td1sims.tumblr.com/policy

Mods posted on Tumblr will be earlier than MTS.
If you are looking for a specific version of my mod, please DM me if you cannot find it in the GitHub Page.

Other Download Sources:
Tumblr: https://td1sims.tumblr.com/
GitHub (Archivals): https://github.com/TwelfthDoctor1/TD1-TS4-Mods