Sims 3

>

Buy Mode

>

>

Plants, sculptures, wall hangings & paintings, mirrors, curtains, and miscellaneous.
The Chameleon Flowers: Fully CASTable Art
5,358

Downloads
341

Thanks Thanks
67

Favourited
18,424

Views

Uploaded: 17th Sep 2012 at 11:37 PM
Sionelle here at MTS and others have created some very nice high-end
watercolor/acrylic/oil customizable paintings
but they are large, expensive pieces of art. So I focused on lower-end, smaller pieces with a totally different feel.
These flower paintings are somewhat in the style of American painter Georgia O'Keeffe, but not entirely, because many of them employ a mixed-media approach.
There are ten paintings in the one file, and every part, frame and art, can be recolored to a scheme that matches the décor of your Sim's home.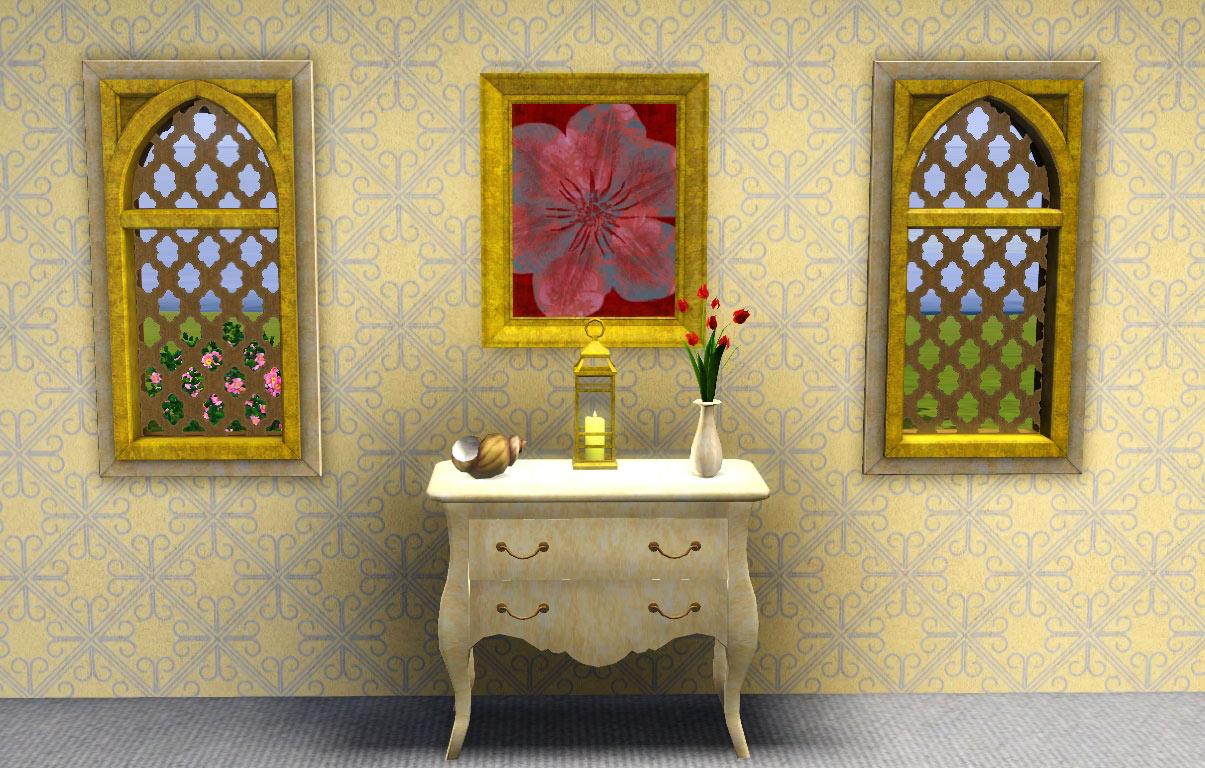 Here is an example of some recolors of a few of the paintings.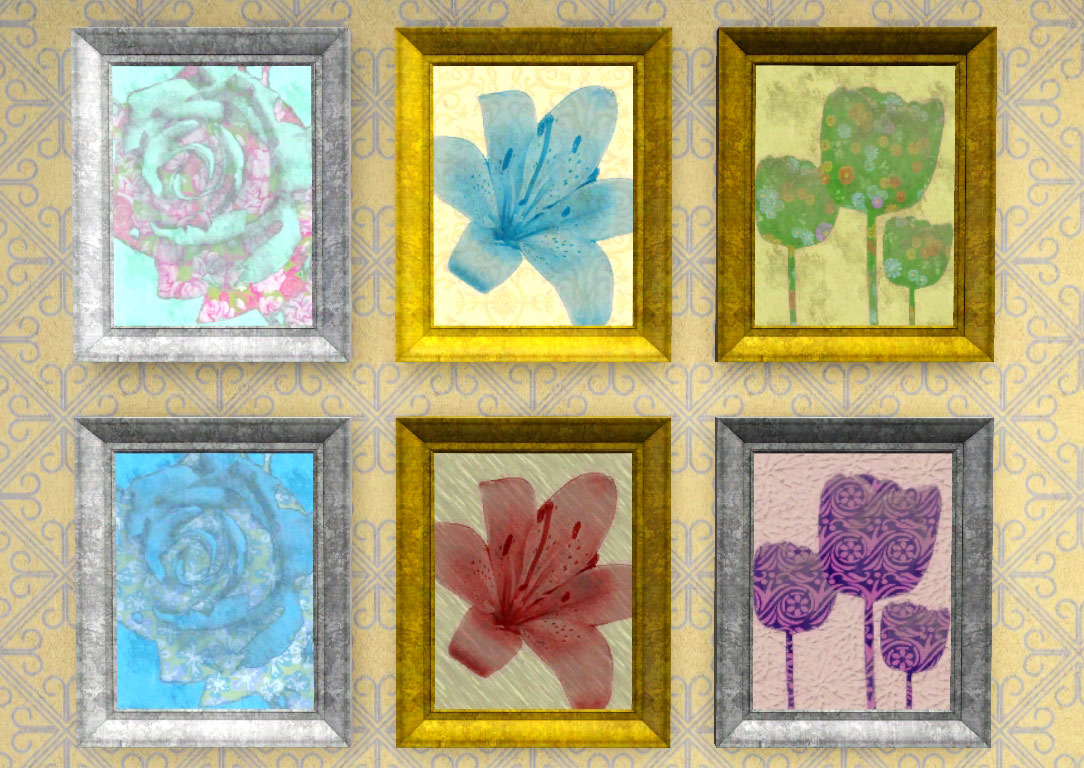 More pictures of recolors are available at the bottom of the page among the thumbnails, along with a picture showing color channels.
Nine of the images were created with various Photoshop brushes; one image began as a picture of a piece of counted-cross stitchery and was transformed (through Photoshop magic) into a watercolor.
No expansion or stuff packs are needed. The mesh was play tested on a base game fully patched to 1.38, and on a game full of expansions and stuff packs using 1.38. It might work with other levels, but there are no guarantees.
I love thanks and welcome comments, and of course, please report any problems you have here in this thread.
Technical and Other Relevant Information
The paintings cost 100 simoleans, provide an environment boost of +1, and can be found in the Function -> Décor -> Paintings/Wall Art sections of the Buy Catalog.
Tools used: Milkshape, S3PE, TSRW, Sims3Pack Multi Installer, Photoshop CS6, and much coffee, with milk and sugar

CC Credits: Tulips from
Two Lips and Snapping Dragons
, and seashell (Snailzilla, Mollusk of Renown) from the
Faire Folk Liberation Army Decorative Item Manoeuver
, both by me, here at MTS, and
shabby chic dresser
by Pocci
Polygon Counts:
High poly: 122
Low poly: 58
Additional Credits:
Thanks to Delphy, Inge & Peter Jones, Wes Howe for MS plugins, and
Darkwaif
for free flower and seahorse Photoshop brushes.
Packs Needed
None, this is Sims 3 base game compatible!
Other Information
Style
:
– Contemporary
– Modern
Room
:
– Living : Living Room
– Dining : Dining Room
– Bedroom
– Study : Study/Office
Maxis Flags
:
– Not Applicable
Tags
#Cast your own, #CAST your own, #CASTable, #art, #paintings, #flowers, #seahorse, #sea horse, #tulips, #roses, #lilly, #lillies, #daisies, #hibiscus, #recolorable art, #castable art
Visit my site @ http://www.kithri.jimdo.com/ for more stuff not available here at MTS!
Creative Policy:
Sims 2 Meshes--May be recolored, please give credit, no permission needed. Do not bundle mesh with recolors, link to mesh here at MTS. Meshes may not be altered without permission.

Sims 3 Meshes--Meshes may not be altered without permission. May use in uploads, but never to pay sites or to the Exchange; do not bundle with upload, link to mesh here at MTS. And please give me credit. :)

Patterns--Do not upload to pay sites or to the Exchange; otherwise, you may use in other uploads. Okay to bundle them into your package, no permission need. Just credit me, please.

This work is licensed under a Creative Commons Attribution-NonCommercial-NoDerivs 3.0 Unported License. See http://creativecommons.org/licenses/by-nc-nd/3.0/ for legal information.