Sims 3

>

Buy Mode

>

>

Dressers, children, party, and miscellaneous. Also, career & aspiration rewards are here, too.
Toddler Dining Chairs
29,471

Downloads
873

Thanks Thanks
316

Favourited
59,675

Views
Picked Upload! This is a picked upload! It showcases some of the best talent and creativity available on MTS and in the community.
Personal Picked Upload!
This is a personal favourite of the creator!

Uploaded: 16th Dec 2013 at 8:52 AM
Updated: 3rd May 2018 at 4:41 PM
Ever since I bought The Sims 2, it bothered me, that toddlers could not eat at the table with the rest of the family. And now they can!
These are technically highchairs, but they are approached from the side, so they can be placed against a dining-table. I made them look like base-game chairs, adapted for toddler use. There are two with a square cushion, two with a round cushion, and two where I altered the hight of the seat.
Installing/Uninstalling:
Installing as such is easy, these are just normal packages.
I made two versions of my chairs. One with right-side-, and one with left-side access (left and right from the toddler's point of view). The access side is stated in the chair's name and in the description.
They won't overwrite, so you can have both versions in your game. Or you can have three chairs left-access, and three right access. They are all independent objects.
I named the chairs after their resource name, not after the oh-so-funny ingame name. You might want to compare the attached pictures to find out which is which.
To uninstall, just remove the package from the folder, but I recommend to make sure, there is no toddler currently sitting in one of the chairs you are uninstalling. You might actually get away with that, but I don't guarantee!
In game usage


1. Place the normal dining-chairs first. If there is a toddler-chair at the table already, they won't snap into position.
2. Place the toddler-chair so that it looks like a snapped-to-the-table dining chair. It won't really snap to the table, as it isn't a real dining-chair. Don't worry about the footprint, my chairs are intersectable. But there must be a table-corner at the side where the parent is approaching, otherwise it won't work, even if there is no other chair standing there.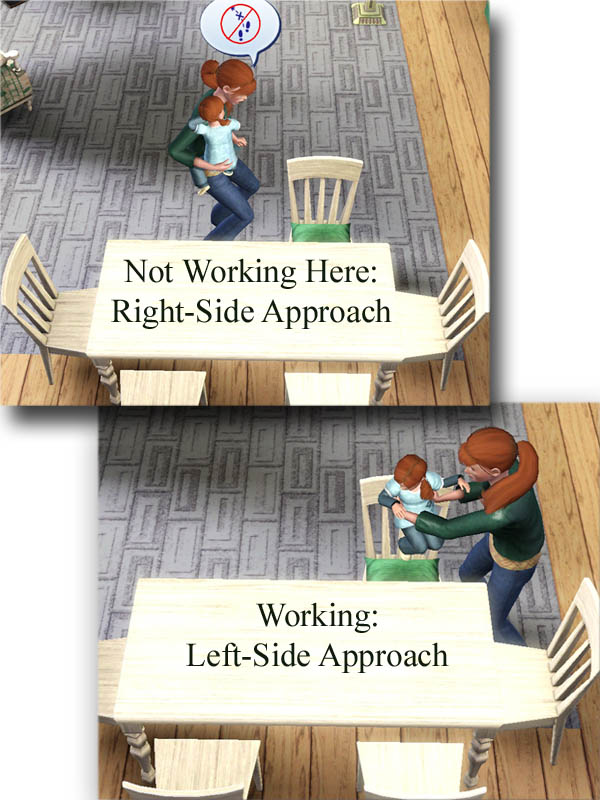 3. Don't place two toddler-chairs at the same corner. This won't work either. Normal chairs are okay there, but not toddler chairs. You can place toddler chairs opposite, or (if you use the correct left/right-versions) side by side.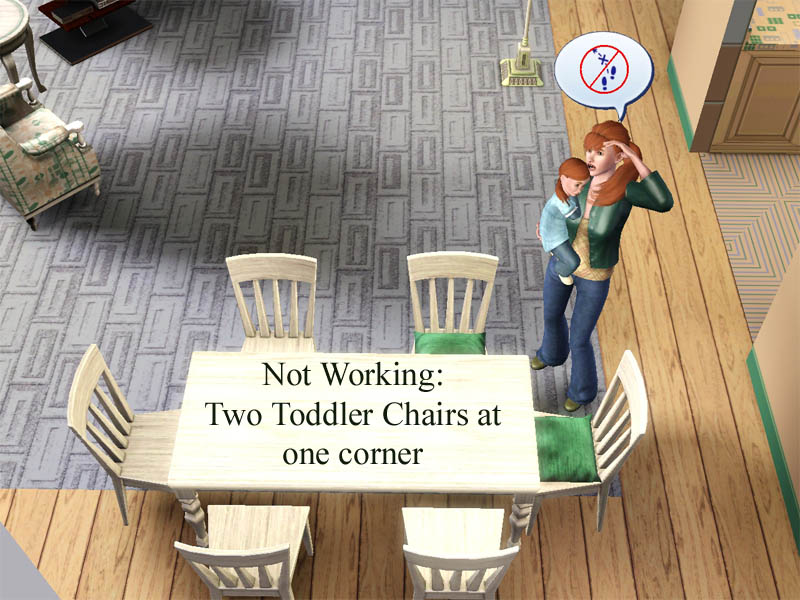 4. Place the toddler in the chair, and have dinner! There is no interference with Sims eating at all the surrounding places. (I only left the fourth place empty in the screenshot, so you can see what's going on.)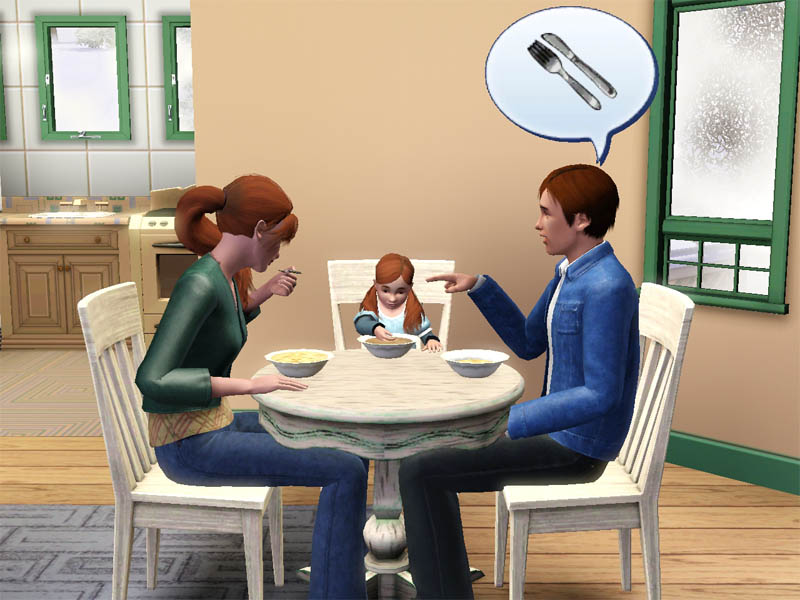 There is a little glitch with animations. The parent's arm movement looks extremely unhealthy when serving, but that's not the main point. You might also get a bug where your toddler will be holding the bottle too high, not only in my chairs, but in every highchair. I'm still puzzling out, what causes this. In my regular worlds, some toddlers do it right, while others have the glitch. It tends to work better with toddlers who were born/aged up/created after I installed my chairs. But I also had a case where a toddler who had the glitch lost it after three months (real time). So you may be lucky and it works correctly for you.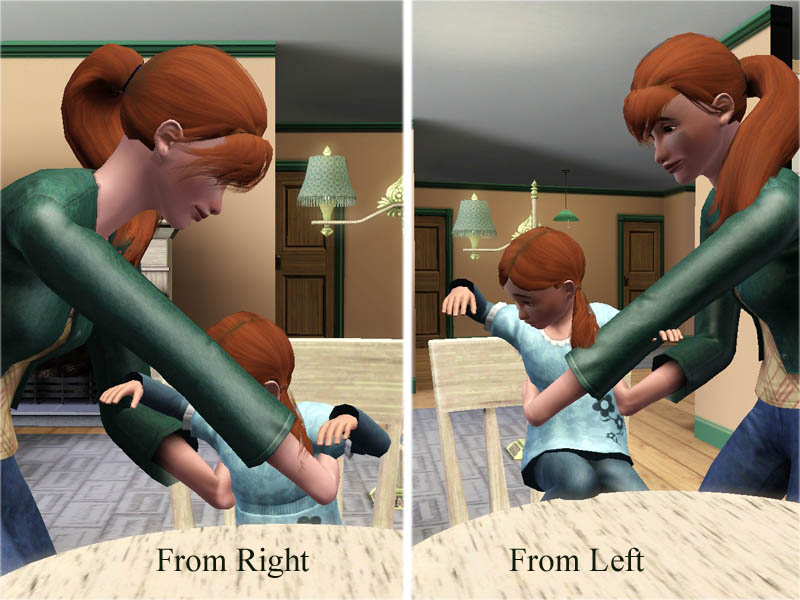 Slots
I decided against back-cushions, but I added a slot where you can place any deco-cushions you might have.
The slot which originally was on the tray is still there. You can use it to place a decorative plate, and the parent will even push it towards the child, while seating. Also it won't prevent the baby food or bottle from being placed.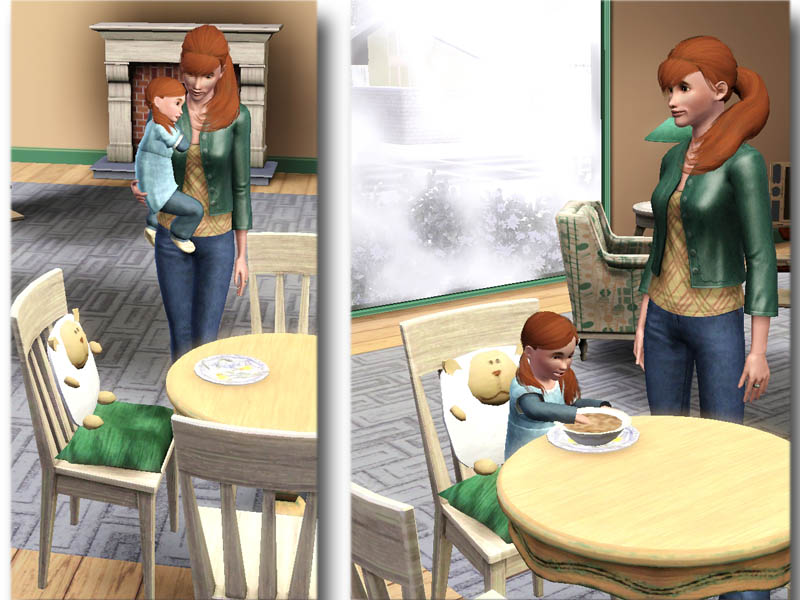 Object Details
All six chairs have the CAST-presets of the original EA-chairs, and those with a cushion have an extra channel for the cushion to be recoloured. They are all a bit leaner than the original, so they won't cut through the wall, if you place them against one.

They are all found in Buymode under:
Sort by Room/Nursery/Furniture
Sort by Room/Dining/Dining-Chairs
Sort by Function/Kids/Furniture
Sort by Funktion/Comfort/MiscComfort

| Name | Price | Polygons Counts | Presets | Channels |
| --- | --- | --- | --- | --- |
| Cheap Chair | 40 | 498 | As EA | As EA |
| Chair Club | 80 | 1045 | As EA | As EA |
| Chair Country | 100 | 1014 | As EA | As EA |
| Chair Danish Modern | 120 | 670 | As EA | As EA |
| Chair Office | 50 | 638 | As EA | As EA |
| Chair Quaint | 115 | 966 | As EA | As EA |
Additional links:
Second Toddler Chair Set
Universal Toddler Seats
Highchairs with side-access
Credits for Screenshot Content
Lamb Cushion:
mensure at TSR
Deco Plate:
mutske at TSR
Toddler Long Pigtails:
Wojtek0 at TSR
Toddler Short Pigtails:
Wojtek0 at TSR
Lot: EA, Sunset Valley, Landgraab Avenue 86
Additional Credits:
Thanks to the creators of S3PE, S3OC, Texture Tweaker, Wrappers, Blender, Blender Slot Editor, Milkshape, and Gimp.
Special thanks to Bloom for answering my question when I was stuck...
...and Leefish for the great reformatting!
Thanks also to EA for the chair-meshes, and for making the highchair-tray the same height as the dining table

Packs Needed
None, this is Sims 3 base game compatible!
Other Information
Style
:
– Childrens : Childs furniture or objects
Room
:
– Dining : Dining Room
– Nursery
Maxis Flags
:
– AddOn : Maxis Add-Ons (like an armchair that matches a Maxis couch)
About Me
You may include my work in Sims and lots, edit textures and meshes, or convert to anything inside the Sims series if you give appropriate credit. Most of my downloads include meshes or textures by EA, so please also respect their tou. Please don't re-upload anything unaltered, claim it as your own, or upload to paysites.
If it's within above guidelines you don't need to ask my express permission for edits, but if you make one, I'd love if you tag me or let me know in any other way!
Nowadays I prefer to post my creation on my
simblr
together with miscellaneous stories. You are cordially invited to visit!